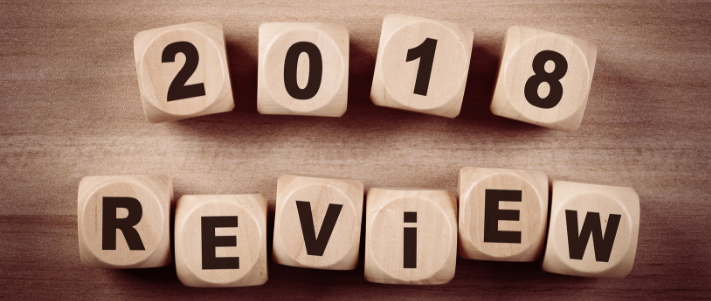 As chosen by you, here's a look at the most viewed, liked and shared articles in 2018.


---
The year started in customary style with a bit of a disaster as 1,300 vehicles were destroyed in a blaze in a Liverpool car park on New Year's Eve. While no one was harmed, the impact on consumers was severe, and not for the first-time insurers were on the receiving end of public anger. Our blog Insurers Under Fire — 5 Things We Learned From The Liverpool Car Park Inferno hit the mark with our readers, as the incident highlighted the gap between consumer expectations and reality which played out in the national media.

Our consumer survey confirmed that insurance remains a media punchbag — and our CEO Ian Hughes urged insurers to go on the front foot commenting:


---
"It feels like an unnecessary own goal was scored here — but I also wonder whether the voice of 'happy customers' was squashed by what is a better bad news story."
---

Our data also underlined the core causes of this, and previous negative press: consumers still don't understand what they're buying; there is too much jargon and social media is changing consumer power. One insurer that got it right however was LV=, which adopted the view "how would a customer want to be treated at a time like this?" It responded by waiving excesses, retaining no claims bonuses, and providing complimentary hire cars.

No surprise then that claims was also in our top ten most read, The Top 10 Brands For Claims Satisfaction Revealed based on votes from the most important judges — consumers who've actually made a claim. Our data showed a slight improvement for home insurance claims satisfaction, both among the top 10 and across the wider market. By contrast — and this was before the Liverpool fire — motor claims satisfaction fell, and for the second successive year we observed a market-wide decline.

The hope is that emerging technology and improved claims management processes will have a positive impact in 2019 but our key messages on how to drive improvement remain the same. Provide regular, clear communication with customers; ensure the claims process is clear and easy; and put yourself in the shoes of customers.

Claims is of course the moment of truth — when the insurance promise is expected to be delivered — and central to this is trust. Again, our blog on The Top 10 Most Trusted Insurance Brands proved popular. Using our in-depth research and vast experience we identified three ways to help brands build and maintain trust with consumers, and to stand out in an industry where customer perceptions are historically low. Put simply they are: be open and honest; provide opportunities for customers to give feedback; and do what you say you are going to do.

Trust also naturally comes in to play when customers consider whether to give brands permission to use their personal data, with those regarded as trustworthy up to twice as likely to gain consent. But confusion over GDPR was a real worry back in February. In GDPR: Legitimate Concerns For Renewal our CEO, Ian Hughes highlighted not only how much confusion there still remained amongst marketeers but that the cost of having to re-acquire customers who will be assumed lost under the new regime could be as much as £100m.

And talking of data, loyalty and strong brands, in the summer, it was rumoured that Amazon was in the advanced stages of making its long-awaited move into the UK insurance market with its own price comparison website.

Our blog Amazon Selling Insurance: What Do Consumers Think? questioned whether Amazon is as much as a threat as it is painted with our analysis showing that the loyalty Amazon enjoys among retail customers will not necessarily transfer over to financial services. When consumers were asked if they would consider buying home insurance through Amazon, only 43% said they would. Added to that it is a very competitive market already — with Comparethemarket, Gocompare, Moneysupermarket and Confused providing access to insurance for just under 87% of customers who shop around.
---
"In the summer, it was rumoured that Amazon was in the advanced stages of making its long-awaited move into the UK insurance market with its own price comparison website."
---

Amazon also has some stubborn reputational issues that will have to be overcome to win the trust of consumers. Press reports concerning its corporate tax arrangements, its impact on the UK high street and question marks around how it treats employees may cause some consumers to reject them as a serious and credible financial services provider.

All of this suggests that should Amazon make a play for the UK market, it is by no means a foregone conclusion they will be able to make it work. Just ask Google.

And with competition in home and motor as fierce as ever, with or without Amazon, our blogs on brand, price and market position — which sit at the core of the insights and analysis we offer our clients — were as to be expected in our top ten most read.

We started the year looking at the 6 Factors That Kill Conversion On Price Comparison Websites - Part One or more specifically, six groups of factors — that could be dragging brands' price comparison website conversions down. In a nutshell the key is to understand both your absolute rank, and the difference between you and your competitors – information Consumer Intelligence has in abundance.
---
"The issue that stubbornly refuses to go away featured in the top 10. This is dual pricing, an issue the Financial Conduct Authority will be focusing on in 2019..."
---

In April and June, we looked and who was gaining market share with The Fastest Growing UK Motor Insurance Brands and The Biggest Brands In UK Insurance. Our data showed that the bigger motor brands consolidated their positions up to June, posting substantial growth; with the 10 largest players accounting for almost two thirds of the market.

The issue that stubbornly refuses to go away featured in the top 10. This is dual pricing, an issue the Financial Conduct Authority will be focusing on in 2019 following its earlier demand for insurers to disclose last year's price on renewal offers from April 2017. So, how did the market do in its first year? In One Year On From Renewal Price Disclosures: Has Anything Changed? the answer was "only a bit". Our data showed that whilst the number of motor consumers who shopped around at renewal increased in motor by 1%, and by 3% in household, the overall impact was limited.

The savings made by those who did switch also indicate that on the whole, firms are still increasing prices at renewal and continue to charge most to their most loyal customers. This isn't a surprise. The policy landed at a difficult time for insurers. The reduction to the Ogden rate discount and increased home claims costs meant that both lines had seen premiums for new business rise too, so it's little wonder the trend has continued to be for prices to rise at renewal too. The FCA is watching.

Looking ahead

As we enter a new year, and looking further ahead, we believe the focus on apps will continue and it is clearly an issue on our customers' mind. In June we showed that take up for apps in the UK was low. We polled 390 motor customers and found that most of them didn't know if their insurer had an app and that most weren't bothered either.

However, the future in this instance is already happening in Asia as we outlined in Traditional Insurance Apps Aren't Working. Time To Look East? Chinese app WeChat — has 750 million users — and enables users to make a payment inside it messaging app, opening up huge potential for insurance.

So, the future is not about apps for the sake of them. We predict the future is about developing an insurance app inside another app that is already frequently used by consumers — namely messenger platforms, or perhaps even within frequently used mobile banking apps. You have been warned.

Top 10 most read articles 2018
---

Helping companies make great decisions in 2019
As we look forward to a new year the focus on brand, price,retention, trust and pricing look set to continue to be top of mind for the insurance market and Consumer Intelligence is here to help.