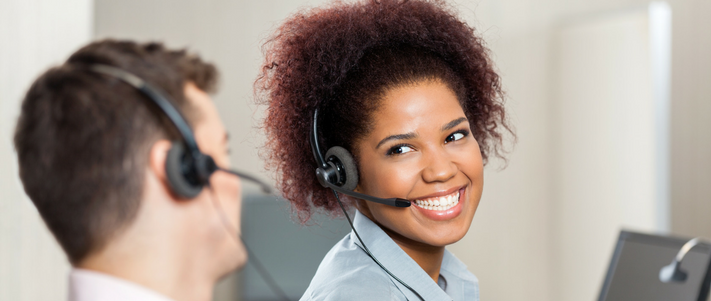 For most customers, there will be little contact with their insurer beyond purchase and renewal. It is a challenge for the brands to showcase their service in other ways; as a result, these touchpoints are critical.

---
We are delighted to announce the top 10 companies in the UK for customer service*, as voted for by the most important judges — consumers.
Top 10 brands for customer service
*Listed alphabetically
*Listed alphabetically
Every year, using our Insurance Behaviour Tracker, we survey 24,000 motorists and the same number of householders to find out what they think of the brands from whom they have bought a policy. Customers rated their insurer based on the statement "I have always received good service from this company" on a scale of 1 to 5, with a 5 being "strongly agree". These are the results.

The Numbers

The average scores for the Top 10 brands were 4.0 for Home, and 3.9 for Motor. Across the market we saw average scores of 3.8 and 3.7, respectively. The highest scoring brands had 80% of respondents rate them as either a 4 or 5 out of 5.

Performance scores have seen little change over the past 3 years, with neither home nor motor showing an overall shift of more than 1.5% in either direction. At a time when customer expectations are changing at perhaps the greatest rate in history, this may be an indication not that the market has stood still, but that brands have to work increasingly hard to impress.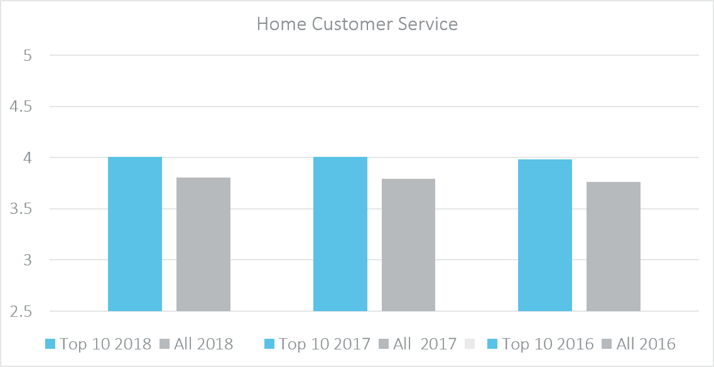 As we saw recently with our awards for claims satisfaction, overall scores for home are slightly higher than for motor.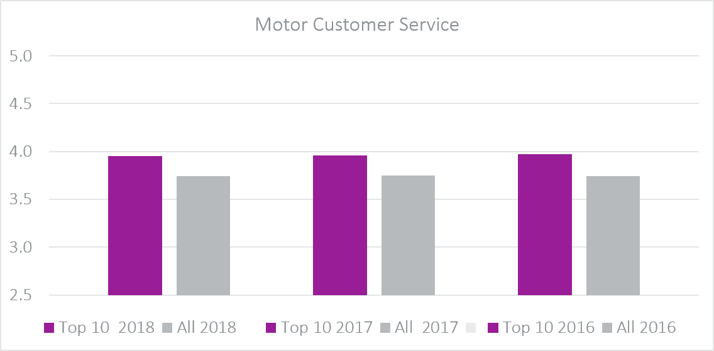 Several brands have improved their scores to bring them up in to the Top 10.

For Home, newcomers this year are: Direct Line, M&S Bank and Saga. Motor also sees three new additions: A-Plan, More Than, and Sainsbury's Bank.

Four brands make the Top 10 for both Home and Motor: Direct Line, M&S Bank, Nationwide, and NFU Mutual. M&S and the Mutual also made both lists for claims excellence.

To become a Top 10 brand requires a consistently high performance, and a laser-like focus on customer needs. From our customer feedback and research, we have identified three key areas that have a significant impact on the customer service, and make all the difference between an average experience and great one.
Identify and review each customer touchpoint

Mapping the customer journey allows a brand to identify and review the customer experience at every point of contact. This should encompass all channel options — whether this is through email, phone calls, web chat, mobile or websites — as consistency and utility are increasingly vital consumer requirements, particularly among younger demographics.

For most brands, there is a drive to increase customer adoption of self service channels for customer service, as well as quotes and purchase. In a recent survey we found that whilst many customers were happy to help themselves online, there is still some way to go. Only 51% of consumers, for example, said they would try using their company's website to make changes to their policy.

Brands need to consider the needs of those who are moving between channels, but they should not ignore those who are not yet ready for a totally digital experience.
Review your customers' expectations

Understanding what customers expect in terms of service is naturally key to delivering a good experience.

For those who chose to use the phone to contact their provider, the expectation is for immediate, efficient service from knowledgeable, engaged agents. They can feel let down when these expectations are not met, as comments from our telephone mystery shopping demonstrate:
"I was disappointed that I had to wait for ten minutes for my call to be answered. The agent sounded quite robotic when taking me through the process."
"Really, really hard to understand. Lots of noise in the back too making it harder; didn't sound at all enthusiastic."

"Very long and drawn out. Was on hold for several minutes."

But when the service is on the mark, customers recognise and appreciate the service they have received:
"Very thorough. Enthusiastic and helpful agent. Keen to get my business."

"I thought that the agent was extremely professional and very calm and reassuring. He was also easy to understand – very clear and concise."
Ensure everyone in your organisation, your service commitment and what their role in this

Customer service is not just about the customer service team. The customer, and serving him or her, has to be at the heart of an organisation, and lived and breathed from top to bottom. Company performance should, wherever possible, be measured against customer satisfaction, and employees who go beyond the call to serve the customer should be encouraged — and ideally, rewarded.

So, we congratulate the Top 10 brands for Customer Service, and everyone involved in ensuring their customers are their utmost priority.