It's not easy being green, and it's not always cheap either - but 77% of driving Brits want their insurer to be environmentally friendly, and as many as 23% would be prepared to pay something extra for a car insurance policy that was tangibly environmentally friendly.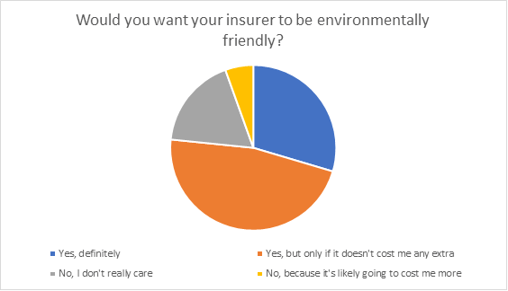 Q1. Viewsbank online survey conducted 10-11 September 2022, 803 motorists
Green credentials, from carbon offsetting to tree planting schemes, were more important to women than men – and to younger people than older people.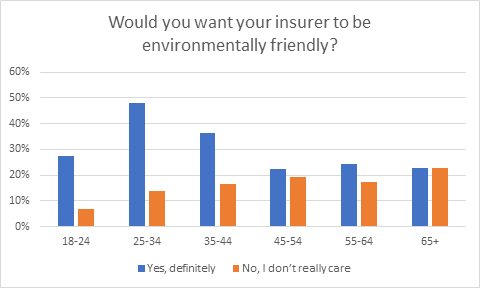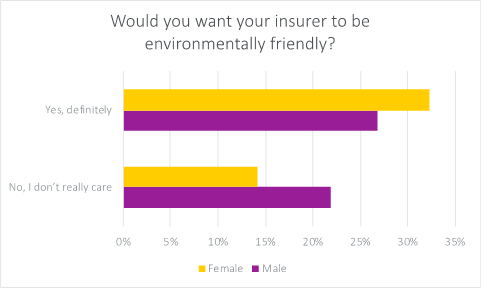 We then asked those who definitely wanted a green insurer and those who were worried it could cost them more, if they would pay more for an insurance product that was tangibly environmentally friendly. As many as 90% of the youngest drivers, said they would. That steadily declined to 77% of 25-34s, 69% of 35-44s, 64% of 45-64s – falling to only 43% of 65+s.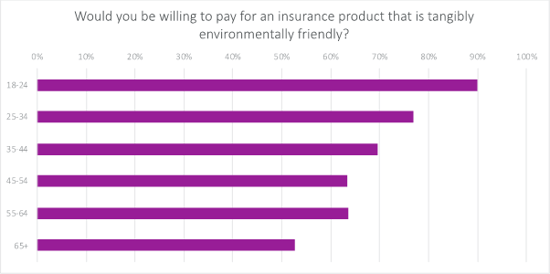 Sample: 282 drivers who answered "yes, definitely" or "No, because it's likely going to cost me more" to Q1
Looking at the kind of environmentally friendly or sustainable features people were interested in, the most attractive by just a hair's breadth is tree planting - closely followed by offsetting carbon emissions, supporting sustainable causes and a provider's own policies on sustainability.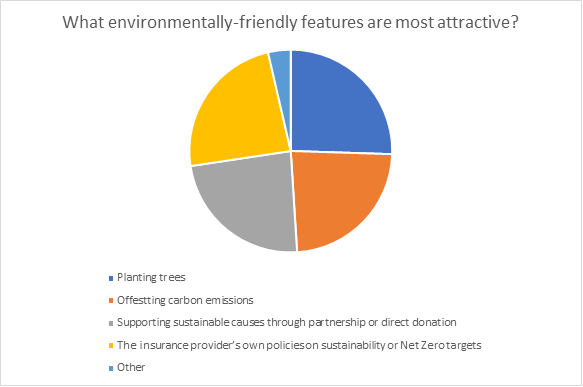 As well as the rise in popularity of the electric vehicle, the majority of consumers, 85%, are also now prepared to accept 'green parts' in their vehicle repairs – with only 13% saying they'd want only brand new parts, even if more environmentally-friendly options were available.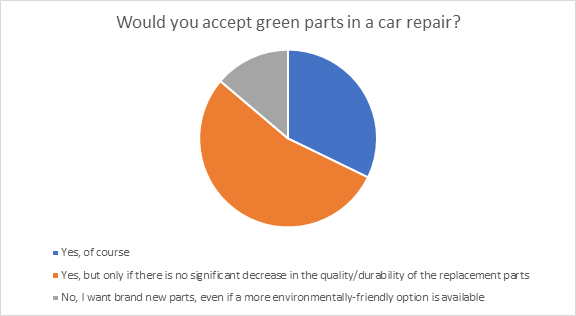 Against a backdrop of climate change, there's clearly been something of an environmental shift in consumer attitudes. For providers, this is potentially huge. Not only are younger drivers in particular more likely to care about your ESG strategy, they're also prepared to put their money where their mouth is – even with a recession looming on the horizon. That can and should be factored into marketing plans and product innovation.

Many are already doing so. In 2006, Co-op Insurance was the first car insurance product in the UK to include carbon offsetting in its cover. Its motor insurance offsets 10% of a car's CO2 emissions by investing in global environmental projects, and they work with approved repairers to use recycled parts in vehicles where possible.

Aviva was the first financial services company in the UK to set a net zero target for 2040. In the personal lines space it launched Aviva Zero in February, offsetting 100% of carbon emissions created by customer's first year of driving through carbon credits.

Just last month, Moja, AXA's new digital-only brand which launched with a promise to plant two trees for every customer.

Customers have decided they want more than a fair price from their providers. It's now up brands to work out how to play their green cards.
---

Viewsbank is our in-house consumer research panel. It's a large, responsive and community driven panel that conducts both quantitative and qualitative research.
Our Viewsbank panel helps our customers with a wide variety of projects ranging from detailed mystery shopping to demographically targeted research surveys. The research helps our clients make informed decisions based on true understanding of the consumer's voice.