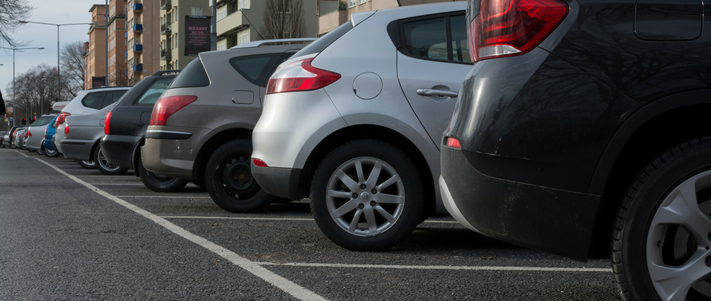 As we revealed last week, rating volatility was the defining characteristic of the motor market in 2017. While premiums shifted no more than 3.5% in any month overall, we saw huge variance between brands, particularly in the second half of the year — as the chart below shows.


---
Rating movement on Price Comparison Websites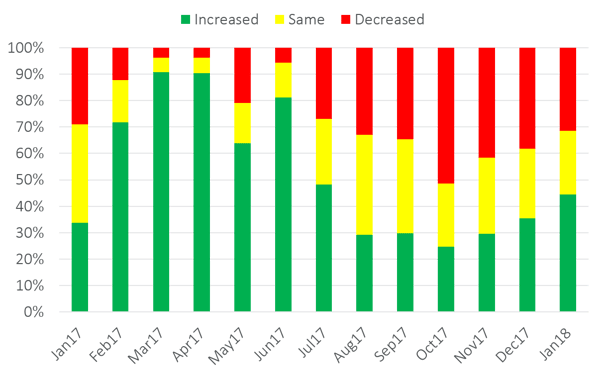 *Data from CompareTheMarket
But that's only half the story. Did the fallout of the Ogden rate change ultimately impact the status quo? Market share and retention rates would be two ways of assessing this, but using our granular pricing data, we focus here instead on pricing competitiveness.

Using the number one ranking on the major price comparison websites as our indicator, we see that year-on-year, 7 of the most competitive 10 brands have remained the same. Top of the pile is Privilege, which now accounts for around 6.4% of rank one positions — a 2.1% jump from 4.3% in 2017, when it was positioned in 5th place. Hastings Essential was the previous leader with 9.3%.

As a group, the top 10 account for a smaller share of top ranking risks (45% vs. 51%) suggesting the market has become more competitive overall. There is also much less daylight between the top 10, with the gap between first and tenth place falling sharply from 6.6% to 3.6%. This convergence suggests that brands have been adjusting their positioning versus their competitive set more readily than before — a topic we also touched upon in previous blogs.
Rank One Positions on PCWs - Whole of Market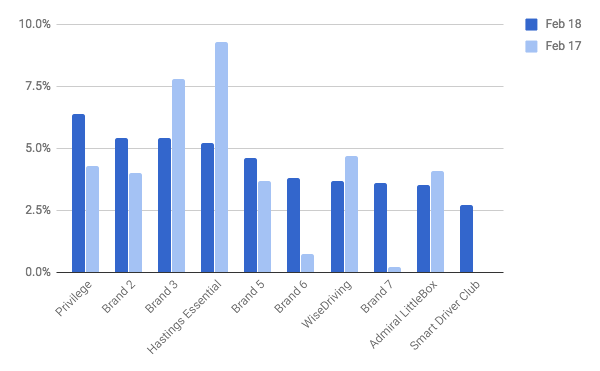 With margins under renewed pressure, it is no surprise to see some brands tweaking their pricing strategies. It has also set the stage for the emergence of new players. Telematics provider Smart Driver Club, with a 2.7% share of top rankings, appears in 10th place on our list. We see two other telematics brands in the top 10: WiseDriving (7th, 3.7%) and Admiral LittleBox (9th, 3.5%). We note, however, that telematic products on a market level account for fewer top rankings year-on-year, declining from 13% to 11%.

We see similar, but more pronounced impact at the demographic level, including older and younger drivers. For those aged between 17 and 24, 8 of the top 10 brands are the same, with WiseDriving remaining in first place. As with the overall market, we see a far tighter spread between the largest brands, with less than 3.5% separating the top 10, compared to over 10% at the beginning of 2017. The overall contribution of the top 10 to total rank ones has fallen slightly from 59% to 57%, while the top 7 are all telematics players. Smart Driver Club does not appear here, however, because it targets a slightly higher age group. Two Hastings brands feature on the list, but both have become less competitive in the past year.

Rank One Positions on PCWs - Ages 17-24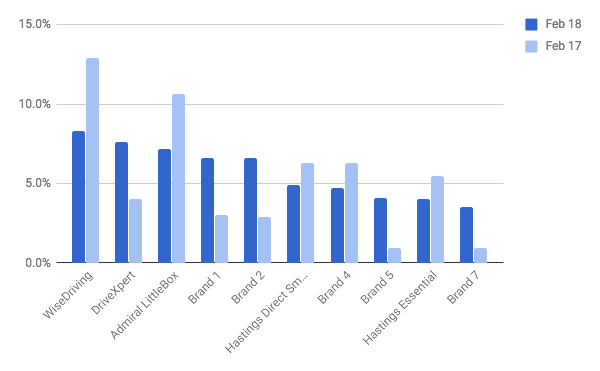 For the over 60s, 6 of the top 10 brands (and 3 of the top 4) are the same compared to the same period in 2017, while the gap between first place and tenth has almost halved from 12% to 6.5%, ensuring a tight spread. Esure, which reported a 25% rise in premium — and 36% jump in profit — this week as a result of expanding its motor footprint, remains the most competitive brand in the segment, and the top 10 have increased their overall rank one share from 60% to 62%. We also note the resurgence of Saga, while Privilege maintains its strong position.
Rank One – Over 60s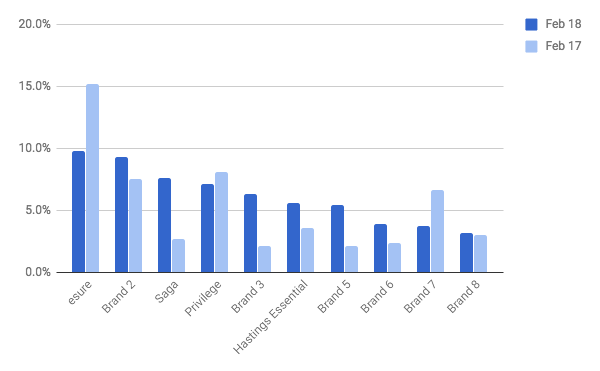 Ogden may have caused enormous and cascading ripples in terms of rating action, but a year on, it seems the field is more tightly packed than ever, only increasing the need for differentiated products and dynamic pricing strategies.
---
---