The prevalence of Price Comparison Websites (PCWs) has risen even further over the pandemic, with older customers in particular becoming more used to shopping online and using digital services over lockdown.
But shopping around online does not equate to buying online. Our latest research shows that around a third of shoppers drop off between PCW search and purchase, and the reasons why. Hint: It's not just silver consumers picking up the phone.
One-in-three customers start with a PCW and finish somewhere else
In a recent Viewsbank poll, 71% of people said they shopped around or researched their car insurance policy on PCWs, but only 45% choose to purchase from that channel.
In home, 64% used a PCW to shop around online at renewal, but only 41% ended up buying through a PCW.
Car insurance: methods of research and shopping around vs methods of purchase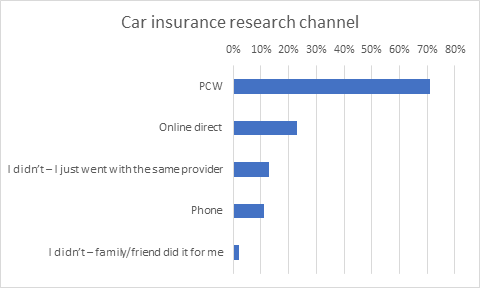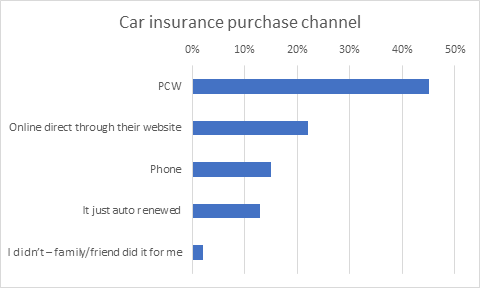 Some of the drop off was down to savvy shoppers who rang up their existing provider after shopping around online to haggle for a better price.
But there are plenty of other reasons why people stop short of buying on a PCW.
Offline buyers are looking for reassurance as well as deals
When we asked people why they left PCWs to purchase offline, we found that 45% had extra questions or cover requirements they needed to talk through, 42% just wanted to talk to a real person, and 14% weren't comfortable giving over their bank or card details online.
In more age-defying news, it was younger people who were more likely to be reticent about using their card online. Nearly a quarter – 23% - cited this as a reason for leaving PCWs, compared to just 5% of over 55s. And over 55s were also the least likely to cite a preference for just talking to a 'real' person – 38% in comparison to 39% of 18-34s and a massive 49% of 35-54s.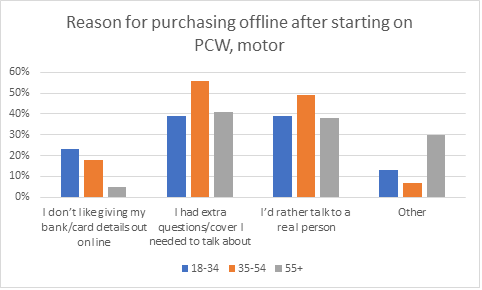 It's worth noting that for the overall 28% of people who had 'other' reasons for purchasing offline, many cited the opportunity to haggle over the phone as a key reason for first researching and then seeking an in-person conversation.
Digital confidence isn't all about age
It's tempting to assume a correlation between old age, vulnerability and propensity to buy by phone, but digital difficulties don't seem to be a problem for most older shoppers.
While younger people were more likely to rate their IT skills as expert, 56% of over 55s described their skills as reasonable, 17% as okay, and 16% said they could do what they needed to do. Only 4% said they lacked digital confidence, or needed help from family and friends.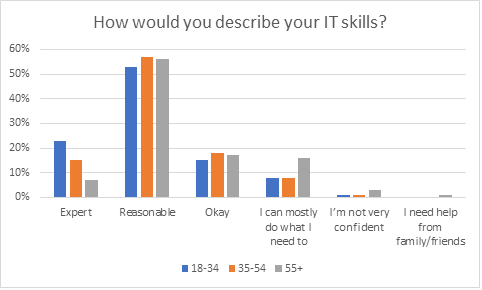 Digital exclusion is not the main reason that people buy over the phone, and nor is it exclusively a channel for older customers. In fact 11% of 18-34 year olds buy car insurance by phone, rising to 12% of 35-54 year olds and 19% of over 55s.
Contact by phone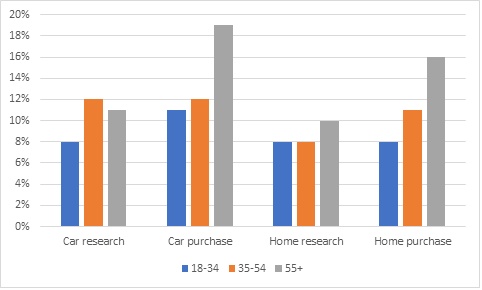 Online information is good, but there's room for improvement
We asked those consumers who used the internet to shop around or research their insurance how easy they found it to understand and fill in the online forms.
Here PCW sites pipped provider's direct sites, just slightly, with 37% saying they found these very quick and easy compared to 42% who found PCWs quick and easy. Only 1% thought PCW forms were confusing and time consuming, compared to 4% who thought the direct forms were confusing and time consuming.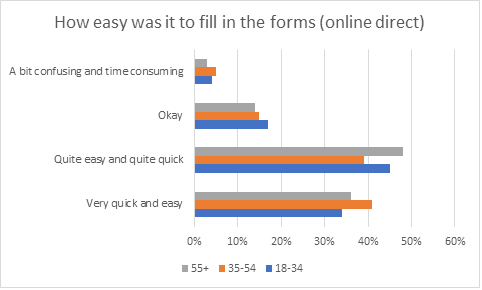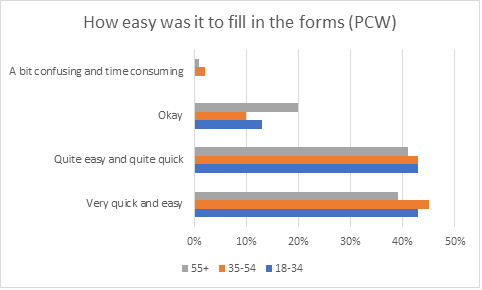 When broken down by age, it seems older people were more likely to struggle with direct websites, and younger people more likely to struggle with PCWs.
Either way, the consensus was there is still room for improvement in how information is presented on the consumer journey. 37% of people thought the purchase process could be made simpler and easier on direct websites, versus 28% of people who said it could be made better/easier on PCWs.
Perhaps more alarmingly, only 32% of consumers who bought via a PCW thought the information about their policy was very clear and easy to understand, 49% respectively found it quite clear, and 18% just ok. The figures were slightly better for online direct customers at 36%, 47% and 15% respectively.
As the FCA consults on a new principle of Consumer Duty – one which would raise expectations of the standard of customer care - firms may need to look again at whether they are doing enough to enable customers to make the best decisions for them with a focus on clear communications.
Overall, if the conversion gap is to teach insurers anything, it's that there is no one size fits all channel or standard customer. Understanding changing behaviours and habits will be key in meeting the fair value and clarity expectations of consumers and regulators alike, and building the consumer-focussed trusted services that will be core competing grounds post GIPP.
---

Viewsbank is our in-house consumer research panel. It's a large, responsive and community driven panel that conducts both quantitative and qualitative research.
Our Viewsbank panel helps our customers with a wide variety of projects ranging from detailed mystery shopping to demographically targeted research surveys. The research helps our clients make informed decisions based on true understanding of the consumer's voice.