6.5 million people could face financial difficulties as a result of the car and home insurance price rises set to be ushered in by the FCA's proposed ban on dual pricing.
The proposals are designed to stamp out price walking and ensure that renewal prices are no higher than the equivalent new business price. The FCA estimates that its proposals will save consumers £3.7 billion over 10 years.
However, those savings will benefit consumers who renew their policies with the same insurance brand, rather than those who shop around and switch every year.
In an impact assessment of its proposals the FCA admitted "consumers buying new policies under the pricing remedy will, on average, face higher prices." It estimated that new business prices may increase by £61 for building and contents insurance and £56 for motor insurance in the first year of its proposed remedy.
The Consumer Intelligence survey found that 85% of people shop around each year. When we put those price rises to those shoppers, some 19% said that missing out on those potential savings would make a difference to their monthly finances.
The findings come as the number of people with low financial resilience has grown as a result of the pandemic.
A survey of more than 7,000 people, conducted by the FCA in July, found 12 million people in the UK had low financial resilience, meaning they may struggle with bills or loan repayments. Some 2-million of those who are not financially resilient have become so since February.
Almost a third of adults (31%) have seen a decrease in income, with households seeing income fall by a quarter, on average.
While most consumers backed the move in our survey still nearly one third of the shoppers polled by Consumer Intelligence said the FCA's remedy seemed unfair.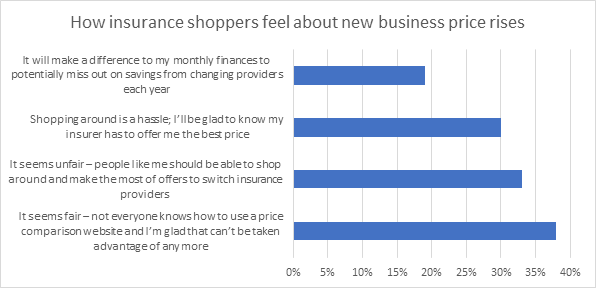 The FCA identified 6 million policyholders were paying high or very high margins in 2018. If they paid the average for their risk, they would have saved £1.2 billion.
Its latest impact assessment found that the new rules could save loyal customers, who are currently being price walked, a significant amount on their renewal premium. The FCA predicts that customers who purchase their policy prior to the implementation of the new rules (whether 1 year prior or 10 years prior), will save up to £75 for buildings and contents insurance and up to £94 for motor insurance, when compared to the renewal premium they would have paid had the FCA not intervened.
When we asked the non-shoppers about the price walking ban, 16% said the saving would make a difference to their monthly finances. Non-shoppers were also more likely to think the ban on price walking was fair.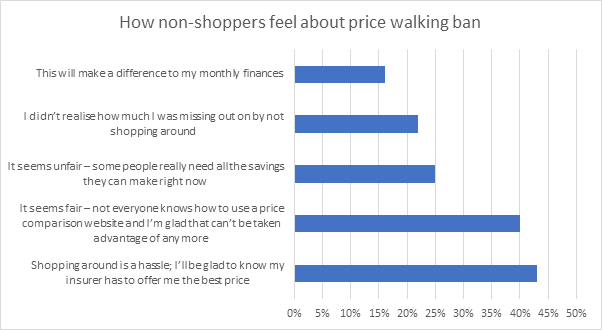 Consumer Intelligence CEO Ian Hughes said: "It was clear that the FCA needed to intervene to stop the practice of dual pricing and loss-making introductory offers which have steadily eroded consumer trust in the insurance industry and harmed vulnerable and older customers.
"However, this survey makes clear that this is a time when millions can ill afford an extra £112 of insurance costs. Many will stick to the habit of shopping around for the best deal This creates an opportunity for insurance brands to innovate and revisit the range of products they offer to make sure they can cater for all budgets."
---

Understand the needs and motivations of your customers or target audience
Viewsbank is our in-house consumer research panel. It's a large, responsive and community driven panel that conducts both quantitative and qualitative research.
Our Viewsbank panel helps our customers with a wide variety of projects ranging from detailed mystery shopping to demographically targeted research surveys. The research helps our clients make informed decisions based on true understanding of the consumer's voice.