Hastings has been the fastest growing motor insurance brand of the last six months, according to the latest research from Consumer Intelligence, growing its market share at renewal by 0.8 percentage points.
The broker hybrid was closely followed in the growth rankings by Aviva, which grew its momentum by 0.7 percentage points over the same period. And Direct Line also continues to power ahead using a non-aggregated strategy.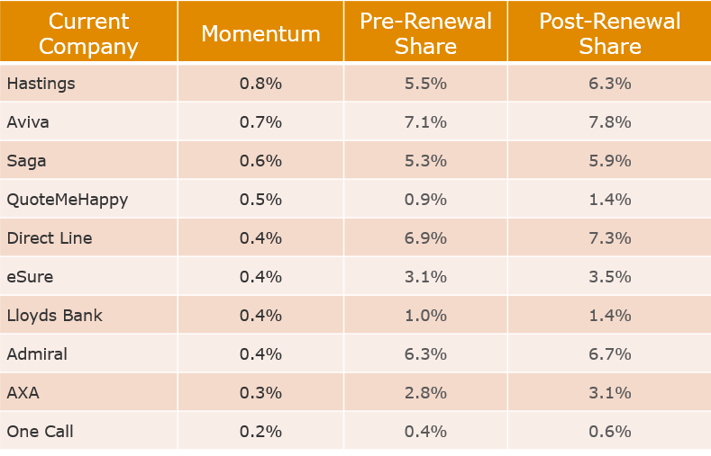 The momentum growth of a brand is defined as the swing between pre-renewal market share and post-renewal market share for a particular period, in this case between May 2015 and April 2016. So a brand entering the renewal process with 10% market share and after renewal having 11% market share has gained 1% momentum.
Consumer Intelligence chief executive Ian Hughes said the presence of large brands such as Aviva and Direct Line towards the top of the rankings demonstrates how insurers can still grow market share by focussing on the value of brand development, excellent customer service and dedication to cross-selling.
"People say that brand is not important and price is the only thing that matters, but there's Aviva powering ahead by giving a great customer experience that brings together all their products: insurance, pensions, healthcare etc. all in one place," he said.
"Those cross-selling opportunities are really important for growth, especially when you are a brand that chooses to only sell direct.
"It is absolutely fundamental that you deploy every single tool at your disposal in order to give you that competitive advantage. You have to use the customer experience, customer knowledge and data to maximise the opportunities that are available to you."
A stronger brand may have opportunities for growth
Hughes said that insurers should take note of Aviva and Direct Line's example and use this as an opportunity to re-focus their attention on value over price.
"Many Insurers that have grown up in the era of price comparison have really traded off of the fact they haven't needed to spend a lot of money on their brand to get customers, all they needed to do was to drive their prices down," he said. "They might now find that will get them so far, but in the long run some of these other guys with a slightly broader game and with a stronger brand may have more opportunities in terms of profitability and growth, even on Price comparison sites."
To underline this point Hughes points to Quote Me Happy, a sub-brand of Aviva that mainly distributes through the Price Comparison channel. This shows that having a portfolio play which includes different proposition for different channels is a smart way to grow overall Gross Written Premium.
---
Car insurance price index.
The data is used by the Office for National Statistics, regulators and insurance providers as the definitive benchmark of how price is changing for consumers.