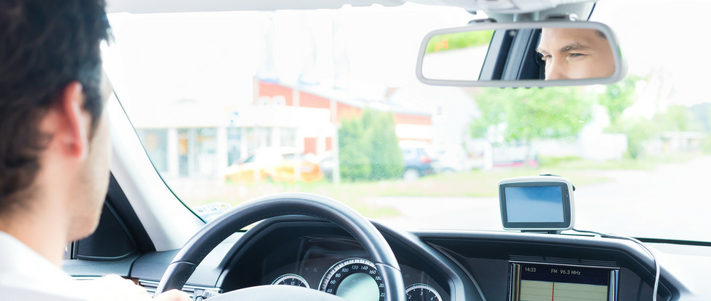 Shopping around for motor insurance has hit its highest mark in over four years as pricing increases and new regulation start to take their toll.
---
Our Insurance Behaviour Tracker suggests the feted perfect storm in the motor market has struck, with shopping rates rising to 85.6% in the three-month period ending June. They have risen in six of the last eight quarters.
Proportion of motorists shopping around at renewal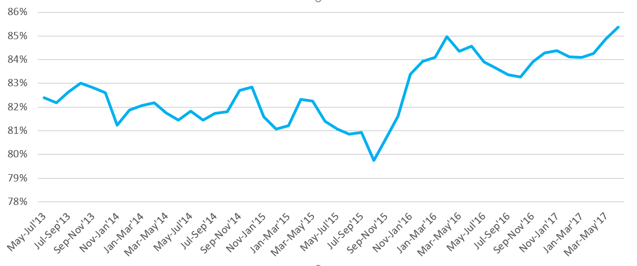 The triple impact of another hike in insurance premium tax, massive additional costs borne by insurers for the revised personal injury discount rate (known as the Ogden rate), and the FCA's move to force insurers to disclose last year's rate to consumers at renewal has driven premiums to record levels — and consequently, the propensity of consumers to search for better deals.
Primary Driver
Average motor premiums rose by 7.8% to £666 in the three months to June alone.
By contrast, the 2% hike in IPT to 12%, effective in June, is more modest and is the third increase in two years which means it may have come as less of a shock to consumers.
Consumer Intelligence research with 1,000 consumers before the FCA disclosure push found that nine in ten already checked prices before renewing their insurance, so it is likely that those shoppers would have noticed the increase in their premium regardless.
However, 10% of a large number is still a large number, and the FCA rules will have impacted behaviour of those who wouldn't have otherwise sought out the previous year's premium.
When asked to give their main reason for shopping around, there has been a marked shift in consumers' responses. The number of people citing excessive costs as their main influence has increased from 10% to 17% in 12 months. Those consumers who said they shopped around as a matter of course fell correspondingly, from 78% to 70%.
While there is variance across the market in terms of retention without shopping around, a few insurers are bucking the trend. One large brand has seen the proportion of loyal customers who renewed without shopping around jump from 14% to 25% in 2017. It goes to show that having a strong brand which delivers on its values and connects with its customers can gain loyalty in even the hardest market.
The broader market, however, shows a downward trend, with the remaining 9 of 10 on a Consumer Intelligence panel showing no material improvement in the percentage of customers who did not shop around in the past two quarters. Another brand's automatic renewal rate fell from 32% to 11% in the over the last 12 months.
Proportion of customers who did not shop around at renewal (Top 10 brands)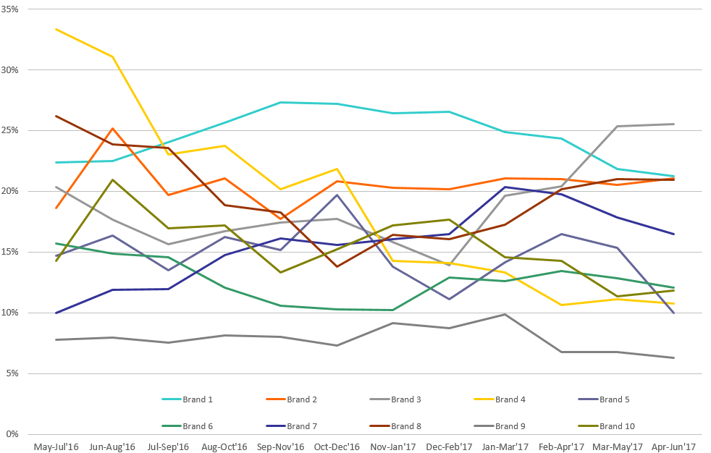 Motor is not the only market experiencing heightened levels of promiscuity. Home shopping rates have increased from 73.9% at the start of the year to 75.5% for the three months ending June.
The price of loyalty
Insurers and price comparison websites are live to the threat. Loyalty-based or retention-driving incentives, although nothing new, are on the rise in both number and in breadth.
A number of insurers currently offer discounts for existing customers purchasing multiple products, while cashback and refer-a-friend schemes are becoming increasingly common. Policy Expert now offers fixed premiums for multi-year home insurance deals.
Last week, Aviva said it was preparing to roll out a suite of new products to reward customers for their loyalty.
Will it be enough? With further price inflation expected, only time will tell.
---
Opportunties to win at renewal
To be winners in the renewal game brands need to ensure that both their retention and acquisition strategies hold strong.
With our unique blend of market and consumer insight, we can help you better understand your target customers and how to devise win in the renewal game. If this is something you think we could help you with then get in touch today.