It should be a match made in heaven. You've got a product, they've got an audience. But it's not always quite that easy…
For a start, it turns out that maybe you want slightly different things. You're interested in an exclusive relationship with a customer, looking to retain them year on year; PCWs are interested in keeping customers' options open.
Then the rules of the game keep changing. A tweak here, an extra question there, a new drop down option - and everything in your careful customer-courting strategy is thrown out of whack. And because of your hard-wired legacy systems, you might not even know about it, let alone what to do about it.
It's not just the two of you either. There are a lot of other players, from software houses, to other aggregators, panel members if you're a broker to external data sources - and with so many data transfer points there are so many chances for communication breakdowns and misunderstandings, which we all know can escalate fast.
On top of all that, there are all these new dating standards – with the FCA imposing fair value and a ban on price walking – all set to gradually change PCWs into just… CWs. Which means when it comes to customers, you really want to make a good first impression – and make sure you've read their signals right too.
So how do you keep a good PCW relationship?
Well, like any good partner, you should be paying it a bit of close attention and listening really, really carefully.
A small misunderstanding can lead to a big problem. And there are many places where data transfer and enrichment could be misinterpreted with your own rules in a way which means the price you think are you offering your potential customer isn't the one they actually see, or indeed the one you wanted to offer.
One might ask customers questions in a different way, or provide different answers from a menu, setting off a train of rating decisions and assumptions that return a price to the customer in a matter of seconds.
A communication breakdown there is going to have an impact on your ranking, your competitive position, and your bottom line.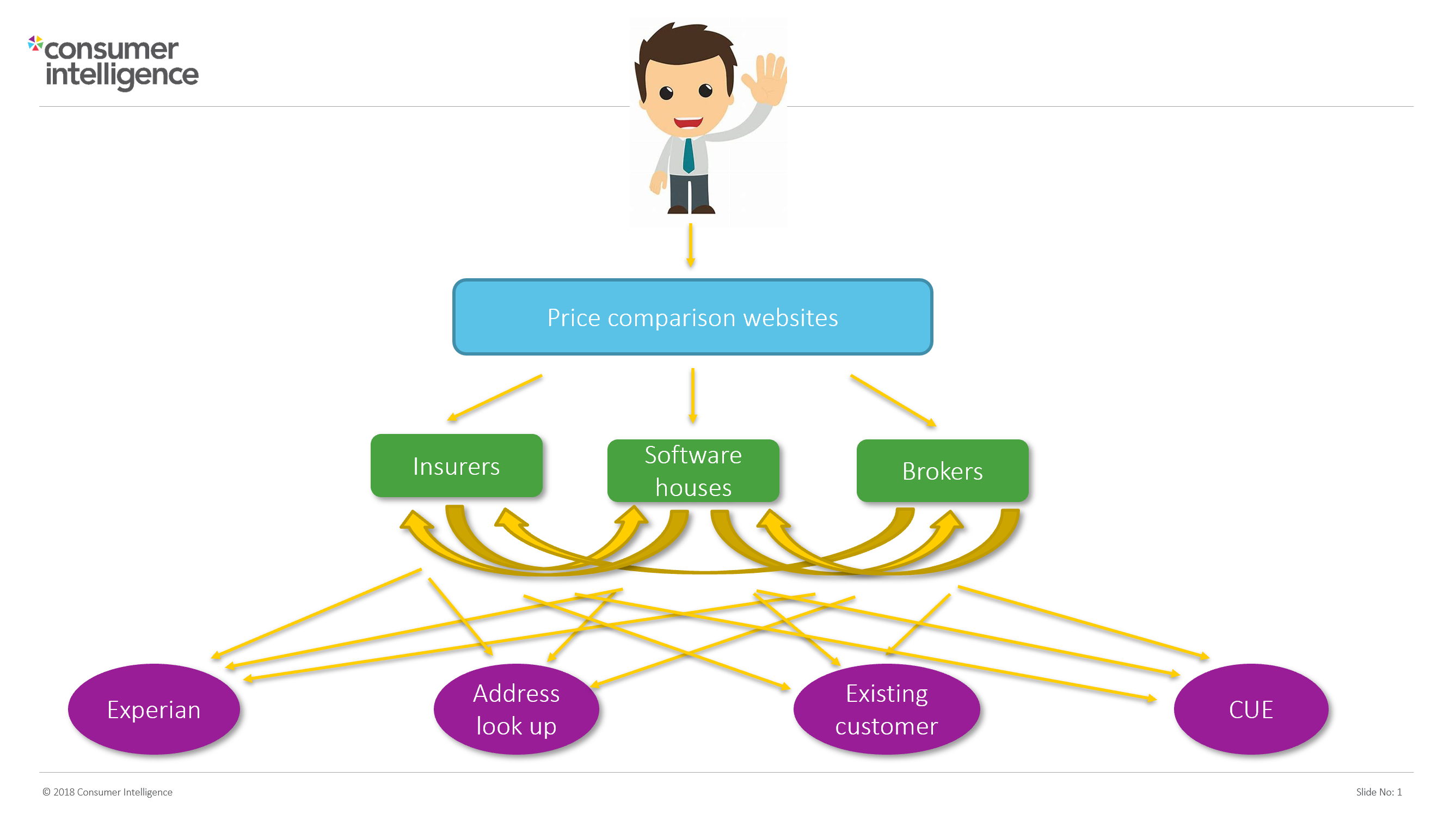 It's also got compliance implications. Very different outcomes for customers might not be very fair, and almost certainly will be something the regulators are going to be looking out for.
But what's really exciting here isn't the possible pain, but the possible gain. Getting to grips with your PCW relationship and getting to know your data can give you fine control of your strategy, and give you a commercial advantage over your peers. As the market (and PCWs) move away from competing purely on price, that sort of nuance and balance is going to be key.
At Consumer Intelligence we look at things through the eyes of the consumer, and we've been helping people understand what the customer sees at the front end of PCWs, what's happening at their back end, and then mapping out the differences.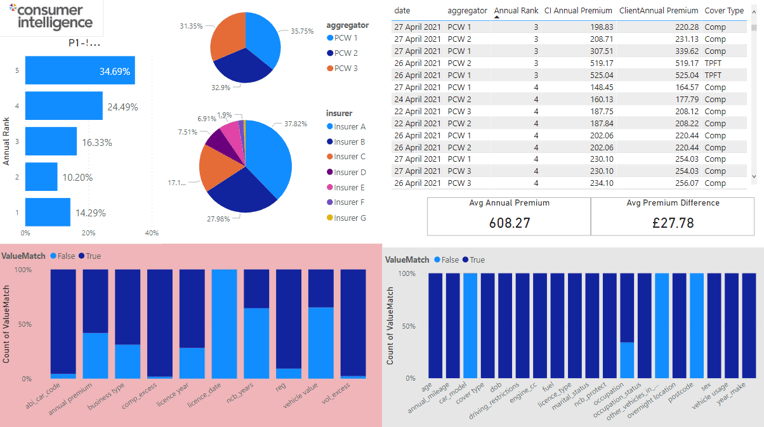 In this example, this anonymised motor broker is on three comparison sites, and has a panel of seven insurers, with the volumes for each displayed in a pie chart. The bit that's really interesting, though, is the value matching at the bottom. We gather every single input value a customer puts in the front end during their journey, and every output value the broker sees in their back end. Working to understand the rules and logic they have in place, we can see the values that match in grey, and the values that don't match on the red side.
Looking at annual premium, about 60% of the premiums matched directly. That means 40% of customers saw a different price when they clicked through from a PCW to the broker's website. Hardly the beginnings of a relationship based on trust. The mappings analysis goes on to show that insurer B and E are behind the mis-matches. There's a big difference in some cases between the CI Annual Premium eg at £525.76, and the Client Annual Premium – what the customer sees – at a whopping £583.19. That might well not have made it to the top ten, and could certainly be causing significant drops in conversions.
Being able to see the minutiae of what's happening in real life and in real time means that this particular broker can now prioritise actions. Indeed one of the test partners of our mapping tool has identified and fixed an issue that are forecast to cause an uplift of 1% of their GWP.
Getting this right will cause extraordinary jumps in terms of where you should have been with R1 positions but also building trust, building confidence with consumers along the way.
At the end of the day, having this sort of open, honest and healthy relationship with PCWs is going to help build trust with customers.
And trust, after all, is at the heart of all lasting relationships.
Find out more about Consumer Intelligence's mapping tool by watching our webinar here.
---
Let us take the hassle out of mappings
Our two newest products will make the pain of identifying mapping errors a thing of the past by quickly and efficiently finding them and helping you stay ahead of the game when it comes to question sets.  
Our Data Mapping Diagnostic is designed to identify and resolve mapping inconsistencies between the PCW journey and your back-end pricing database, while our Question Set Monitor provides a regular and concise view of questions, available options and answers exactly as they appear on each of the big four PCWs.  
Together these products provide a powerful tool, enabling you to improve your direct and PCW performance by identifying issues that are affecting the accuracy of your pricing, allowing you to focus on delivering the results you want to see. 
Take a step towards having 100% certainty in the reliability of your data transfer processes and the optimisation of your end-to-end journey; click here to book a call with a member of our team today.