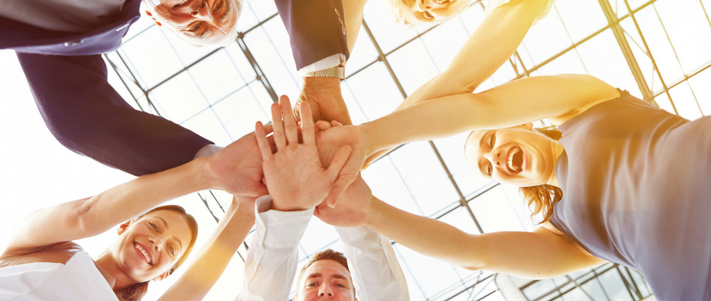 Whether it is the rise of new customer-centric products and propositions, the looming hulk of GDPR, or the good old-fashioned challenge of retaining customers, trust is front of mind for the industry — as our research presented at an Experian event in London last month showed.

---
The difference now is that the concept of trust is moving beyond a single 'moment of truth' to becoming a crucial part of an ongoing, service-based customer relationship mirroring wider trends in retail consumption.
What we think we know about trust
To evidence this we first must test the long-held assumption that insurers are not trusted by consumers. Our research suggests that the situation isn't quite so bleak. But it's difficult to develop trust in a the relationship that scarcely exists in the first place. And that's the real problem.

Take on the one hand our data, which shows that 85% of claimants had have a satisfactory experience; the 76% of consumers who say they trust the insurer they choose at renewal, and the 68% of consumers who trust their insurer in general.
Room for improvement certainly, but not quite as grim a picture of the industry that has been portrayed in the past. But then consider, for example:

First, a market driven for two decades by price, where it is cheaper to switch than to stay. Consumers who stick around expect to be rewarded.

Second, that consumers don't know what they're buying — and many feel that insurers are to blame. As our recent research with the ABI showed, 84% of home insurance consumers said their policy exclusions should be made more clear.

The Liverpool fire on New Year's Eve exposed a similar level of confusion. Not enough consumers understood how their no-claims bonus, premium or excess would be impacted.
What consumers thought would happen to their policy

Source: Viewsbank

What was clear was concerted outrage, and massive potential trust-related damage. A number of key brands acted with sympathy and speed and, instead of sticking to the letter of the law, waived excesses and retained NCBs. 57% of consumers said this kind of response would lead them to renew, while 71% said they would recommend their insurer to others as a result — significantly higher than the typical brand advocacy measure of 37%, according to our Insurance Behaviour Tracker — and perhaps indicative of the emergence of a new, customer-centric world.
What would you do if your insurer went 'above and beyond'?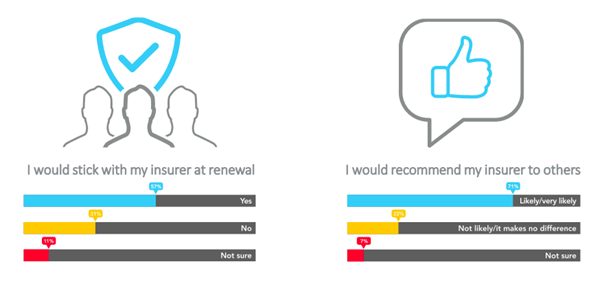 So consumer trust of insurers is ultimately a mixed bag. The real challenge, however, is not so much that trust is an issue. It is why. Trust, at least in the insurance context, is largely based only on a minority of customer experience: a specific claim incident. But trust — the kind that drives brand uplift, retention and referral — requires nurturing to flourish.

Mitigating the moment of truth
This is where the new trust paradigm comes in. Thanks to the evolution of consumer behaviour and expectations, and user-centred product design, the insurance context has changed. Trust has a crucial role to play not just at the point of a claim, but across the customer journey. Responding effectively to this we describe as 'mitigating the moment of truth', as Ben White, our Key Account manager explained at the Experian event.

"Insurers can't just rely on the claims event to win trust, but need to look at the customer's expectations throughout the lifecycle of the policy.

"The 9 in 10 policyholders who don't make a claim are unlikely to interact with their insurer until renewal. As a result the insurance is seen simply as a transaction, and people don't like to feel they have paid for nothing."
Trust and the customer journey

This entrenched lack of engagement is part of the reason why building intimate relationships with customers is so high on the industry agenda, particularly with emerging players both large and small making inroads. Some of these companies already have strong, trusted brands and highly engaged customers, which brings the opportunity — and the danger — into focus.
Part of the solution is to make the insurance experience more real, and more meaningful. As Jon Roughley, Head of Enterprise Strategy at Experian UK & I, says: "How many of your customers feel that insurance is critical to their lives?"
The good news is insurers, whether existing or new, are well placed to re-position the relationship. As the consumers of tomorrow seek greater convenience and more personalised services that meet their needs in real time (not just when they need to make a claim or renew their policy), insurance brands will need to develop and leverage trust to deliver better customer experiences.
Six Facts About Trust
| | |
| --- | --- |
| 1. | Trustworthy brands are up to twice as likely to gain consent from consumers to receive marketing messages |
| 2. | 76% of consumers choose an insurance brand they trust |
| 3. | 1 in 3 consumers don't trust their insurer to do the 'right thing' in exceptional circumstances, like the Liverpool Fire. |
| 4. | Consumers are twice as likely to trust information provided by their own insurer compared to the rest of the industry |
| 5. | 2 in 3 consumers do not trust insurers to pass on savings from personal injury reforms |
| 6. | Consumers are twice as likely to trust a peer recommendation compared to an 'industry expert' |
| 7. | 71% of motor and home switchers trust their insurer vs. 76% and 79% of those who renew |
In this model, trust becomes an input and and output. In order to provide personalised products and services, insurers need data. In order to acquire this data in the first place, they either need to have an obvious value proposition, or be trustworthy. Something of a chicken and egg, perhaps, but clearly brands that have worked to build relationships and reputation for being more than a reactionary or silent partner with their customers will prevail.
"Data can provide valuable insight on your customers and their lives, allowing you to truly understand them as an individual – ultimately what the individual wants," White adds.

"This, in turn, builds trust, which means that people are less likely to shop around."
Our latest figures show that only 71% of motor and home switchers trust their insurer, compared to 76% and 79% of those who renew.
GDPR is a good case in point. As we have previously argued, it represents an opportunity for the industry. It will allow brands to learn more about and target customers more efficiently, to enhance the consumer journey through better communication across more touchpoints, and to win trust through transparency.

"These are critical, and evidently rewarding, factors," White concludes.

"They are building blocks that bring you not only nearer compliance, but nearer to your customers.

"The outcome is that by understanding them better, you can better serve them."

The bottom line

Last year, as the GDPR hit the headlines, we found that trustworthy insurance brands are up to twice as likely to gain consent from their customers to receive their marketing.
The kicker, as the chart below shows, is that this trust is squandered if brands don't consider the entire customer journey — including rewards for loyalty, which also relates to a bond of trust.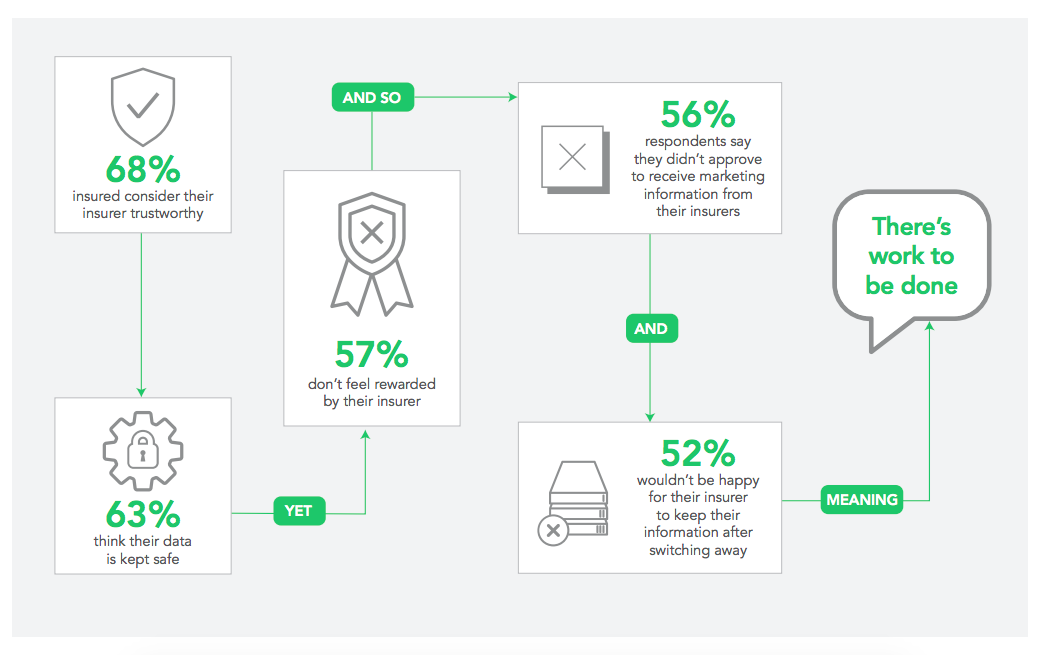 Indeed, part of the confusion over trust is this specific relationship; most simply, insurance customers are even less loyal (because of price) than they are trusting.
"Congruence is the key to earning trust in the first place," says Stuart Peters, our Head of Consumer Research.
"Only by consistently servicing customers, at each and every touchpoint, can you then start winning their loyalty. That is the real challenge for the insurance industry.
How can insurers create opportunities to engage with consumers in a low touch-point category, especially to overcome consumer cynicism?
"That's why, maybe, the Liverpool fire example is a good example — can insurers behave like this all the time rather than in one-off situations?"
Fortunately for the industry, they can evidence their value without having to wait for a catastrophe to happen. The digital economy presents a unique opportunity to change the dialogue — but without trust, it will remain only that.
---
Why do you need consumer research?
At Consumer Intelligence we believe that it is the businesses that adopt an unwavering focus on their customers who will survive and grow.
We make it our mission to help you achieve this by providing tools and services to enable you to better understand consumers' attitudes and behaviours, as well as the means to analyse this data and take positive business decisions as a result.
Download our guide to 'Understanding Consumer Attitudes' to learn how our output goes beyond research and data to uncover genuinely exciting insights – invaluable nuggets that can help transform your business and your bottom line.
---
Post a comment . . .