We know that when people stopped panic-buying loo roll, they started to panic buy pets – with an estimated 3.2 million animals joining UK households by the end of last March.
In response, the pet insurance market has been booming – especially as personal lines brands hit by GIPP look to stabalise by extending their footprint.
Opportunity wags - which is exactly why we're launching our new pet IBT, looking at pet insurance trends, consumer behaviour, and market competition.
How big is the opportunity?
As a non-compulsory purchase, pet insurance clearly doesn't have the same levels of take-up as home or motor insurance. But with a quarter of UK pet owners still without a pet insurance policy – there's a lot of potential customers to court.
Do you have pet insurance for any of your cats/dogs?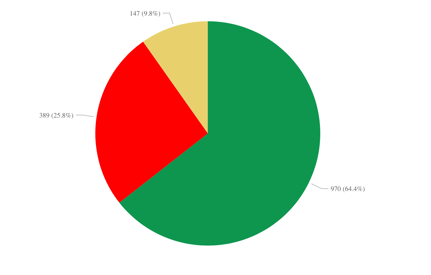 Of the ones that do have insurance, only 4% said they found out about their provider because they already had another kind of policy with them, indicating an untapped opportunity for cross-selling.
For nearly a quarter of the uninsured (23.3%), the pet in question is their first animal. 80% have never had insured a pet before, and cats were more likely to be left uninsured than dogs – 47.2% versus 40.3%.
Are any of your uninsured pets your first pet?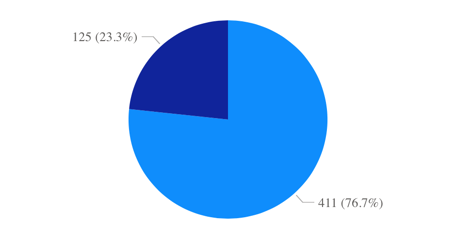 This all suggests that part of the opportunity is about education on what pet insurance does, and why it's worth the premium.
In a previous Viewsbank, we found that 63% of pet owners admitted they weren't confident about what vet fees might cost, but 58% still felt they'd be able to cover them anyway. But as the biggest cost-of-living crunch of a generation hits home in April and disposable income takes the expected nosedive, that confidence is highly likely to falter.
That may be reflected already in consumer attitudes to pet insurance. Only a third of non-insureds are entrenched in that position. The big news for providers is that 69% said they would either definitely or maybe get insurance in the future. Pet players could well be pushing on an open door if they get their messaging right, right now.
Would you insure in the future?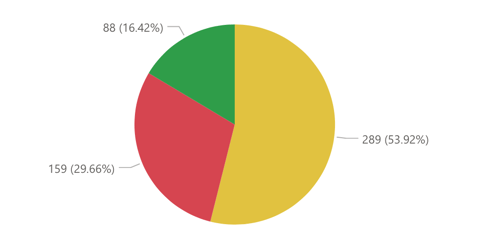 How are people buying policies?
There are lots of other ways pet insurance is very different to home and motor insurance. For a start more people find out about providers and buy policies through direct channels.
Internet searches, friend and family recommendations and vet and breeder endorsement far outstrip the PCWs when we ask how people came to their provider. 35% go on to buy direct online, too, with another 11.5% buying direct by phone, compared to just 31.4% going through a PCW.
How did you find out about your provider?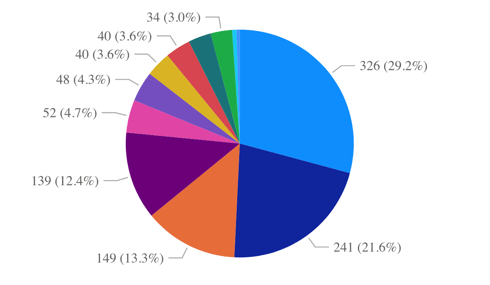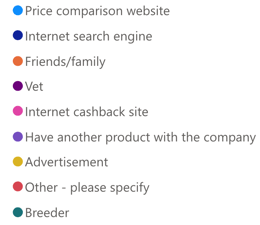 How did you originally purchase your policy?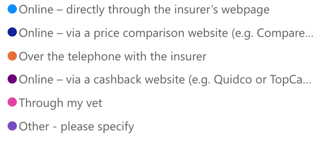 Nearly half (47%) of people with pet insurance admitted that they didn't shop around for quotes – very different behaviour than we see in motor and home where shopping around is very much entrenched.
Did you shop around?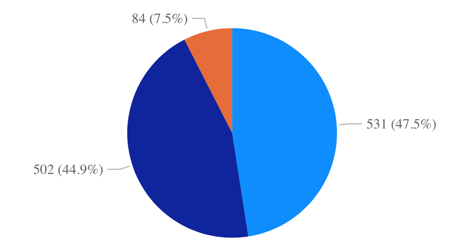 That's partly because switching gets harder over time, because unlike a car policy (particularly post GIPP) premiums can go up with time and the age/risk of pets. Around 40% of pet owners are already paying between £100 and £200 a year for their cover, and more than half (52.6%) found their prices going up at renewal.
It's also worth noting that despite these typically rising prices, pet insurance providers/products are distinctly more popular with consumers than home and motor. Of the 22% who had made a claim, nearly 90% were quite or very satisfied at the outcome.
How satisfied were you with your recent claim?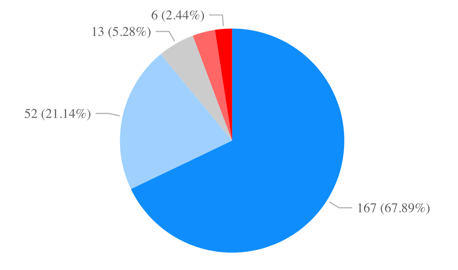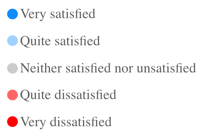 Perhaps one of the biggest advantages - and opportunities - for pet brands is that pet insurance is a far more emotional purchase than either car insurance or home insurance. That in itself is a hook for messaging. People have a relationship with their pets – and a corresponding gratitude when a poorly pet gets fixed up, and an expensive bill gets paid on their behalf.
Could brand loyalty won on pets extend across other lines? We'll only find out as the pet market continues to evolve.
How can I find out more?
If you're interested in finding out more about the pet market, including the performance of different brands, speak to us about the Pet Insurance Behaviour Tracker.
---

WEBINAR: It's raining cats and dogs
Understanding consumer behaviour in the wake of the pet boom
As an existing pet insurer or a brand thinking of entering the pet insurance market, it's important to understand the size of the opportunity. A key component of this is building your understanding of consumer behaviour in this space.
In our upcoming webinar, we will be revealing exclusive data from our brand-new Pet Insurance Behaviour Tracker - which tracks the behaviour of cat and dog owners - to help you on your journey.