A decade after the invention of the first video doorbells, 20% of Brits now have one to monitor visitors to their home – often remotely from mobile phones.
1 in 5 (21%) of Brits have CCTV, and 29% of people have a burglar alarm. Safety chains are used by just over a quarter of people, while 44% knew they had a multi-point locking system on their doors, our Viewsbank survey on home security shows.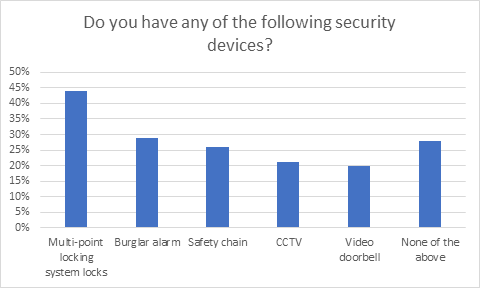 Young people 18-34 are the most likely to be embracing what's relatively new security technology, with 25% having a video doorbell, compared to 24% of 35-54s and just 13% of over 55s.
The devices are most popular in the South and East, with less take-up up North, and Wales coming out as the Ring-leader of the nations.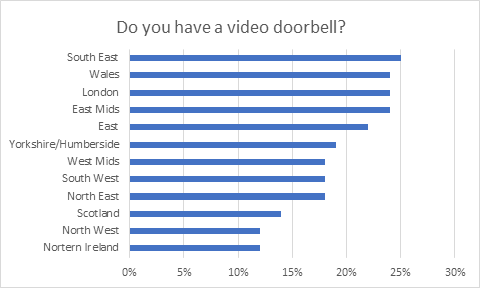 Home security gaps
Burglaries went down over the pandemic, with more people at home more often, but as things continue to open back up home security is becoming more relevant.
Worryingly as many as 28% of respondents had none of the security measures we asked about. 37% admitted they didn't always set their house alarm, 63% admitted they didn't always use their safety chain, and 4% said they didn't always lock their doors.
Of those with video doorbell technology, only half were using it regularly, compared to 85% of CCTV owners, who regularly check cameras, systems and footage.
Despite sporadic use, these security features definitely make people feel safer. Multi-point locking systems topped the safety charts, followed by CCTV and increasingly popular video doorbells.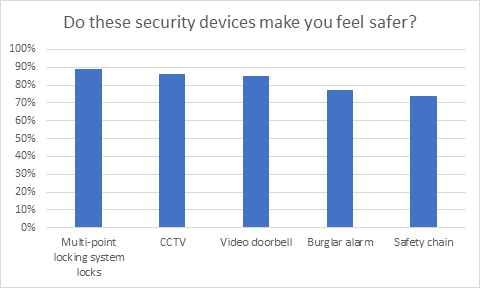 Home insurance impact
84% of the people in our Viewsbank survey had a home insurance policy, but most weren't asked about video doorbells when they set up their policies.
78% said they were asked about having multi-point locking system locks when they took out their home insurance policy, and 74% were asked whether or not they had a burglar alarm.
However, 63% said they weren't asked or can't remember being asked about having a video doorbell, and 61% weren't asked or can't remember being asked about having CCTV, neither of are asked about by any of the major PCWs.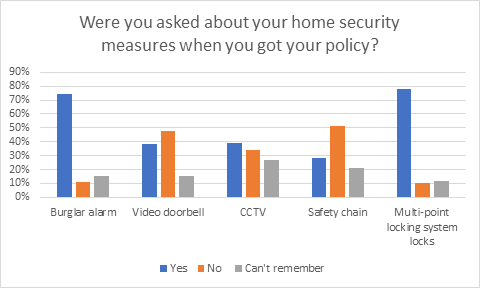 Perhaps unsurprisingly, the overwhelming majority, 84%, felt their home security measures SHOULD be taken into account and reflected in their premium.
Just under half, 47%, had informed their insurer when they had updated their security. Of these, 38% said they thought their improvements had changed their premium, leaving 62% feeling frustrated that security devices and measures had had no impact.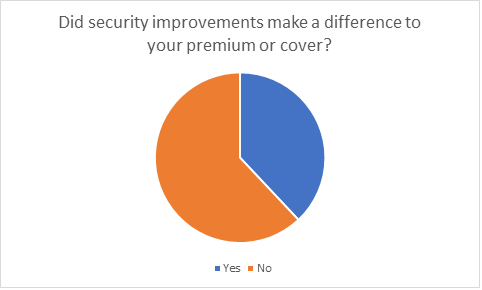 As home insurance providers continue to grapple with the re-balancing of price and cover post GIPP, it could well be that risk matrixes and security question-sets need updating to reflect the advent of new home security technology – like the Ring doorbell (other brands are available). It's something already being done more often in the USA, and by start-up brands like Locket.
It could be a relatively quick win in establishing 'fair value' in the minds of customers – especially those who are seeing their premiums on the rise.
---

Viewsbank is our in-house consumer research panel. It's a large, responsive and community driven panel that conducts both quantitative and qualitative research.
Our Viewsbank panel helps our customers with a wide variety of projects ranging from detailed mystery shopping to demographically targeted research surveys. The research helps our clients make informed decisions based on true understanding of the consumer's voice.