Holidays are back, but they're not quite the same as they were before the pandemic - and neither is the travel insurance industry. It's been through a lot, and it's come out the other side looking a bit different…
Here are 11 things we learned from our recent webinar discussion...
1. Holidays are back
People are ready and waiting to go off on holiday, after a long, hard pandemic – and so far they're determined the cost of living isn't going to stop them. In April, 68% of people said they were planning to go abroad, 15% said cost was no object, and 34% said they'd do everything they possibly could to get away in 2023.
2. People are staying closer to home
When they're heading off though, people aren't going far. Europe is overwhelmingly the most popular destination, with Spain the clear favourite. France, Greece, Italy and Portugal are the continental followers, but the US sneaks in at number 3, the holiday choice of 1 in 10 Brits.
Destinations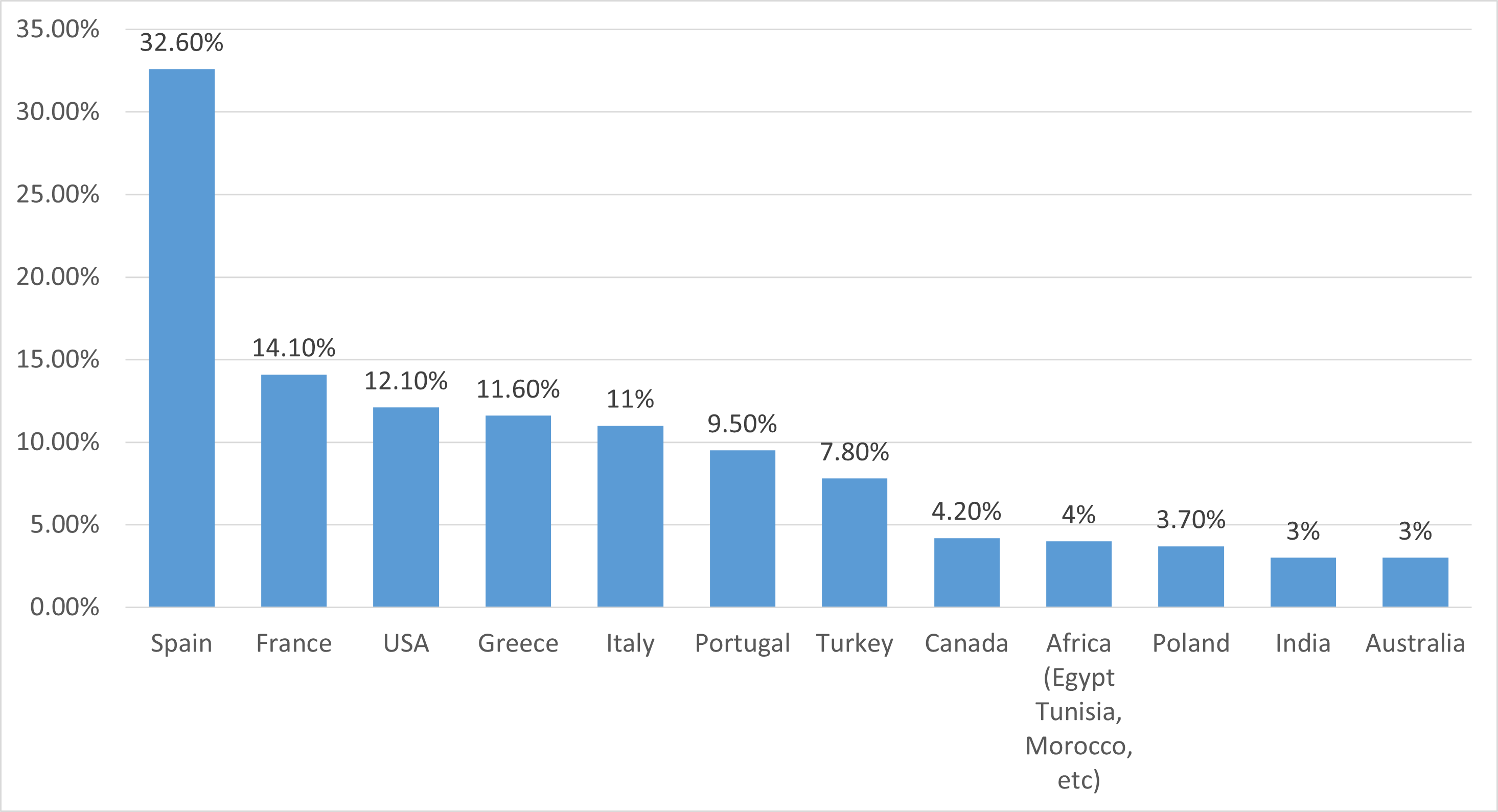 3. Holiday-makers want insurance
Good news for the insurance industry – people want their holidays covered. But the opportunity could be waning with the summer… 38% said they were planning to buy a policy in April, dropping to just over 30% in June.
Recent airport chaos has also played into the hands of insurers, with 40% of Brits saying it had made them more likely to take out insurance than before.
The opportunity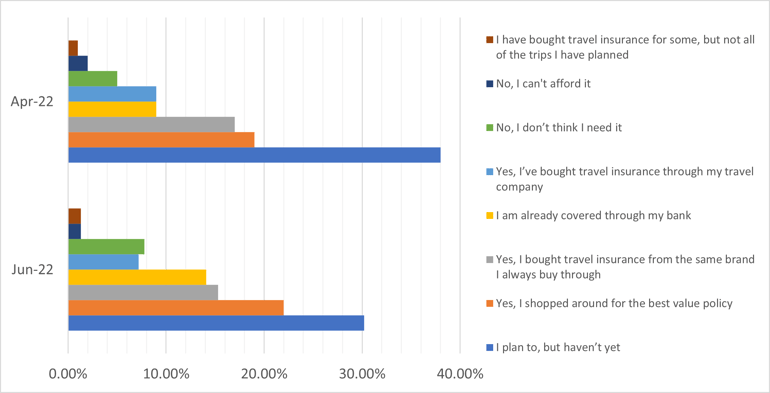 4. Price is no longer king
Price isn't top of the list anymore when people pick a travel insurance policy – it's not even second. It's now the third thing people look for, after cover and brand.
5. Expectations are high – but misunderstandings are common
People expect quite a lot from their travel insurance – but it doesn't always cover what they think it will. In green, people were right that their insurance would cover medical costs, Covid cancellations and re-patriation. In red though, nearly 60% thought their travel insurance would cover Covid-related flight cancellations – which it doesn't.
45% also wrongly thought it would cover airport delays, and 34% thought it would cover airport strikes. 20% of people thought their travel insurance would cover them if they were too worried about Covid to go on their holiday.
Quite clearly, there is a job to be done by travel insurers to educate the public about what is and isn't covered - and where responsibilities and liabilities fall.
Cover expectations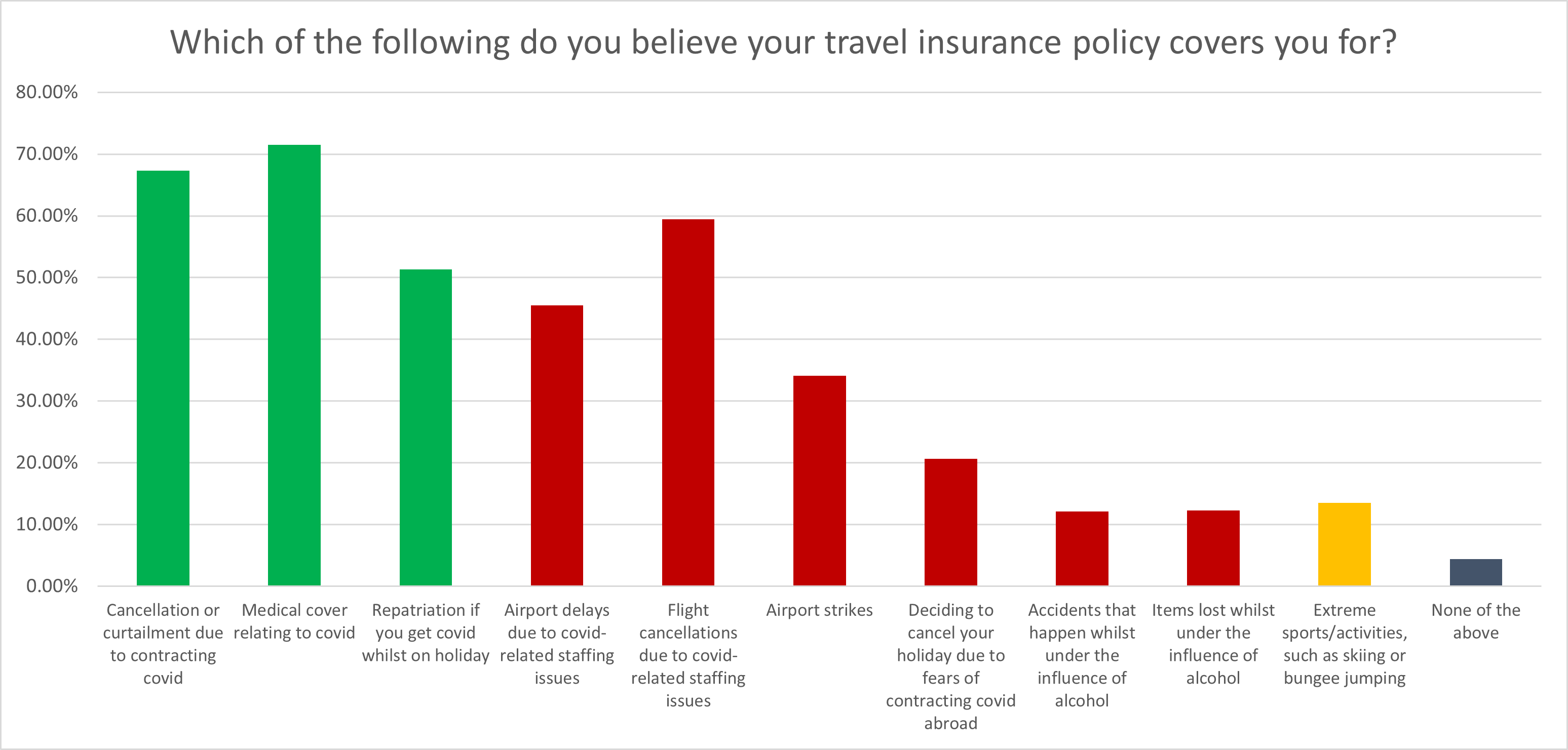 6. Consumers have less choice
There are less brands in the market not than this time last year, offering consumers less choice. There are signs of recovery, but overall there is more demand for fewer policies.
Number of brands

7. Prices have gone up – but maybe settling down
Prices shot up after lockdown, but have begun to fall again going into the summer. Older people are paying more, because they're more likely to have more complicated medical needs. European policies are coming down in price, while worldwide, US and Canada prices continue to rise.
Travel prices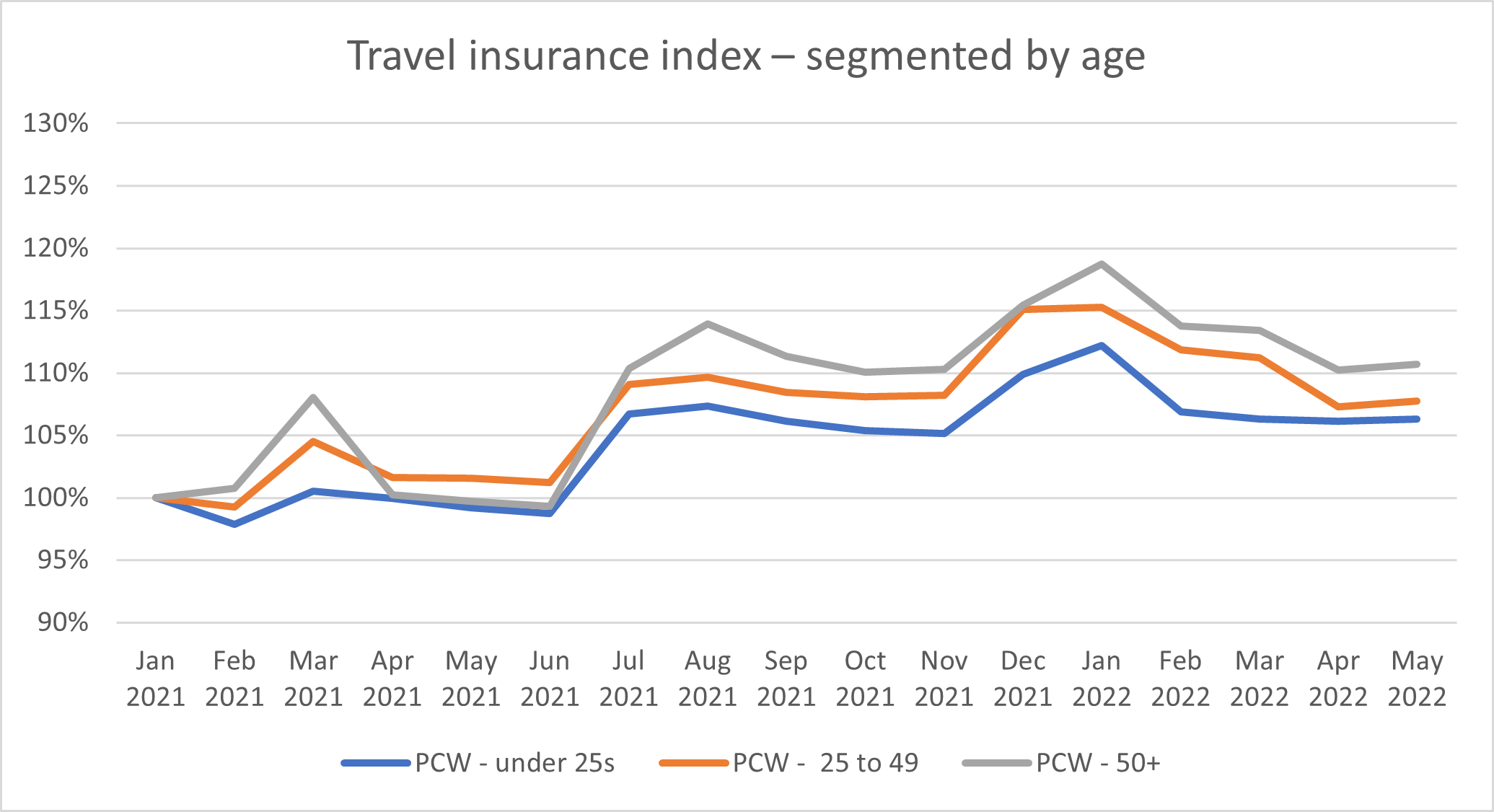 8. Trust is complicated
In the trust stakes, travel insurance has clawed its way up from the bottom of the pile, but not by much. Beating the government and the media's trust ratings is nothing to write home on a postcard about… but all is not lost.
In a Consumer Intelligence Viewsbank survey we found that 84% of people thought their travel insurance policy provided good value, and 80% trusted their provider to pay out if something went wrong. That gives providers something to build on moving forwards.
Trust in context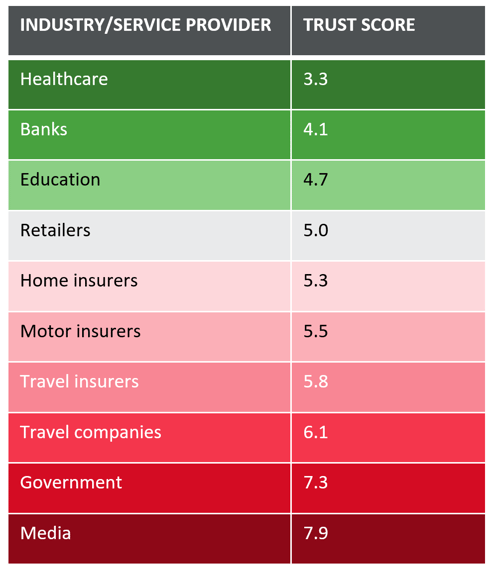 9. Value needs to be clearly articulated – and broadcast
A key part of repairing the industry's reputation could well be about better articulating the value equation. This is a policy which is delivering potentially hundreds and thousands of pounds of benefit/service if something goes wrong - for the grand total of around £50.
More transparency (and plain English) around what you get, what you don't get, and why, could help people make the choices around cover quality they're clearly looking for, combat misunderstanding and misinformation, and give brands a boost that could well result in competitive advantage.
Providers might also benefit from adding their voice of expertise to public and media debate – for instance to the furore around recent travel chaos; clarifying responsibility, explaining next steps and actions to take, and being seen to be firmly on the side of the consumer.
10. Consumer Duty could change the game
Consumer is coming, and it could change the game.
Under the new rules, providers will have to ensure good outcomes for customers - and that's going to require a large scale and ongoing review of all products and services, from policy terms to pricing strategies, right down to the quality of communications. Travel insurance providers are going to need to step up, and step into the role of supporters as well as suppliers.
11. Technology could change the game
New technology is also set to change the travel insurance game. Legacy systems have often made integration with insurtech tough, but that's starting to change. New products, new customer journeys, and new systems are starting to allow online interaction from sales to claims, and proactive, automated responses – like instantly opening up lounge access to those who are experiencing flight delays before a claim or enquiry is even made.
The holiday may be back, but times have changed - and travel insurance is changing with them. Providers are going to need to keep up - or even better - stay ahead.
---

Want to catch up on the recording itself? It's available to view right now, along with the remainder of the slides...