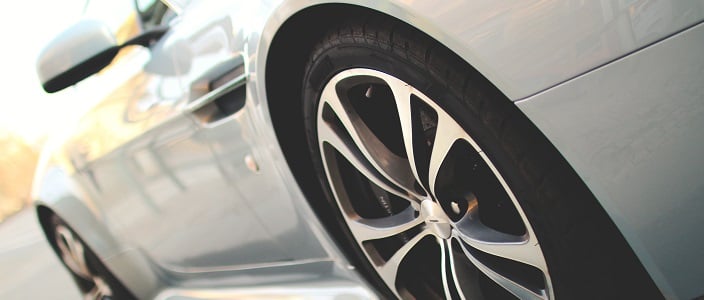 Since the beginning of lockdown, we have been tracking how consumers have been impacted by the COVID-19 pandemic and the fast-moving behaviour trends that have resulted.
Following the first announcement of lockdown, we saw a significant shift in driving behaviour and our roads become uncharacteristically quiet nationwide, with the closures of workplaces, schools, restaurants, gyms and other social spaces and Government's advice to 'stay home'.
Some six months later, as the UK begins to open back up, our data is starting to show an uptick in the number of motorists returning to the roads, with indications that this trend will continue, as increasingly fewer people say that they plan to drive less.
Since mid-July, the proportion of drivers saying they have driven less in recent weeks has taken a steady decline from 71% to 64%. And whilst we saw an upward trend of drivers predicting they would drive less once lockdown restrictions had been lifted, peaking at 39% at the end of July, this figure has now declined to 34%.
These figures could indicate that as lockdown restrictions continue to ease, people are feeling more comfortable returning to their usual driving patterns and are starting to depart from idealistic intentions for supporting a more environmentally friendly world as the reality of normality starts to rear its head.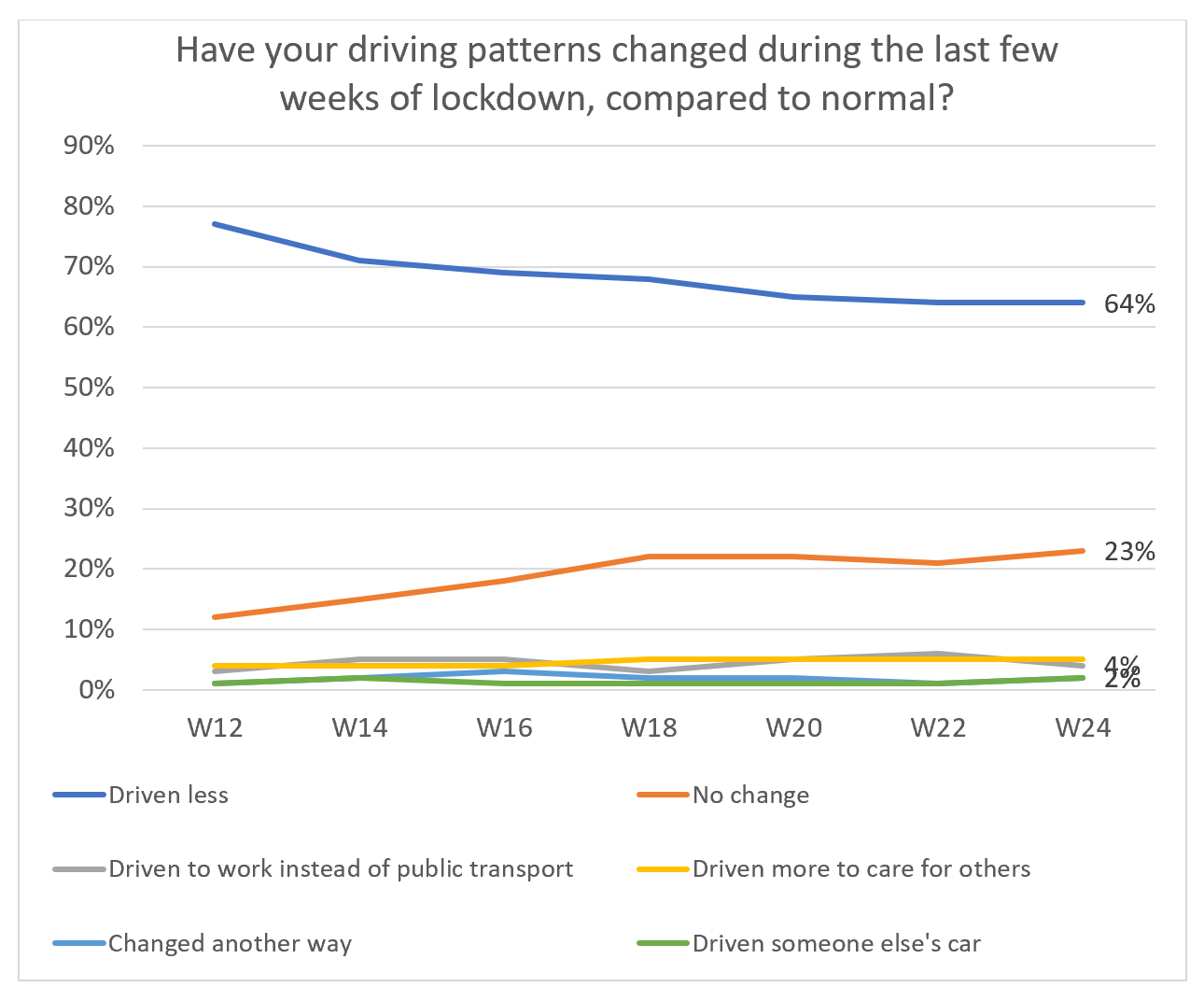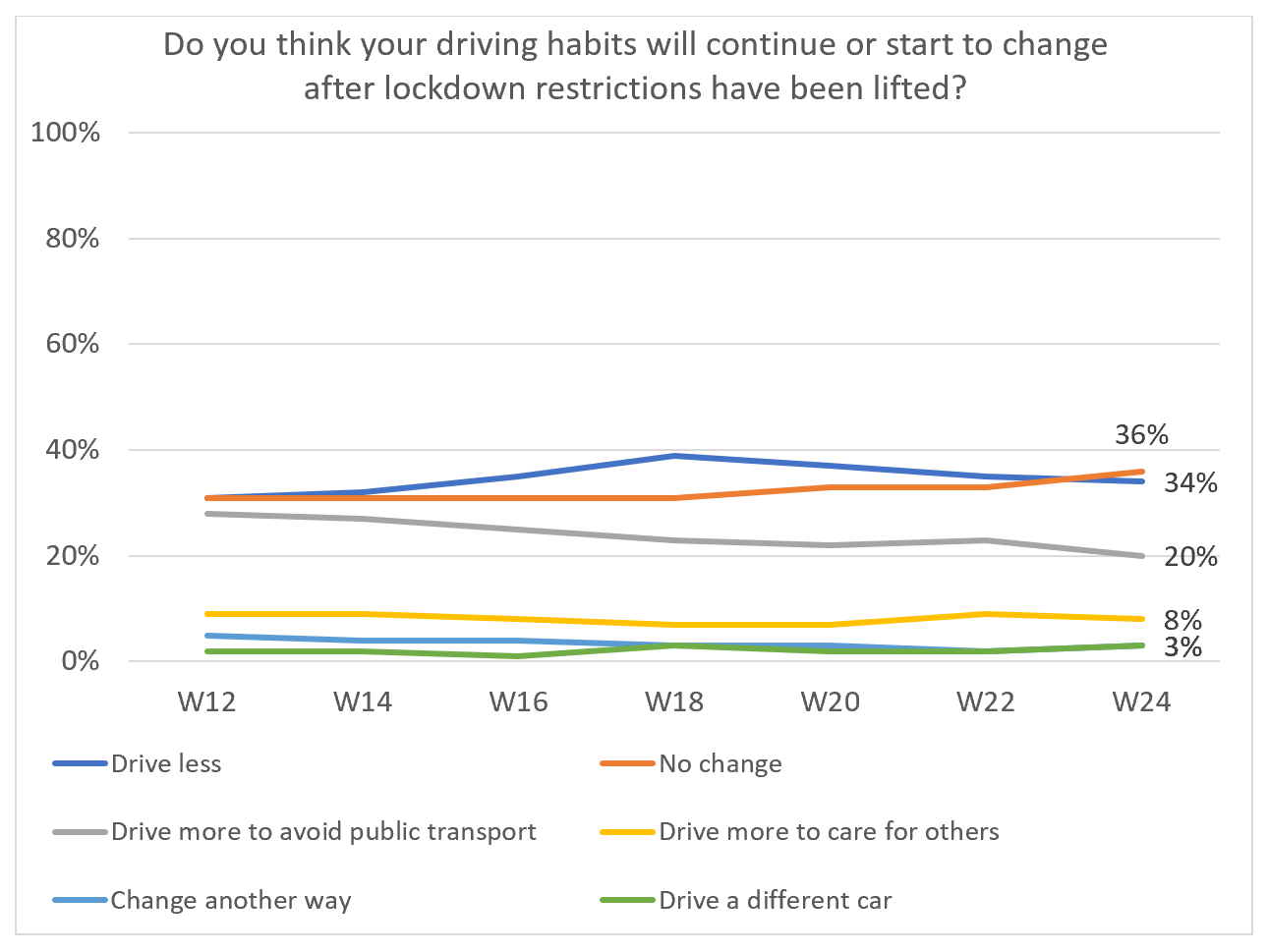 However, it's important to consider these figures in context. Although rising, the number of drivers on the road remains lower than pre-Covid levels. On top of this, 1 in 4 motorists say they have concerns about affording their motor insurance premiums at renewal. When you add these two together, it is unsurprising that we are also seeing a slight fall in the number of drivers requiring the same levels of cover as before. But the question is, what could this mean for the future of motor insurance.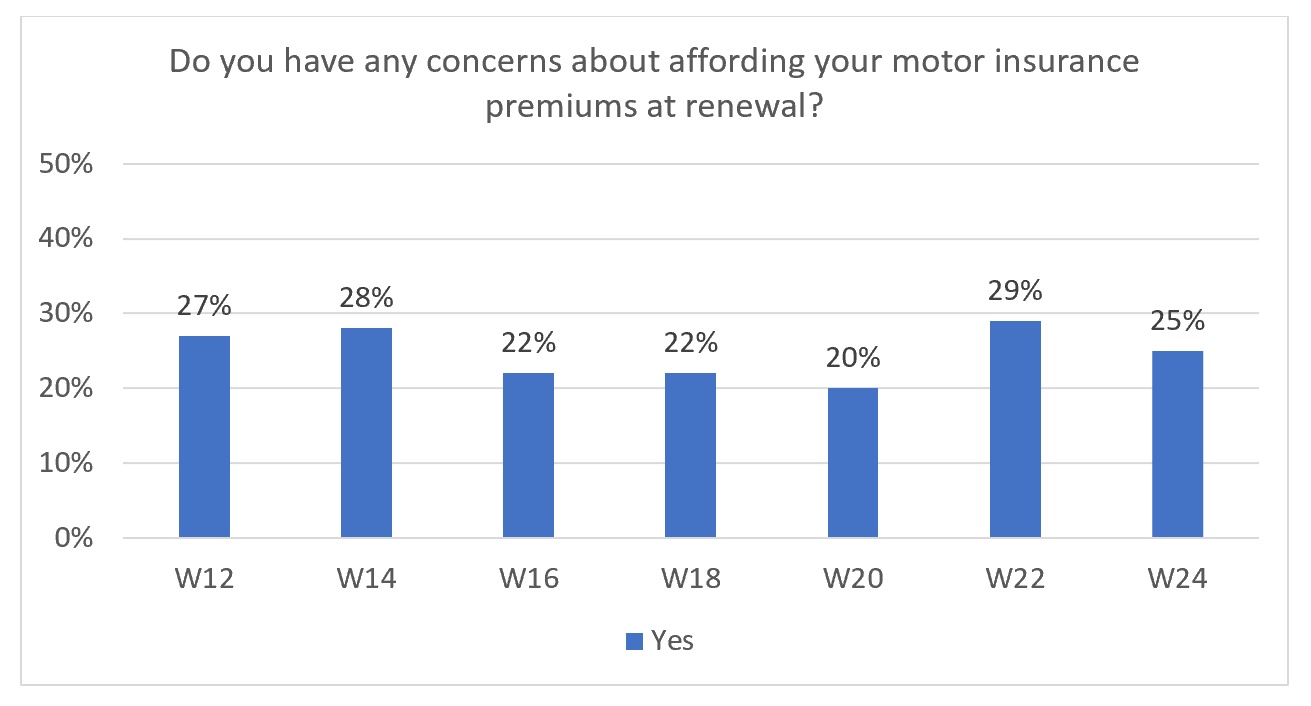 Should these concerns be realised, we could see a shift in shopping and renewal behaviour of these price-sensitive policy holders, with the potential for an increase in drivers opting to spread the cost of their insurance by paying in instalments or only paying for what they need by purchasing flexible or on-demand insurance.
Alternatively, we could see an increase in uninsured drivers, potentially further accelerated by the upcoming staffing cuts made by the Motor Insurance Bureau, reducing resource dedicated to removing uninsured drivers from our roads. This could possibly have an impact on how insurers chose to price risk and have a secondary impact on premiums.
---
Track changing consumer trends
Understanding how the looming recession, as well as a potential second peak of the pandemic, will impact consumers through the rest of 2020 - and beyond - will be key for insurers.
To follow the changes to come, gain insights into the next stage of the pandemic and examine how they affect consumer behaviour and attitudes, we have launched version 2.0 of the Covid-19 consumer tracker, which is now available to purchase.