Customer recommendations are one of the most powerful marketing tools around. With so many options for customers, recommendations make it easier to determine which products or services to purchase.
We asked customers to imagine they were deciding between insurance companies where each had won an 'Award of excellence' for insurance. The results showed that when shopping for insurance, consumers are over five times more likely to choose a company who had an award based on real customer recommendation and feedback, as opposed to a company who had won an award based on the opinions of industry experts, with 50% choosing Company One, compared to only 9% for Company Two.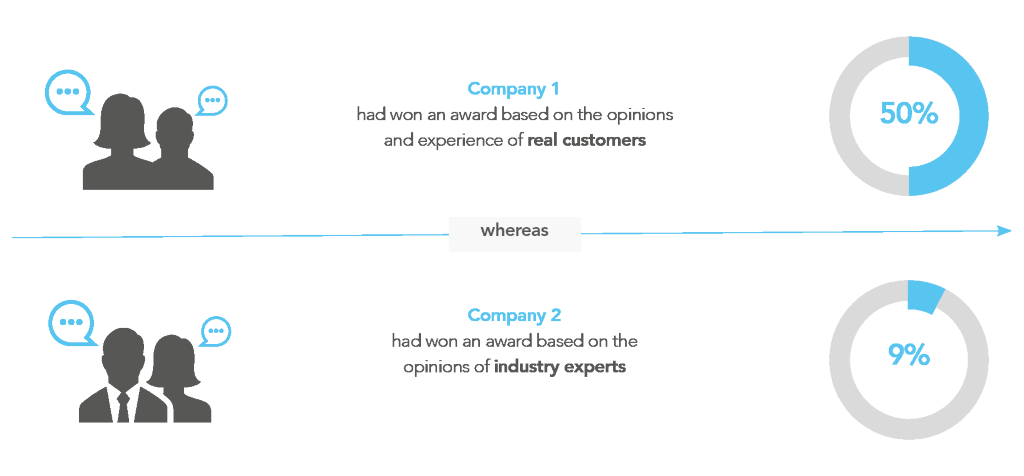 The category 'Recommended by Customers' in the Consumer Intelligence Awards recognises the brands that customers are most likely to recommend to their friends and family. Brands receiving this award are the highest-rated providers of overall customer experience – official word-of-mouth winners. And these are the brands that have come out on top for recommendation in the 2021 Awards.
The top 10 highest rated insurance brands for
customer recommendation*

Voted by drivers

Voted by householders

*winning brands are listed in alphabetical order
We have seen yet another shift in the top-rated brands this year. Admiral, Churchill, Diamond, Post Office and Zurich have all debuted as new entrants for 2021 into the Top 10 for customer recommendation in motor insurance. While in home, we have seen M&S, Natwest and Prudential take three of the top spots. You can view the full list of 2021's Consumer Intelligence Awards winners here. The full list of 2021's Consumer Intelligence Awards winners is available to view here.
To be considered for our Customer Recommendation Award, brands require a minimum market share, which is measured by the number of customers that use them as their insurance provider. Our winners for this category are the brands that perform best in terms how likely customers are to recommend them.
We have calculated the correlation between the recommendation score and ratings of cover, service, and the importance of price. This has been done for all brands considered for the Award.
| | | |
| --- | --- | --- |
| Correlation between recommendation score and… | Home | Motor |
| Rating of cover | 0.76 | 0.70 |
| Rating of service | 0.78 | 0.74 |
Correlation scores range from -1 to +1 (-1 = perfect negative linear relationship, 0 = no linear relationship, +1 = perfect positive linear relationship).
To gain an understanding of how well customers rate the cover and service provided to them, we ask to what extent they agree with the following statements: 'I believe the level of cover is better than other companies', and 'I have always received good service from this company'.
The correlation between the recommendation score and cover rating was 0.76 for home, and 0.70 for motor, whilst the correlation between the recommendation score and service rating was even higher; 0.78 and 0.74, respectively. These strong, positive correlations show that companies with customers that rate their provider's cover and service highly, have higher recommendation scores.
We were then able to look at whether customers that have chosen their insurer because they were cheapest, were also more likely to recommend that company. This was based on the level of agreement with the following statement: 'I chose this provider because they were cheapest'.
The correlation between this and the recommendation score was -0.62 for home and -0.60 for motor insurers, which suggests that offering insurance that attracts customers based on price alone isn't correlated with good recommendation scores. In fact, companies that have lots of customers that have chosen that company based on price, have lower recommendation scores.
| | | |
| --- | --- | --- |
| Correlation between recommendation score and… | Home | Motor |
| the importance of price | -0.62 | -0.60 |
This analysis clearly demonstrates that the brands topping the leader board for this category aren't just focused on winning new business by offering the cheapest price. They provide products that deliver true value and serve their customers to the highest standard. Afterall, recommendations are all about storytelling, and these brands are giving their customers a story they want to tell. Congratulations to all our winners!
---
Becoming a Consumer Intelligence Award winner is no accident
This year we're offering both winners and the brands that weren't so lucky the chance to analyse their underlying performance across the Consumer Intelligence Awards. Our 'Performance Package' includes a bespoke and detailed workshop that can help you identify improvements you can make within your business over the coming 12 months.