It will have been impossible to miss that last week the Supreme Court ruled largely in favour of policyholders in the final, rather bloody Battle of BI (business interruptions), broadly dismissing the appeals of six insurers.
It was a blow that will be felt not just by those involved but across the insurance world as a whole, and that will reverberate for many weeks, months and even years to come.
Insurers have never had a reputation for particular generosity, whether deserved or not. But they have now been seen very publicly to fight small business owners tooth and nail to the very limits of the law to avoid paying out on non-damage business interruption claims.
And make no mistake about it. This case may have been about a specific type of business insurance, but consumer awareness on the headline ruling is high.
A flash survey of 994 adults we conducted this week showed that 50% were aware of the press coverage.
For nearly half of those that were aware of the coverage, it served to confirm they were right not to trust insurers. A quarter are more mistrustful. It is the minority who trusted insurers before and haven't lowered their opinion.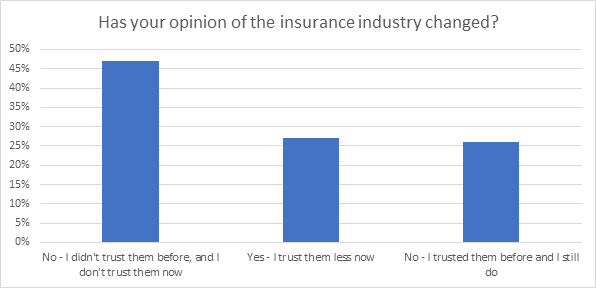 Source: Online survey of 498 adults who had read press coverage of the Supreme Court ruling. Survey conducted 19-20 January 2021.
For me, this marks a particular low point for the industry, and I think the damage done to commercial insurance will take a very long time to repair.
No doubt, BI will continue to be a point the media continue to hark back to for a long time to come, doubling down on the rhetoric of mistrust - it is a highly tele-visual story with real people facing real distress. This presents a risk for other parts of the industry – particularly general insurance, where we currently see a positive trend for trust.
In simple terms the job of insurance is to be there to catch people when they fall. In this case, insurers argued that that particular type of fall was never intended to be covered, that business interruption doesn't mean business interruption.
By being painted as holding back an estimated £1.2 billion of potential claims and pushing the case all the way to the Supreme Court, the insurers involved left 370,000 policyholders in limbo - and not all of them will have survived the extra six months of delay on their claim.
It certainly goes very much against the grain of all the recent regulatory efforts to uphold fair value for all, and to hold up and support vulnerable customers.
So how does insurance recover its reputation?
Well, hard work.
It starts, of course, with the process of paying out on the relevant BI claims. How that's handled, the speed of settlements and the quality of communication will be absolutely key in building bridges with customers. There is a leaf that the industry could lift from Admiral's book here. Don't wait for the customer to write to you and make a claim, you know who was covered, you know who has the policy, write to them. Be pro-active.
Next, every single insurer needs to start the process of evaluating their policy wordings – and not just for BI policies. This has been a clear warning that every clause, every word, every comma, matters. And so does the journey. What the customer understands, what they need, how it's explained, how it's sold. It's time to make sure your wordings and your journeys are accurate, up to date, and fair.
As awareness of what happened with BI slowly increases over time, consumers will be paying closer attention too. Those who were aware of the ruling, 48% said they are more likely to check the small print of their own policies. Some 30% will want to talk on the phone about what is covered and a quarter will ask more about the claims service of the insurance brand they are considering.
And after the loud victory of an appeal others are feeling bolder about fighting back against a rejected or delayed claim or enlisting a professional to make sure their claim is paid. Claims management companies will be licking their lips.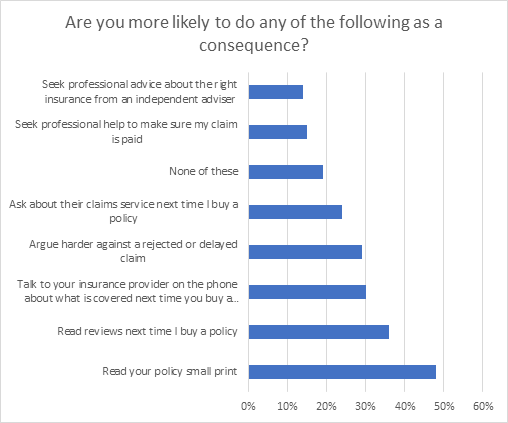 For many insurers this will also trigger for some serious conversations about financial resilience. If a high number of claims of any size are made in any one area of your business, what does that look like for your operations?
Finally, I think it's very clear that reputation matters now more than ever. We know brands are not just competing on price, anymore. This is the year of the consumer. How you are seen to treat yours is really what's going to matter most - and really what's going to help you attract more, and retain more, too.
That means looking closely at what your customers really think of you, what they think of your competitors, what they're responding to in terms of pricing, incentives, products and services – and how your offer shapes up.
Trust really does run through everything. Our survey indicated that more than half (57%) of consumers trust their current insurance provider to pay out for legitimate claims. They are far more distrustful of the great unknown – only 16% believe "most insurance companies pay claims for honest customers."
Patently both those figures can't translate as reality – it indicates perception is worse than reality and that there is work to do, collectively and individually.
The good thing about a low reputational bar is that it should be relatively easy to raise it. With a little bit of hard work in the background and a focus on the right places.
---
Consumer Intelligence helps companies make great decisions
We provide our clients with access to a uniquely comprehensive range of data and insights on insurance and general finance customers and markets.