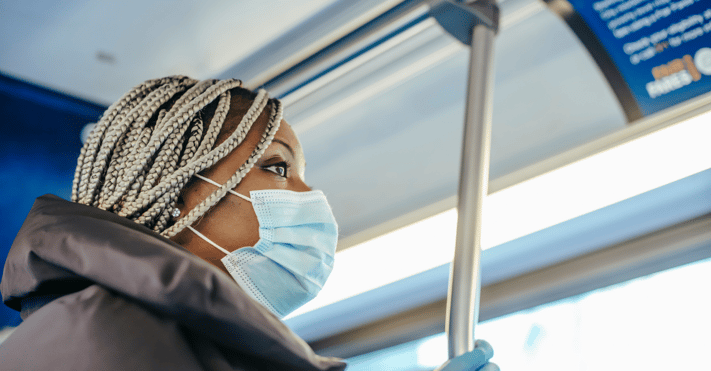 Lockdown life clearly affected how people travelled – in particular, how much they used their cars. We saw insurers offer rebates or discounts in recognition of fewer journeys and lower claims.
But as we prepare for the end of lockdown and the return of journeys for work, family visits and leisure, people are re-evaluating their transport needs with private transport usage holding up more than public.
In a recent Viewsbank poll, 50% of people who used to regularly use public transport said they were avoiding buses and trains for the immediate future and 10% said they would be avoiding them longer term.
At present, bus use has more than halved, from 36% of people saying they used them regularly pre-pandemic to 16% now. Trains have been even harder hit, with usage dropping from 24% to just 6%. Work commuters on public transport – who might have fewer options, particularly in big cities - have dropped from 13% to just 6%, too.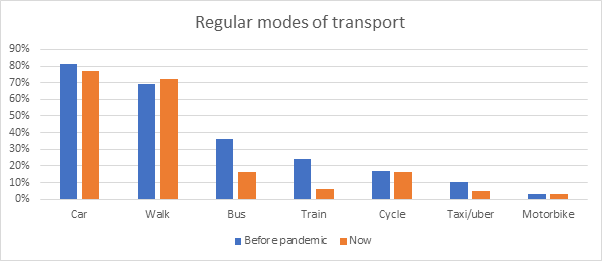 When questioned, 71% of people admitted they were using public transport less because they were worried about Covid safety, with 16% saying they don't make those journeys anymore, and 11% finding themselves alternative transport.
It seems Covid fears are going to take a long time recede, despite the vaccination programme.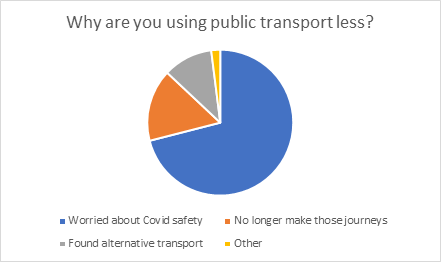 What does this mean for car purchases?
Our survey found that in the last year slightly more people went ahead and bought an extra car (5%) than got rid of a car without replacing it (4%).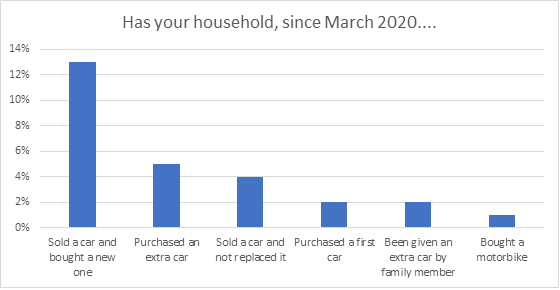 Of those sellers, 14% said they just weren't using the vehicle, and 9% said it was to save money – the result of our changed lifestyles and circumstances. 13% sold their car and bought a new one, but most people (77%) just stuck with the vehicles they already had – even if they were just sat on the driveway.
Overall usage has clearly dropped, for obvious reasons. 81% of people said they used their car on a regular basis pre-pandemic, dropping to 77% now. But it's not as big a fall as might have been expected, and the rumours of the homeworking-fuelled, untimely demise of the daily commute appear to have been somewhat exaggerated, too. Before the pandemic, 42% said they used their car to get to work, and 38% say they're still doing so now.
38% of those who did get an extra car during lockdown said they did so specifically to avoid public transport. More could follow as journeys increase and working from home stops being a permanent arrangement.
Our research found that that 22% of people responsible for buying car insurance for their household are considering buying an extra car in the next 12 months. Some 5% said they would 'definitely' buy another vehicle while a further 17% are thinking about it.
With that in mind, it's interesting to see what new lockdown car buyers bought and why.
A quarter cited environmental considerations as being very important in their purchase, not a traditional petrol-head position.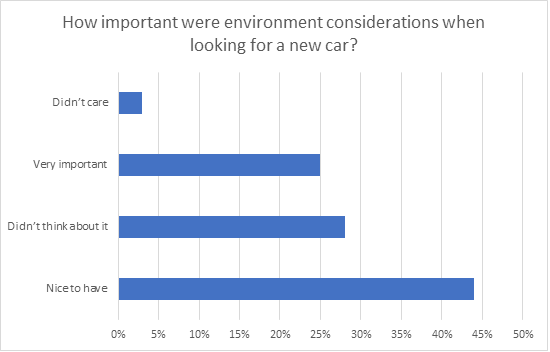 As a result, 13% went for hybrid or electric cars, versus 58% who went for petrol, and 29% who went for diesel. Most people, 63%, went for a second-hand car while 37% bought new.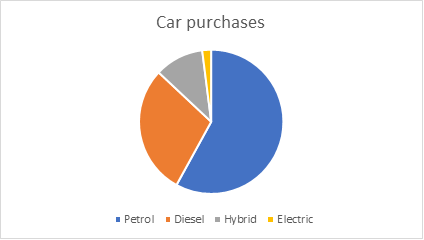 For insurers, the return to the roads creates an interesting picture.
Home working was once expected to change the face of 8:30 – 9:30am and 4:30 – 5:30 5.30pm on our roads – this doesn't quite seem to have materialised, and there's far less change to people's car use for both long and short journeys than might have been expected.
With swathes of new drivers finally getting to take their tests, rusty drivers getting back on the road, and former public transport users getting used to a new, albeit part-time, commute, new business enquiries and the demand for flexible policies may rise.
Whatever the long-term effects of Covid on cars, the key will be keeping up to date with customer attitudes and plans in order deliver the right products and incentives. Shared usage policies, pay as you go models, careful driving rewards and electric car coverage will likely continue their march from niche to mainstream.
---
Understand the needs and motivations of your customers or target audience
Viewsbank is our in-house consumer research panel. It's a large, responsive and community driven panel that conducts both quantitative and qualitative research.
Our Viewsbank panel helps our customers with a wide variety of projects ranging from detailed mystery shopping to demographically targeted research surveys. The research helps our clients make informed decisions based on true understanding of the consumer's voice.