At Consumer Intelligence, we've been following the impact of GIPP on consumer behaviour in our Insurance Behaviour Tracker (IBT). As the ban in price walking matures and embeds, more customers have been seeing either a decrease or no change in pricing at renewal.
The result has been a record-breaking drop in the rates of both shopping and switching.
Here are the latest figures, and the four key things we can learn from them.
1. Shopping and switching are plummeting
Before the FCA's ban on price walking, shopping rates for motor insurance observed a steady overall decline, while switching rates were steadily increasing. Since January when the rules entered into force, both metrics have dropped of a sharp cliff, reaching their lowest point in the history of our data.
For March renewals only 75% of drivers shopped around for insurance and only 35% switched providers.

Historically, the home market has seen lower shopping and switching rates than motor in general, but the new trend persists. The drops may be less significant, but are still obvious. Only 67% of buildings & contents insurance customers shopped around at renewal in March, and only 29% switched.

2. Half the population are seeing prices held or cut at renewal
Half the UK are now seeing either a decrease or no change in their premium at renewal, the largest proportion since mid 2015. That appears to have triggered unprecedented shopping lethargy - with more than 1 in 4 motorists are now renewing without looking at other options.
For a compulsory 'grudge' purchase in an industry that has trained consumers to compare, it's a big change.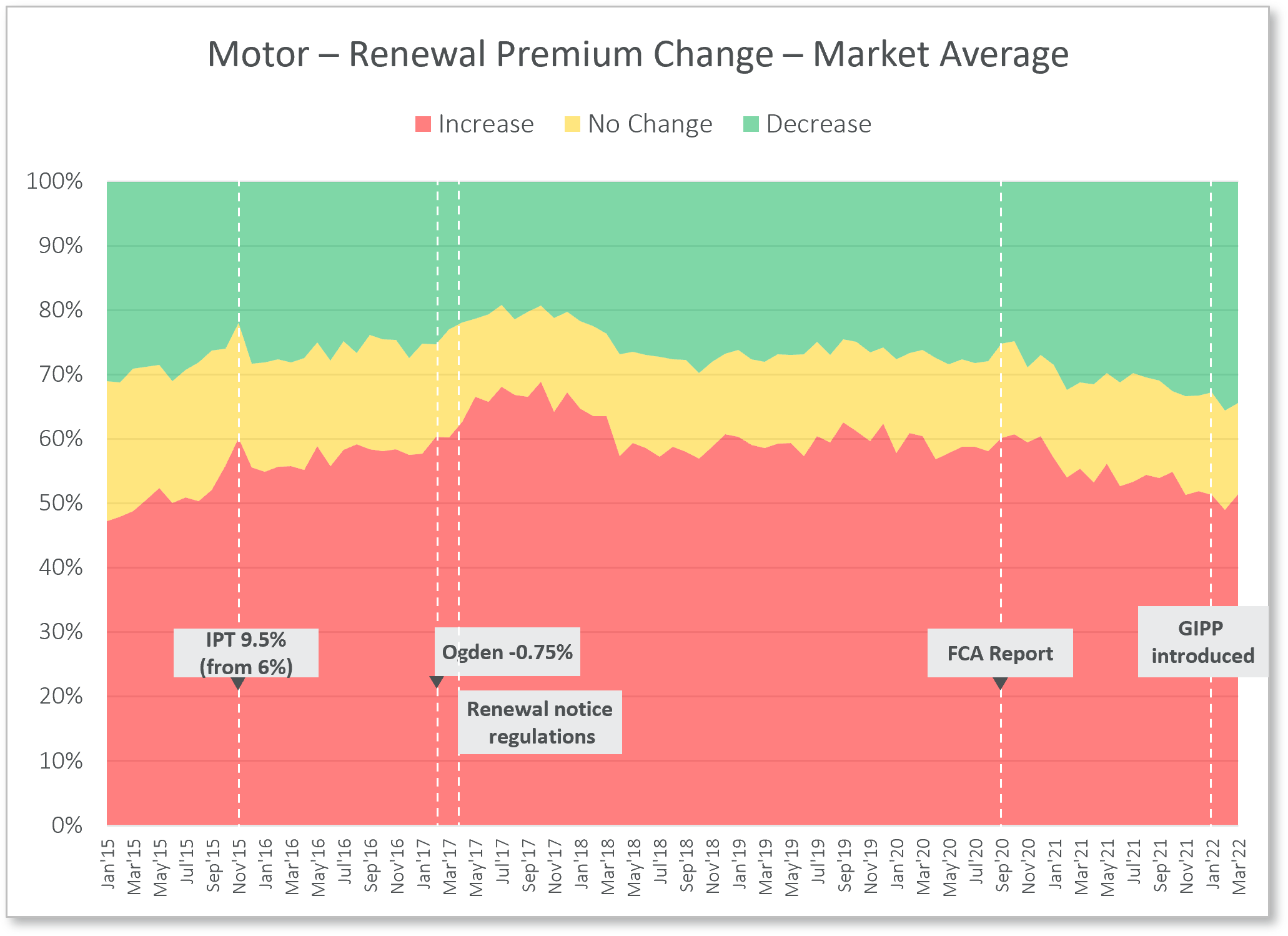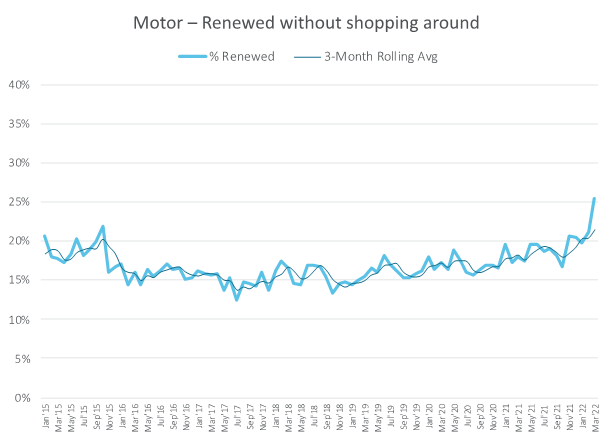 Home customers are 'stickier' than motor customers, but again the stabilisation or relatively small decreases in premium prices seem to have been enough to eliminate the motivation to shop around for one third of customers.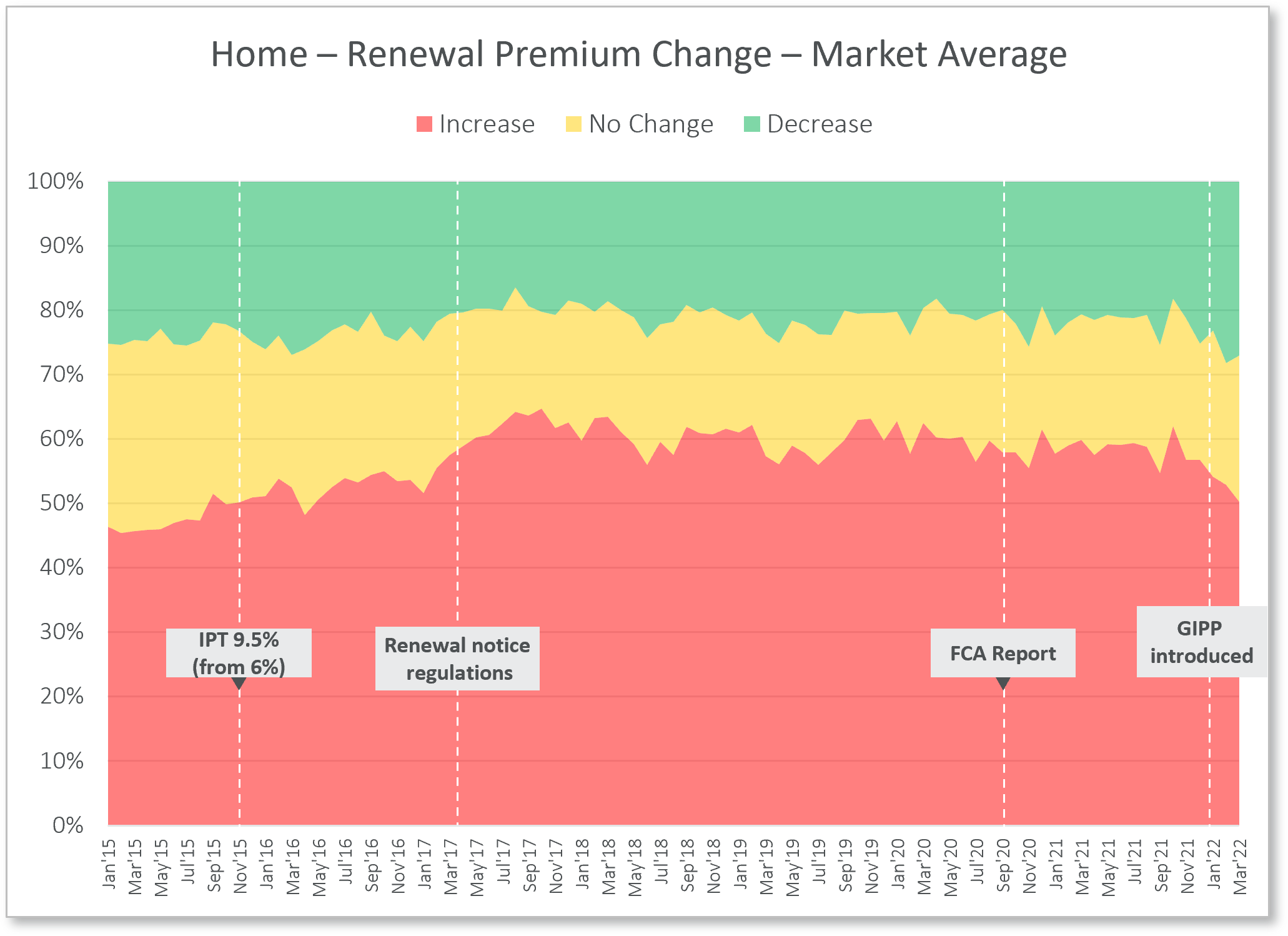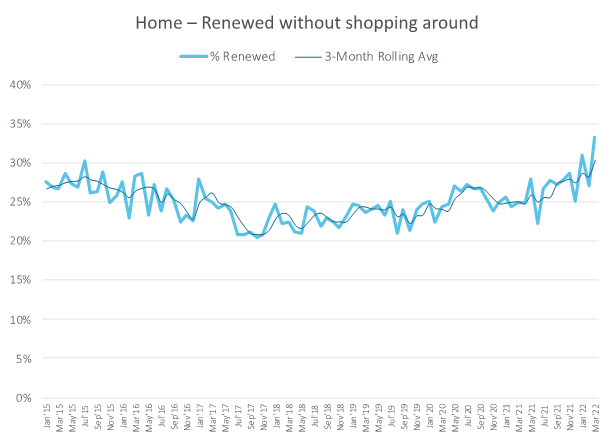 3. Shoppers are becoming less price sensitive
Shoppers are now clearly less motivated by price. While many still shop around out of sheer habit, there was a 7% drop in those motivated to shop around because their premium had gone up, and a 5% drop in those shopping around in order to negotiate with their incumbent insurer.
Those who switched were most likely to choose their new provider based on price, but the numbers there are falling too, with a 12% drop in the proportion of people who said they chose their new provider because they were the cheapest.
Instead, other factors are coming into play when shopping around, including advertising, with 4% more citing it as a reason they started looking, and recommendations from family and friends, up by 5%
4. Cost of living could change everything…
On the surface, happier, sticker customers might seem like a GIPP silver lining, with retention strategies for 2022 done and dusted. But it also has huge implications for acquisitions, too - less people on the PCWs means less opportunities to grab new customers from competitors.
Understanding changes in consumer motivation will be key in shaping post-GIPP customer-relationships – old and new. In a market where price isn't the King it once was, strategies will have to change and brands will need to look at new ways to get (the right) attention.
But while price is down the motivational scale, it is by no means out - could regain its stride at any moment. The bite of the cost of living crisis is a good three months behind GIPP - and could well change the game all over again.
Watch this IBT space to see how insurance consumers continue to react.
---
Understand consumer behaviour throughout the renewal process
Enhance decision making, performance monitoring and planning by understanding consumer behaviours, attitudes and intentions at insurance renewal.
Insurance Behaviour Tracker (IBT) is the most comprehensive insurance focused consumer survey in the market. It provides insight and understanding of consumer behaviour throughout the renewal process, giving you a view of market trends, and brand performance. This will enable you to make informed decisions to allow you to build robust marketing and business plans and track results.