Forget 9 out of 10 cats, nearly 9 out of 10 owners of cats and/or dogs think having a pet is getting more expensive - and nearly half are consistently (21%) or sometimes (27%) worried they won't be able to afford their furry friend.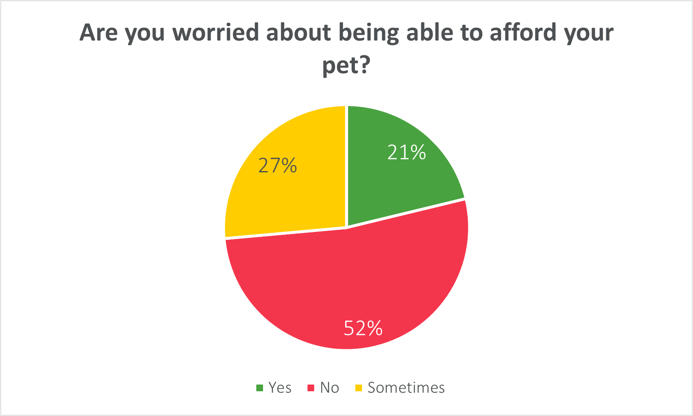 In our latest Viewsbank survey of 575 UK pet owners, we found that younger people, often the hardest hit by the cost-of-living crunch, are more likely to be concerned about affordability than older people – 35% of 18-24s, against 18% of 55-64s, and only 8% of those aged 65+.
Of those most seriously worried, some are taking pretty drastic action. 59% were switching or thinking about switching to cheaper pet foods, 55% were making other household cuts to be able to keep their pets, 45% were actively avoiding going to the vet, and 29% were cutting or reducing their pet insurance.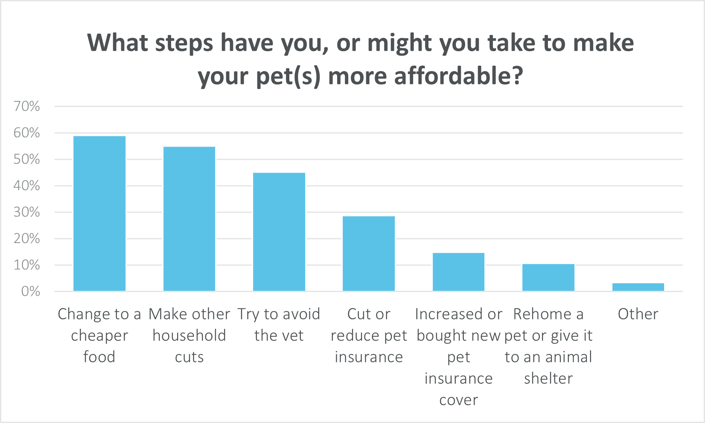 Insurance cut-backs

Consumer Intelligence Research Manager, Matt Mather, put together the survey. He comments: "We know that pets are part of the family, and it's distressing to see how many people are being forced to make decisions that put their pet's health at risk, like lower quality food and avoiding vet visits. And 3 out of 10 are cutting back on insurance - the very thing that could make things like the vet more affordable if something does go wrong.

"We can see that 15% have got that message and are taking out MORE insurance to help cover unexpected costs, but overall coverage is still low. 40% of cat and dog owners told us they don't have insurance at the moment, and 68% have never taken out a policy. That's going to lead to potentially heart-breaking situations where people literally can't afford to help their pets get better."

Of those who no longer have pet insurance, nearly half cancelled it to save money. 1 in 5, though, said they'd had a bad experience with it, and not got what they expected out of the product.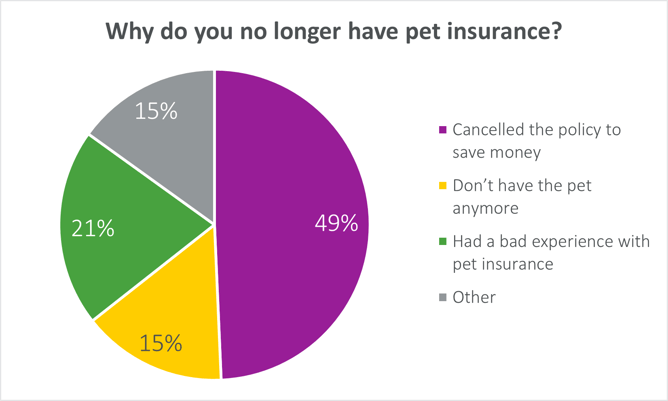 Customer understanding

Overall, understanding of pet insurance products remains patchy. The range of cover-types are often more complicated than other general insurance products, and people often just don't know the difference between Lifetime, Time-limited, and Maximum Benefit. 12% didn't even take a guess, and admitted they don't know what type of policy they originally purchased.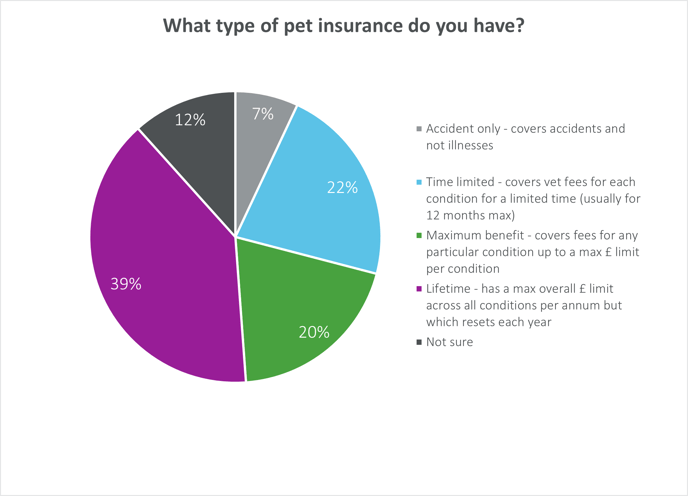 When we dug down even further, people really weren't sure when their policy would pay out. Around 1 in 5 didn't know if it would cover a broken leg (18%), or if it would cover a developing kidney problem that needed long-term medication (21%).

When it came to existing medical conditions, there was even more confusion. Only 26% of people understood that a new policy would not cover something already identified as an existing problem with their pet.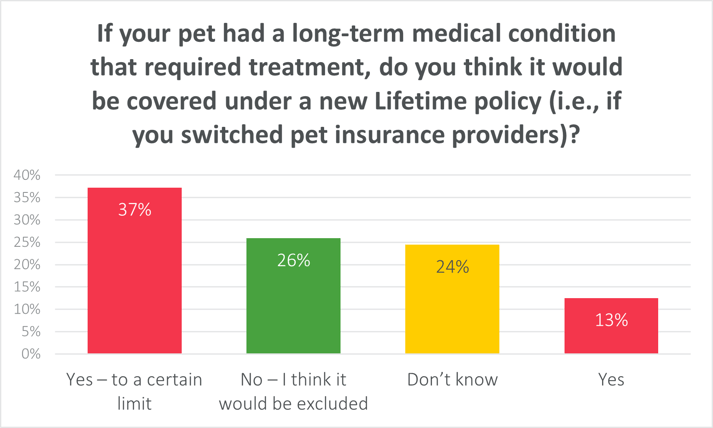 Matt continues: "There are many parallels between the state of pet healthcare and the US system of human healthcare. Not only are we seeing people making decisions based on money rather than need, but insurance providers are seemingly deliberately over-complicating cover, refusing to cover pre-existing conditions, and insisting on the usage of preferred vets/clinics. I think that in the UK, most of us feel that's just not on.
"I'd go as far as to say that Time Limited & Maximum Benefit products are needlessly difficult to understand, and arguably not fair to the consumer - and accident-only frankly isn't worth the expense. Most of the market does recognise this, as the vast majority of products tend to be lifetime - which is potentially the simplest to understand and the fairest in terms of the value it offers. But the fact that three quarters of pet owners don't know pre-existing conditions are excluded is pretty damning.

"The need for greater choice, more freedom to switch, better value for money and improved clarity is evident. Providers not paying attention to the needs and understanding of their customers could see increased cancellations, as well as finding themselves on the wrong side of Consumer Duty regulation."
---
See the world through the eyes of your customers
Viewsbank is our in-house consumer research panel. It's a large, responsive and community driven panel that conducts both quantitative and qualitative research.

Our Viewsbank panel helps our customers with a wide variety of projects ranging from detailed mystery shopping to demographically targeted research surveys. The research helps our clients make informed decisions based on true understanding of the consumer's voice.
---