A challenger to the contents-only insurance market is making big waves in its first full month on a Price Comparison Website.
Getsafe, an insurtech headquartered in Heidelberg, Germany, promises flexible contents insurance for home owners or renters. It is part of the subscription, pay monthly generation of insurance providers and one of the better funded examples.
There are no mid-term adjustment fees, add-ons are framed as 'extensions' and can be added and quoted separately at any point. The app is a central feature – led by a chatbot with functionality all the way through to claims and humans available where needed. A document repository this app is not.
Getsafe has been in the UK since January 2020, but shook up its customer acquisition strategy at the end of November when it went live with GoCompare. Its competitive pricing has seen it deliver 14% of the Rank 1 quotes on the PCW so far this month.
Data from our Market View tool, below, shows it has leaped into third place for competitive pricing from a standing start and is now level-pegging with Admiral. It achieves a Rank 1-5 position for a third of its quotes.
What makes this level of competitiveness even more notable is that Getsafe has quoted for only 66% of our risk basket compared to an average of over 80% which is typical for the major players.
Getsafe is most competitive for people in their 30s but also people aged 50-64, which deviates from the 'millennials' segment in which it has made its name in Germany. It is competitive across the range of ownership circumstances (renting to mortgaged) and property types (flats to houses).
When Getsafe returns the best quote, it does so by more than its rivals when they win. Its average premium when it is the cheapest is £65, some £12 cheaper than the second-placed quote. Others win by a smaller amount, on average £5-£6. This suggests Getsafe could increase its premiums and still win by a comfortable sum, or that it is investing heavily in customer acquisition and hoping an eye-catching price difference will make up for its relatively low brand awareness.
Getsafe has backing for its big push. On 9 December it closed $30m Series B round led by Swiss Re. It total it has raised $53m since being founded in May 2015. In the UK its products are underwritten by Hiscox, and it works with Munich Re and AXA in other markets. However it has said it intends to apply to be a direct insurer in 2021.
In an interview with Techcrunch earlier this month, co-founder and CEO Christian Wiens said 90% of customers in its home market buy insurance for the first time. "We sell more policies to first-time insurance buyers in Germany than incumbents like Allianz, AXA, Zurich, etc," he commented.
That has significant implications for the UK where traditional markets have not managed to achieve substantial market penetration.
Contents insurance market was identified by the FCA's flagship financial lives study as an area of under insurance. Its research (with a very robust 12,865 adults in the UK) found that only 19% of 25-34 year old renters have home contents insurance. By comparison contents insurance is bought by 76% of 25-34 year mortgage borrowers. "Findings suggest that buying a home may be the most significant trigger for holding many products, particularly general insurance and protection," the FCA study reported.
The FCA pegged the contents-only insurance market at 12% of the population, or 6.3 million customers. There is a significant prize for Getsafe whether it managers to increase the size of the pie or its slice of it.
Post Office Bronze has been another new entrant to the contents-only market over the past 12 months, making an impact with competitive pricing. It first launched on MoneySuperMarket in December 2019, joined CompareTheMarket in April, GoCompare in May and Confused in August.
So far this month it has delivered the highest number of rank one quotes on GoCompare. As the chart below shows, the competitive landscape a year ago looked quite different.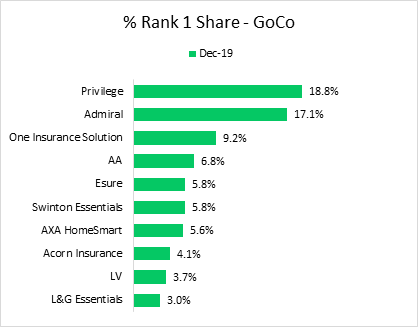 A lot can change in a year, and there may be more upheaval to come. Lemonade, a US listed renters insurance insurtech, continues to expand in Europe, most recently launching in France this month. Getsafe is on one PCW now, but it would not be alone in dipping its toe in the water before rolling out onto other platforms.
The bar is being raised for product, distribution, digital service and full consideration of add-ons. As Getsafe prepares to expand into car insurance, both contents and motor could look quite different in a year.
---
Insight that will enable you to optimise your pricing strategy
Download our Home Insurance Price Index to gain insight into market movements, benchmark the major van insurance brands and help you understand the data behind the results.