Brokers have consistently had the edge for the last two years when it comes to providing the cheapest quotes, but changes to the underwriters and panels that sit behind them, as well as a strong challenge from direct insurers, is narrowing the gap.
The chart below shows that in December 2020 intermediaries accounted for 52% of the cheapest quotes, down from a high of 61% in May. It hasn't been this close since March 2019.
So what was behind the broker's Spring spike, how have insurers fought back, and how are brokers holding on?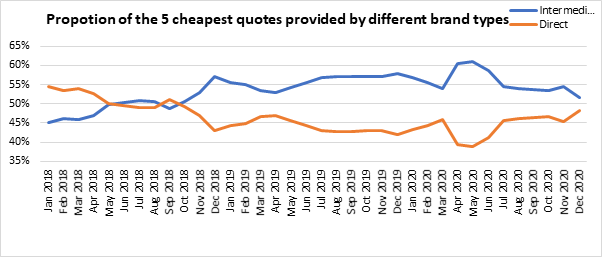 Proportion of Rank 1-5 quotes provided by intermediaries and insurers per risk across the 4 largest Price Comparison Websites, Aviva and Direct Line.
Pandemic bites
April 2020 was when we saw the full impact of the coronavirus pandemic on the way the industry traded. Lockdown pared back call centre operations whilst everyone got set up working from home. It also challenged the brands aimed at younger drivers because customers stopped taking and passing driving tests, and there was uncertainty over whether telematics black boxes could or should be installed.
That had a greater effect on direct providers and we saw More Than Smart Wheels, General Accident Telematics, Sheilas' Wheels and Esure providing fewer competitive quotes. This created space for others to climb to the top – and that space was largely taken up by brokers with Autonet, GoSkippy, Debenhams and Hastings achieving substantially more top spots in April compared with March.
By the summer, these providers were back quoting again and insurers started to challenge once again.
Under the bonnet
A comparison of which underwriters sat behind the top quotes provided by intermediaries on MoneySuperMarket in December 2020 compared with a year ago, based on our basket of 3,600 real risks, shows the change beneath.
Zurich and Mulsanne have been the biggest growers on panels, largely thanks to their position on usage-based brand By Miles.
Ageas and Markerstudy's MISL have also grown, and there is a new entrant with Admiral underwriting insurance for Ford.
In absolute terms, Advantage, the exclusive underwriter of Hastings insurance and somewhat of a hybrid, sat behind 20% of Rank 1-5 intermediary quotes.
Covea sat behind 11.7% of the rank 1-5 intermediary quotes, and Watford Insurance behind 10.9%. Great Lakes Reinsurance is the main notable new entrant, through its work as an underwriter for Ticker.
But the exits have been greater, particularly as MGAs have pulled back from the mass motor market. Brightside announced in November that its MGA Kitsune would enter run off. A year ago it sat behind 1.8% of the rank 1-5 quotes achieved by brokers. Stabilis has stopped quoting following its acquisition into Policy Expert.
New India Assurance Company seems to have changed its strategy by working with MGA Pukka, which has held stable, but pulling back from direct underwriting.
Southern Rock, which accounted for 6.6% of Rank 1-5 quotes a year ago was behind zero last month.
Some larger composites have pulled back too – RSA was not behind any of the top quotes in December, compared to 2.8% a year ago, and was last seen as a panel underwriter August. And LV's broker-facing brand, Highway, has reduced its footprint.
Nothing grew by as much as some of the biggest direct brands with standout performances from Esure and Skyfire, the underwriter for First Central Group.
% Position 1-5 by Underwriter - MSM - Intermediary quotes only

Underwriter

Dec-19

Dec-20

Diff

Zurich

2.4%

6.8%

4.4%

Mulsanne

1.2%

4.9%

3.6%

MISL

5.1%

8.6%

3.5%

Ageas

6.3%

9.7%

3.4%

Admiral

0.0%

2.4%

2.4%
% Position 1-5 by Underwriter - MSM - All Quotes

Underwriter

Dec-19

Dec-20

Diff

Esure

10.2%

16.1%

5.9%

Zurich

2.4%

6.8%

4.4%

Skyfire

7.4%

11.2%

3.9%

Ageas

10.5%

14.2%

3.8%

Mulsanne

1.2%

4.9%

3.6%
In a market where a few pounds can make all the difference on quotability, the importance of panel breadth and product optimisation is key. That or developing competitive in house or exclusive arrangements with new capacity.
---
Insight that will enable you to optimise your pricing strategy
Download our Home Insurance Price Index to gain insight into market movements, benchmark the major van insurance brands and help you understand the data behind the results.