As a period of great change, the era of GIPP should theoretically bring a great opportunity for innovation.
But so far the biggest-scale innovation we've seen has been in tactical pricing and product packaging by big groups.
In the run up to GIPP we saw as many as nine corporate groups placing three or more motor propositions in positions 1-5 on the PCWs.
It meant that 40% of drivers getting new quotes would see at least three of the most competitive prices coming from the same Group.
Breakdown of corporate groups placing 3 or more propositions in rank 1-5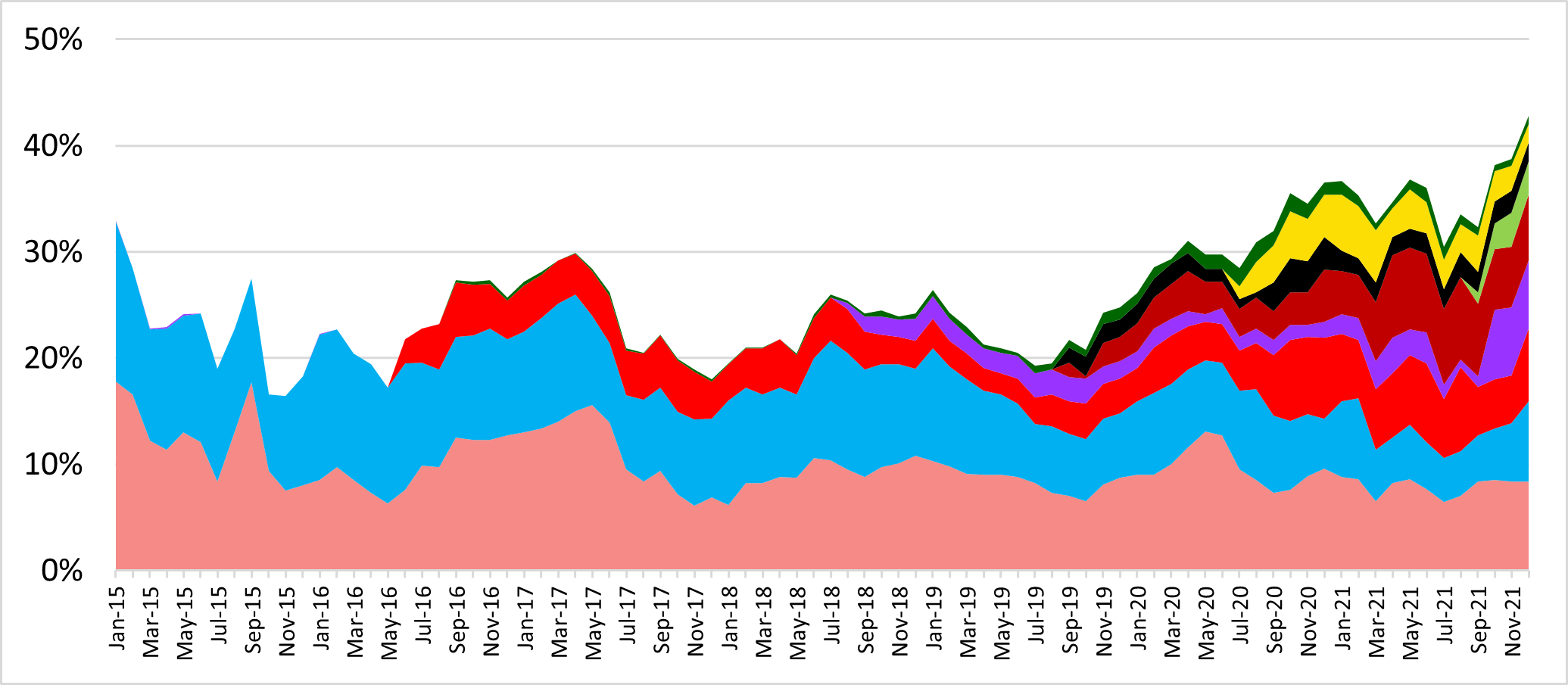 That's certainly a big change in what customers saw a few years ago and it's driven by a combination of industry consolidation, a proliferation of product tiering designed to keep driving sales volumes and coordinated pricing between different brands operated by the same broker or insurer.
The choice of product tiers such as bronze, silver and gold, could help focus consumers' minds on what they really need from their cover, and reframes consideration of add-ons such as legal expenses as they are included in some tiers but not others. On the other hand this does raise the question of whether consumers are genuinely seeing more options, or if they in reality choose between a smaller number of providers who create an illusion of choice with very similar brands with close pricing.
And in the mind of the regulator, is taking an old product, bundling it with an add-on and calling it a new product enough to differentiate it from existing products with a larger number of loyal customers, and all the pricing considerations that entails?
Telematics gaining ground
One area where we are seeing motor insurance innovation in the core policy is in the different types of telematics products. Behaviour-based policies targeted at younger drivers and usage-based insurance (UBI) for low mileage drivers are gaining competitive ground, with UBI the only proposition policy type to lower prices in January 2022. Meanwhile the leading behaviour-based telematics brands have been steadily gaining competitive ground with milder price increases than non-telematics policies.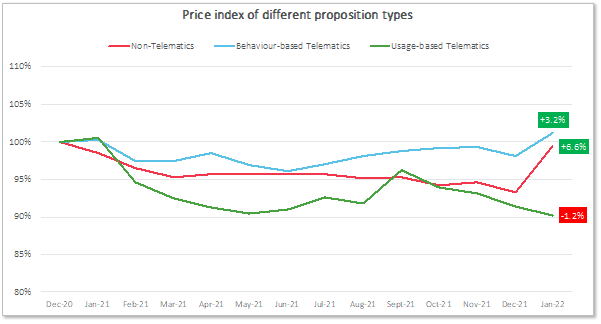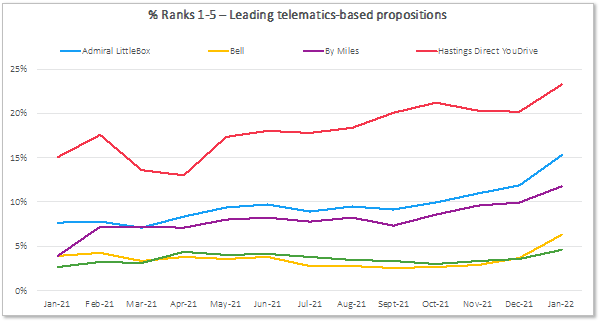 Pre-GIPP the difference between telematics and non-telematics policies was quite small. We now expect the price gap for consumers shopping around at renewal to grow as that trend continues. Whether usage or behaviour based, a saving of £150 or £200 may be more attention grabbing than a £50 saving. As that price differential widens and consumers face a big fall in disposable income, they may well consider the savings afforded by a new type of policy they had previously dismissed.
In the longer term, we do expect to see more innovation in products and distribution. Urban Jungle's truly flexible home policies, John Lewis' personal cyber cover are new types of products, as are the growing number of short-term policies to support the sharing economy.
And as our recent Viewsbank survey showed, the public is receptive to the concept of parametric insurance, which has so far been limited to travel within personal lines.
With the technical implementation of GIPP out the way, brands can now turn their attention to building new products to meet changing consumer demand and in line with the forthcoming Consumer Duty requirements.
Distribution will be another crucial area. PCWs remain price focused for now, but a shift to value or embedded insurance would also challenge the price-layering game.
---
Understand how the market is changing in response to GIPP
The GIPP Performance Tracker provides you with the ability to track changes across the insurance market and help inform your product proposition and pricing strategy in response to GIPP.
In the form of a report, you'll be able to track the response of the market and your competitors across pricing and competitiveness, product, renewals and retention, offers and incentives, add-ons, and premium finance.