The average price of a travel insurance policy has risen by 8.3% in the last year, Consumer Intelligence's latest travel price index shows.

Prices were subdued for the first half of 2021, but rose steeply as lockdown and travel restrictions began to loosen from mid-May July 2021. People started to book holidays and travel again – and demanded insurance back-up.
They are now down from their highest point in January 2022, when they were 16% higher than the year before, and have continued to fall as Omicron has waned and restrictions have lifted.
An annual European policy currently costs £53 on a PCW. Meanwhile an average worldwide policy excluding the USA and Canada is £105, and including those destinations is £138.
Worldwide excluding USA and Canada policies have risen the least, up 4.9% since January 2021, with European policies rising 5.7% since January 2021, and policies including USA and Canada are now 15.3% higher .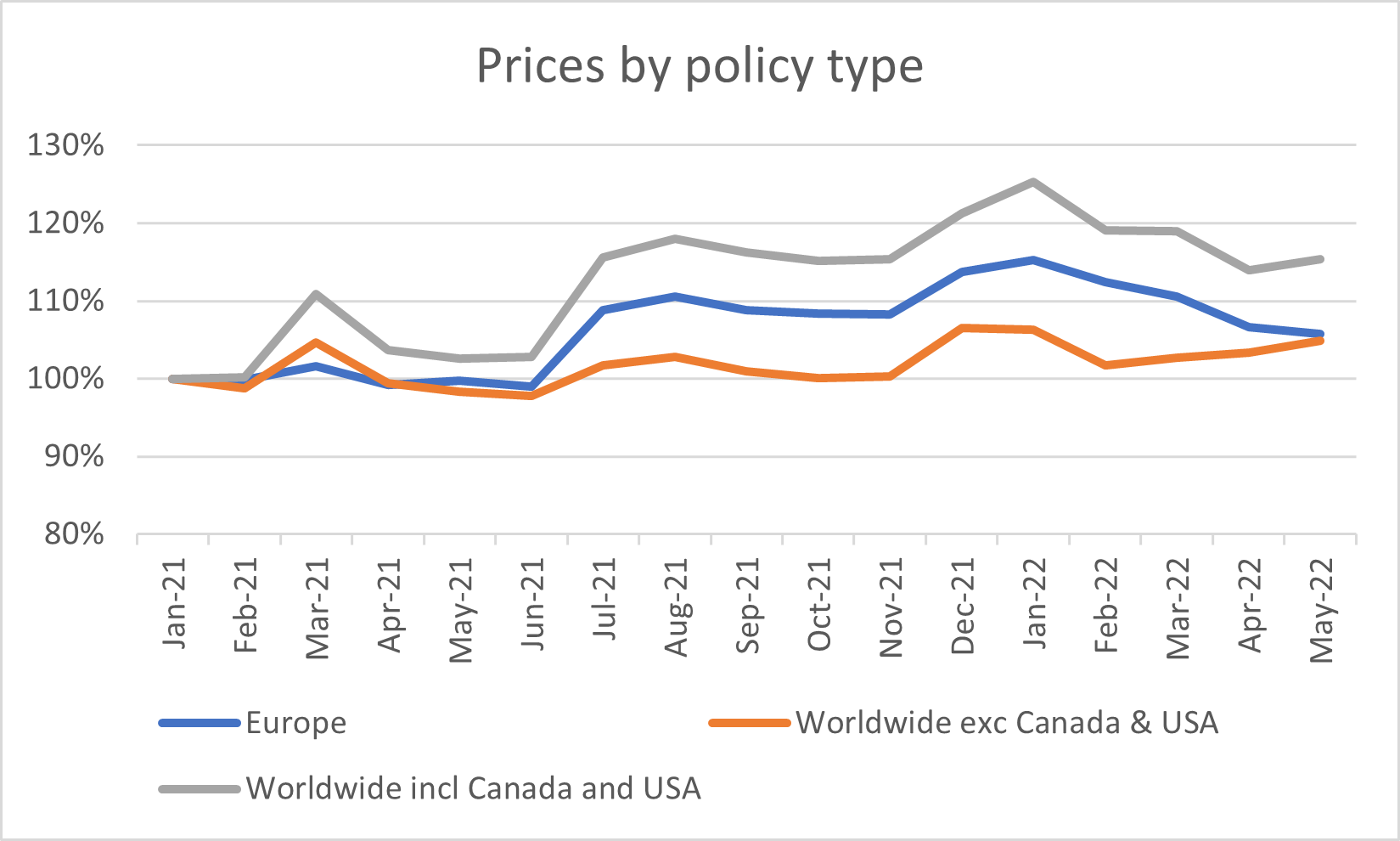 Holding onto holidays
Both graphs show a recent and slight April/May uplift, likely to be providers setting prices to take advantage of summer travel, as it becomes clear that despite the cost-of-living crunch Brits are determined to hold on to their holidays – at least in the short term.
Our recent Viewsbank survey found 67% of consumers were planning to go away in the next 12 months, with 15% saying money wasn't an issue, and 34% determined to do pretty much anything they could to save up and get away.
What's more, 58% are more likely to be buying travel insurance now than before the pandemic.
Age penalty
That's clearly good news for insurance firms – but perhaps slightly less good news for older travellers…
Prices have risen most for the over 50s. The average price of a new policy is now £142, up by 11% compared to a year ago. For 25s to 49 year olds premiums have risen by 6.1% in the last year to £60 and under 25s by 7% to £62.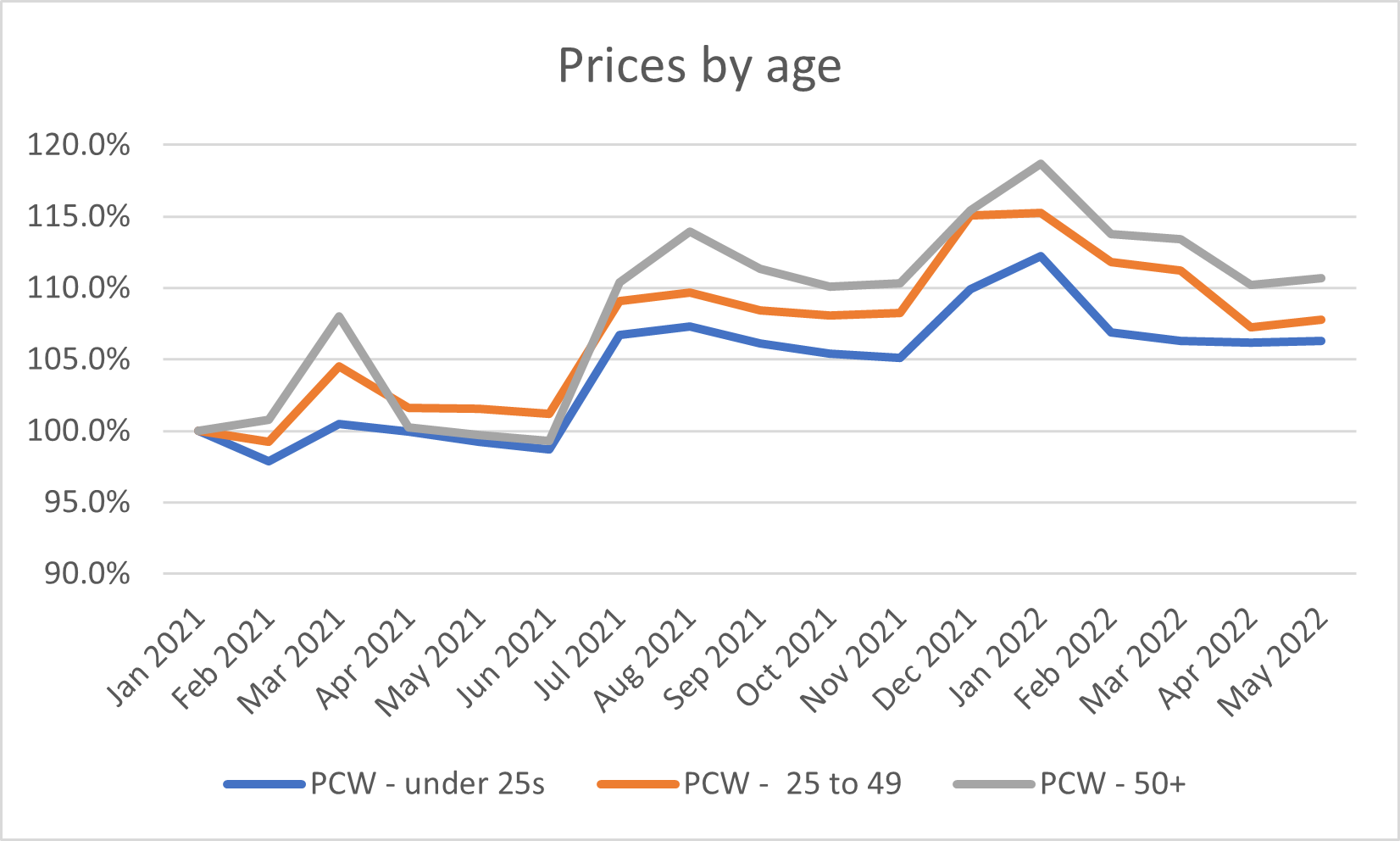 Reduced choice
Consumers of all ages also have overall less choice in the market than they did a year ago, although the number of brands on offer has risen from its August slump.
In June 2021 there were 132 brands on CompareTheMarket, reduced to 123 in June 2022. Confused has gone from 136 to 123, and MoneySuperMarket from 149 to 124.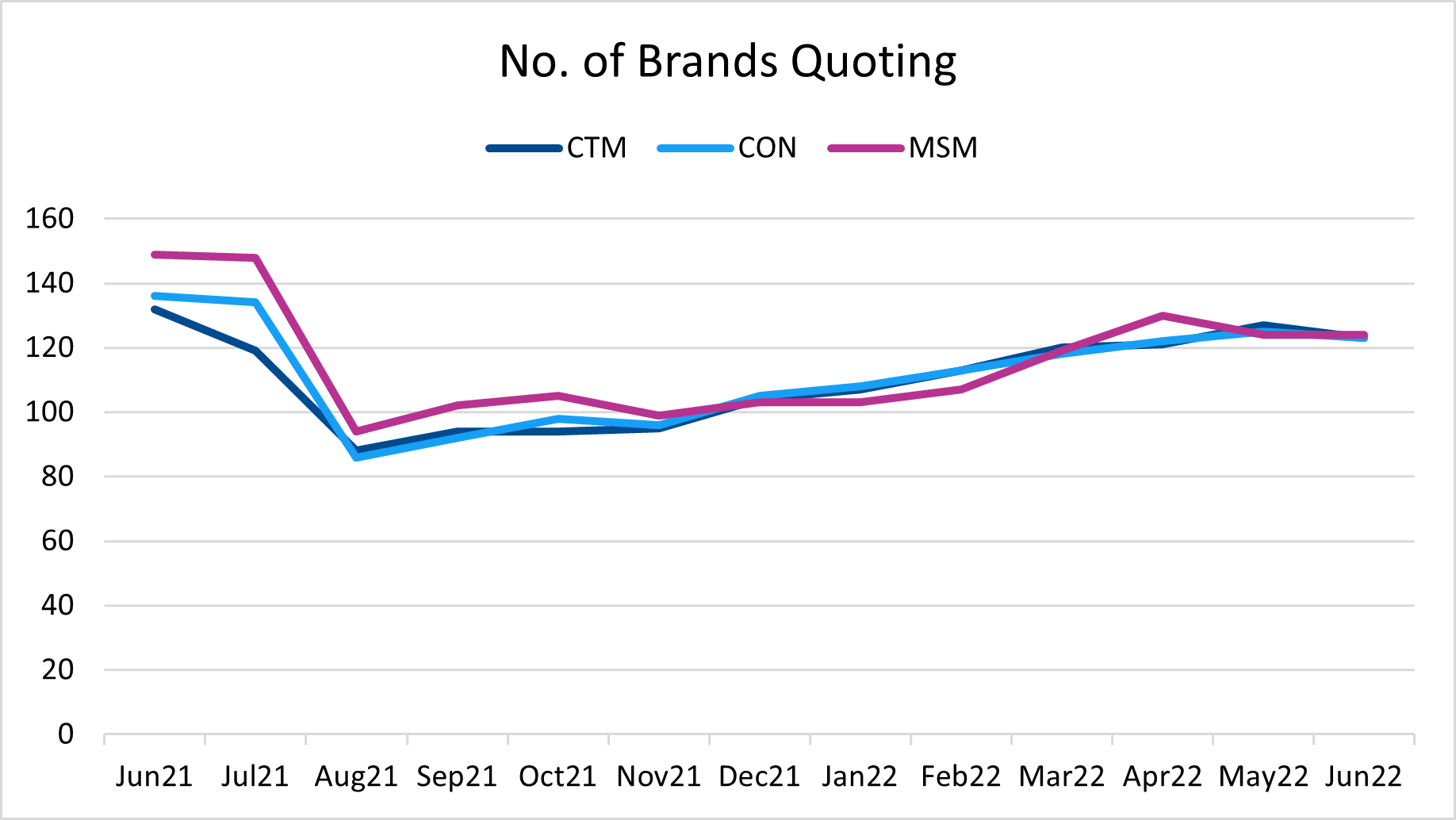 The overarching picture in travel is one of recovery, with brand choice slowly flowing back up, and pricing starting to stabilise.
The market has survived the pandemic, but its next crisis point will the continuing economic downturn – and its longer-term impact on Brits' holiday budgets, and appetite to insure.
If you want to find out more about our travel data, join our upcoming webinar, 'Travel insurance in a perfect storm', on Thursday 21 July at 10am.
---

WEBINAR: Travel insurance in a perfect storm
After two years of virtually no travel, consumers are back and they have high expectations...
The opportunities and threats for travel insurance have evolved dramatically, and the FCA's consumer duty is set to bring even more challenges over the next year.
As an attendee to this session, you will leave with the only comprehensive view of how the travel insurance market is changing from both a price and consumer perspective.
Find out more and secure your place here.