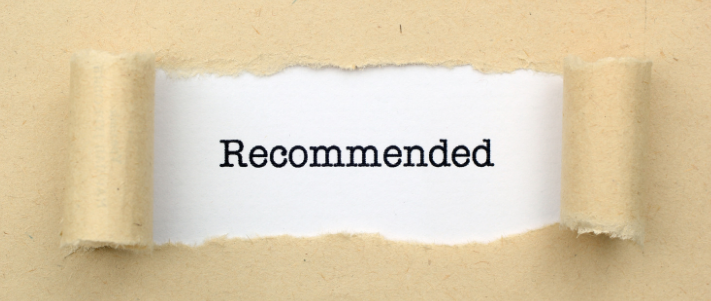 At Consumer Intelligence, we ask your customers to rate how likely they would be to recommend your services to friends and family. Using this unique data, we are delighted to announce the top 10 insurers in the UK for customer recommendation, as voted for by consumers.
---
What makes an insurance company worthy of customer recommendation? Are the standards for recommending insurance brands changing in eyes of consumers over time?
Consumer recommendation is like gold dust in business. Businesses spend lion's share of their marketing budget to advertise and sell, yet personal recommendation is the most powerful of marketing tools, and it's free. Such endorsement is not easy to obtain however and is only rewarded after hard work gaining customers' trust, offering them great service, care and delivering on promises made.
Drum roll please…
Top 10 brands for customer recommendation*
| | |
| --- | --- |
| Voted by drivers: | Voted by householders: |
| A-plan | Barclays |
| Aviva | Co-op |
| Churchill | Direct Line |
| Co-op | John Lewis |
| Direct Line | LV= |
| LV= | Nationwide |
| M&S Bank | NFU Mutual |
| More Than | RIAS |
| NFU Mutual | Saga |
| Sheilas' Wheels | Sainsbury's Bank |
*Listed alphabetically
In motor, most brands were able to keep their position in the top 10, with a couple of brands being replaced by newcomers: Aviva and Churchill.

For home, we welcome five companies who have clearly stepped it up: Barclays, Co-op, LV=, Saga and Sainsburys Bank.

Using the most comprehensive insurance focussed customer survey, IBT, it allows us to speak to nearly 50,000 home and motor and insurance customers every year to find out what they think of their insurance provider.

As part of the survey, customers rated their insurer based on the question "Would you recommend your insurance provider to your friends and family?" on a scale of 0 to 10, from 'not at all likely' to 'extremely likely to recommend'.

For the top 10 companies, the average scores were 7.8 for both home and motor. Across the market we saw an average score of 7.5 for motor and 7.6 for home, with the top performing brand scoring 8.5 and 8.3 respectively.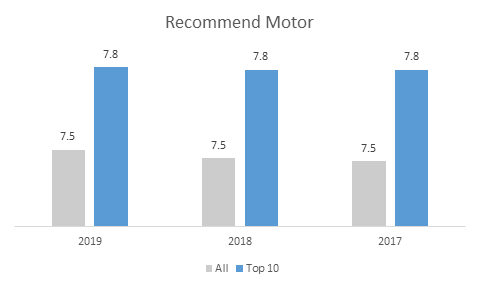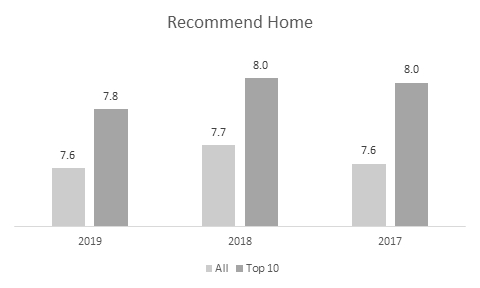 Average performance scores for motor have seen no negative change over the past three years, but also no improvement.
It should be noted that for home, we see a slight dip in customer recommendation scores amongst the top 10 companies, as well as across the market.
Considering the developments in services and products offered by insurance companies, what makes consumers reluctant to endorse their insurance providers more?
What makes insurance providers worthy of recommendation?
35% of consumers of home and motor insurance products rated their provider a 9 or 10 on the recommendation scale in 2018. And only a tiny 1% went for low marks such as 0 or 1.
Among best performing brands the highest scores are popular with over 60% of customers, while at the worst performing end, only 22% would be 'extremely likely to recommend'.
We reviewed the comments of consumers giving their insurance providers the top marks to check what are the things customers are likely to recommend their providers for. Among more popular responses we see comments along these lines:
"They are excellent. Great service at a great price."
"I have never had a problem with my insurer and people I know have always had great service."
"Because of my own experience, I would suggest that they try the company for a quote"
"They offer the best combination of service and pricing that I have encountered to date in my dealings with insurance companies."
Alongside the lowest marks for recommendation, it's not necessarily poor service that makes consumers use the lower end of the rating scale for recommendation. Large majority of comments explain that they aren't the 'recommending type' of customer to start with, so lower marks aren't necessarily negative to the brand itself.
Some examples to prove this point:
"I've got no specific reason to recommend them. I've never made a claim so I don't know what they are like for that, and I don't generally shop around so I can't say if they are particularly good value."
"I don't offer this type of advice, I suggest using a cash back web site and paying for insurance with a cash back credit card. This is my suggestion for everything!"
Or simply:
"I don't make recommendations, especially not to family or friends"
"I prefer to let other people decide for themselves"
There are however numerous comments reasoning a low score with examples of poor service:
"I've not been impressed with their communication at all - literally none"
"Indifferent customer service, dismissed claim"
"I have had diabolical service over a claim made"


What's typical to endorsement is that consumers are much more likely to speak with other about their negative experiences, than the positive ones. For that reason, small series of negative examples of service can outweigh the lifetime of positive impact. And not even a cashback offer, or extras added to your policy are going to be able to win you customers who heard a negative story about you. As one of our respondents justified his score:
"I bear grudges for a long time…"
---
Are you one of the top 10 companies in the UK?
The awards are based on an annual survey of nearly 50,000 home and motor insurance customers who rate their experience of brands like yours. So winning one of these unique awards in a crowded market is kind of a big deal.
Claim your awards today to find out how you can make the most of being a winner.