The number of offers and incentives for home and motor insurance has ramped up in the last 12 months as brands woo price conscious consumers in a deflationary market and experiment with new ways to entice new customers ahead of the expected ban on dual pricing.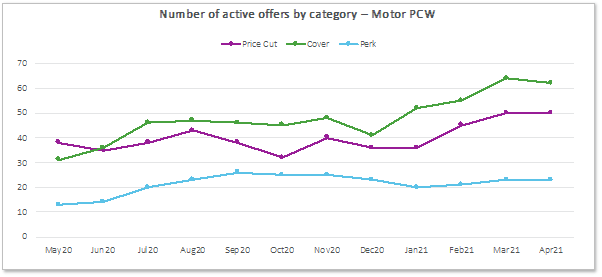 Over the last 12 months, there has been an increase in all three offer types for motor across the major Price Comparison Websites.
The biggest increase has been for offers on cover – such as free or reduced breakdown, legal or key cover – doubling from 31 offers in May 2020 to 62 in April 2021.
Perks, such as vouchers or member discounts, have remained the least common offer types from brands, with only 23 offers across all four aggregators.
In home there has been an increase in offers with additional cover and price cuts.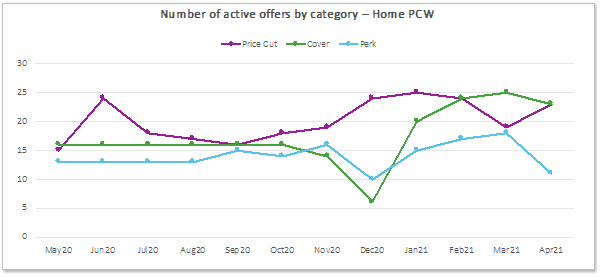 Providers are pursuing different strategies with different channels. Some offers are exclusive to certain PCWs, others are consistently offering the same incentive on more than one channel. Many are using the same space to highlight the quality of their cover or high satisfaction scores.
We are also seeing an increased sophistication from some providers and PCWs which are experimenting with different offers for different types of consumer, rather than a static incentive for all consumers.
What's behind the push? The FCA is poised to confirm a ban on dual pricing from 1 January. Without attention grabbing prices for new customers, marketing teams have increased their focus on incentives and are testing other ways to drive new business volumes.
There is plenty to play for. The dual pricing ban won't massively reduce the number of visitors to PCWs overnight; two thirds of motorists who shop around at renewal each year do so on principal, a far high number than those who do so because their premiums have gone up significantly at renewal. Those habits take more than a pleasantly surprising renewal notice to shake.
The FCA will publish its final policy statement on General Insurance Pricing Practices imminently. In a Q&A published during the consultation, the FCA indicated that it views non-cash promotions, such as retail vouchers, as fair game and something which drives competition.
It also indicated that it will consider how the rules apply to cashback sites which are only involved in the original sale in its final consultation. However, it is minded to rule that free add-ons must be offered equally to renewing and new business customers. That's not to stop them being flagged as an offer on PCWs, of course.
The final GIPP policy statement will herald a new era for providers where the relationship between value and price becomes ever more important. But don't expect savvy consumers or brands to part ways with vouchers just yet.