Freedom Day has been and gone but for most consumers it's caution as usual with most continuing to prefer to drive than take transport, and a muted reaction to relaxation of travel rules for those returning from amber list countries.
At Consumer Intelligence we wanted to understand how the public were feeling about the end of social contract restrictions in England along with legal requirements to wear masks and consider what that might mean for car and travel insurance providers.
Here are our four takeaways:
1. Older people are more worried – despite vaccination
Our nationally representative poll over the weekend showed 48% of us were either worried or nervous ahead of restrictions lifting on Monday while 34% backed the measures. Men were more likely to support the measures at 38% compared with 30% of women.
Older people were more concerned about the lifting of restrictions, and being fully vaccinated didn't do much to change their minds. Over half of those who've had both jabs felt restrictions were being lifted too fast compared to just 35% of 18-34 year olds.
In contrast, some 42% of younger consumers backed the measures compared with 28% of over 55s.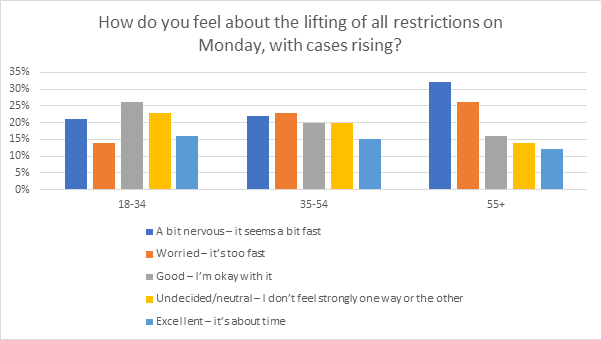 The top concerns were other people behaving irresponsibly (81%), crowds (64%), vulnerable friends and family getting sick (59%) and future lockdowns and disruption (57%).
Amongst those who were worried, 40% expect their concerns will change what they do day-to-day and a further 40% aren't sure yet.
2. More time in the office is expected
Currently half of people who work do so mostly at home. Those workers expect to be moving mostly back to their workplace, or a hybrid model of working. It's worth remembering too that 42% of those in employment are already working in a workplace.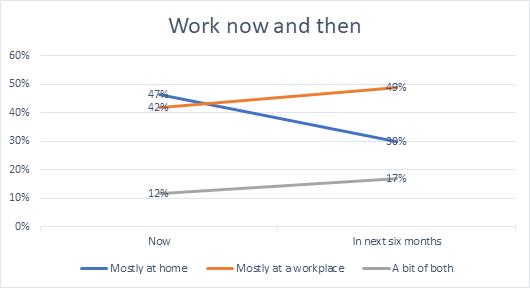 3. Cars will remain popular
When they do return to work or make other trips, most people are continuing to avoid public transport where there are no firm rules on masks in place in England.
Across the UK only 19% said they would be happy to use public transport. The outlier here was London, where 28% of people are happy to take the bus or tube, and 76% back Mayor Sadiq Khan's order that masks remain compulsory on transport in the city.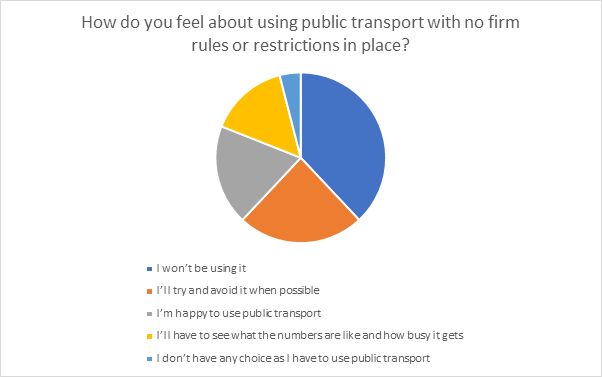 Conversely three quarters (72%) expect to regularly use cars. That's not a huge amount more than the number of people who travelled by car before the pandemic, although there is a rise in young drivers coming; 62% of 18-34 year olds regularly travelled by car before Covid and 66% expect to use cars now.
East Midlands, West Midlands and Yorkshire recorded the biggest rise in adults who expect to travel more by car compared to before the pandemic.
4. We're not all off to sunny Spain
Since Monday travellers to amber list destinations apart from France can return home to the UK without having to self-isolate for 10 days as long as they are fully vaccinated.
As a consequence, the number of people considering traveling to an amber list country has doubled from 7% to 14%. A further 14% would only travel to countries on the green list.
Overall the less stringent requirements haven't been enough to tempt most people back to overseas holidays, however. Nearly half (46%) said they wouldn't travel abroad just now regardless of the rules.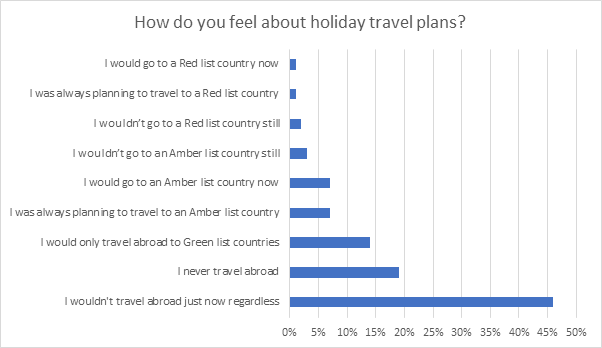 Again, it is age rather than vaccination status that influences how people answered this question. Only a quarter (25%) of over 55s are comfortable with the idea of overseas travel and 94% of that age group have received both vaccine doses. On other hand 39% of 18-34 year olds would travel overseas, despite only 28% of those polled saying they were double jabbed.
For insurance brands, there are glimmers of opportunity to support those who are tentatively thinking about booking a holiday and to those who will be returning to work by car. But jubilant cries of freedom will risk missing the mood with most.


---
Understand the needs and motivations of your customers or target audience
Viewsbank is our in-house consumer research panel. It's a large, responsive and community driven panel that conducts both quantitative and qualitative research.
Our Viewsbank panel helps our customers with a wide variety of projects ranging from detailed mystery shopping to demographically targeted research surveys. The research helps our clients make informed decisions based on true understanding of the consumer's voice.