Nearly half of Brits (45%) say they've felt reassured or even glad that Covid restrictions have been extended to 19 July, according to Consumer Intelligence's latest survey.
Only 1 in 5 felt stressed or angry, with a quarter feeling neutral about the whole thing, and another 19% saying they were frankly just exhausted by all of the changes.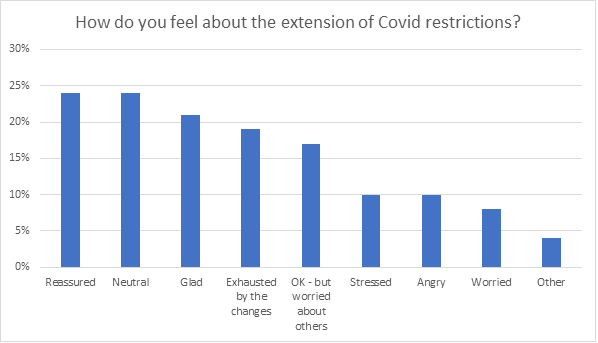 Of those unhappier about the extension and other restrictive measures, it seems many are likely annoyed by the disruption to plans they've made for the coming months… In fact 34% of Brits said the recent changes have meant they've had to cancel plans.
Of those, 5% had to cancel wedding plans, 16% foreign holidays, and 14% visiting family members.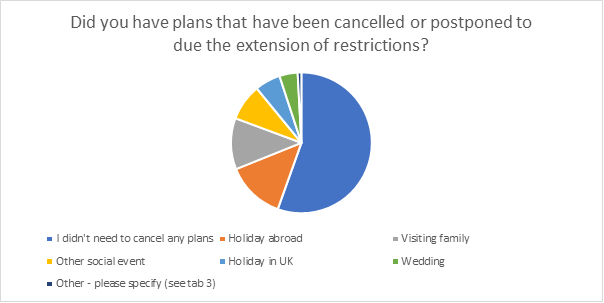 Holidays in particular have been a nightmare for many with the ever-changing red, amber and green lists. For the 13% who've booked to go abroad in the next 6 months, it's been a rollercoaster.
Nearly 9/10 (87%) are currently booked on a holiday to a country now on the red or amber list. What's worse, 57% said the country they wanted to travel to was moved to red or amber AFTER they'd made their booking.
But hope, it seems, springs eternal – at least for nearly three quarters of would-be holiday makers, who are sat crossing their fingers that their destination might just go green before they go-go. Only 7% have actually cancelled a holiday because of the travel-list changes, with 11% carrying on regardless, and 11% rescheduling.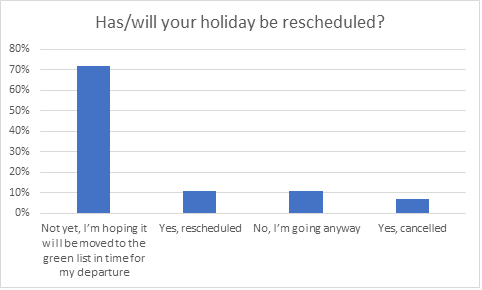 For those who DO actually make it abroad this summer, to a green, amber or red list country, the impact of Covid on their holiday might not be over when the plane takes off…
The latest stats from consumer watchdog Which? show that out of the 250 policies they checked, only 2 offered truly 'complete' Covid cover.
With no universal definition for what 'Covid cover' includes, travellers could well find themselves stung by hidden exclusions – and not covered for things like fresh lockdowns, changing lists, quarantine hotel costs, going into isolation, or being denied boarding.
Many customers won't understand the scenarios they might find themselves in, the implications of what they're buying, or the possibilities of cover. When Which? Spoke to 2,800 travel insurance customers they found a massive gulf between what they thought was covered and the likely reality – with around half saying they thought they'd be covered in the event of another lockdown, or if the FCDO changed travel advice.
If travel insurance brands want to fly high on post-lockdown, vaccine-enabled holiday-fever, they need to get the communications about travel insurance right, right now. There's clearly an education job that needs to be done to build trust for the future – one that's going to be extra challenging as brands try to keep up with confusing and evolving government rules.
Our own stats show how surprisingly determined Great British holiday makers are, despite the green to amber fiasco and disruption to their plans. While 57% said they wouldn't book another holiday until things were a bit clearer, a determined 13% were happy to take their chances and book around any restrictions, with another 30% on the fence.
The younger people are, the more positive they are about future travel. 16% of 18-34s were happy to keep booking holidays, with only 38% going to hold back. Meanwhile 65% of over 55s felt negative or hesitant about future bookings – possibly because of virus and spending caution their children and grandchildren are happier to throw to the wind.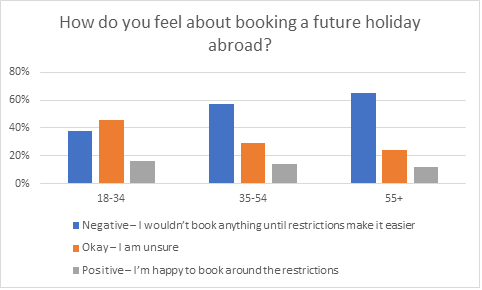 This youthful wander-lust can help holiday companies – and holiday insurance companies – in targeting their products and messages. These are the people who are going to want to travel most now and in the future. And they'll need the right information and right insurance to do so safely.
---
Understand the needs and motivations of your customers or target audience
Viewsbank is our in-house consumer research panel. It's a large, responsive and community driven panel that conducts both quantitative and qualitative research.
Our Viewsbank panel helps our customers with a wide variety of projects ranging from detailed mystery shopping to demographically targeted research surveys. The research helps our clients make informed decisions based on true understanding of the consumer's voice.