In the face of continued claims inflation, new data from Consumer Intelligence reveals the home insurance market could be making moves to protect itself.
The cost of construction materials has seen a significant increase since 2021 following a series of economic factors. ​Pile on increases in labour costs as well as supply issues for key building materials like concrete and steel, and it's no wonder home insurers are facing substantial uplifts in the cost of claims and repairs.
According to a report published by Go.Compare earlier this year, water and damage claims were the most common claim type for the home sector in 2022. In the first half of 2023, water and damage claimants faced higher premium inflation, when compared to other types of claimants and those with no claims.
Escape of water claims incurred an average increase of 19.3% over the six-month period and damage claims saw an 18.6% increase. In contrast, premiums rose 16% for building claimants, 14.8% for theft claimants and 15.1% for non-claimants.
Whilst the difference may seem marginal between these two groups when we look at the trended view, we can see a clear divergence emerge in April 2023 and continue through to June 2023 – possibly a sign of the market responding to the previous year's claims data in an effort to protect combined operating ratios.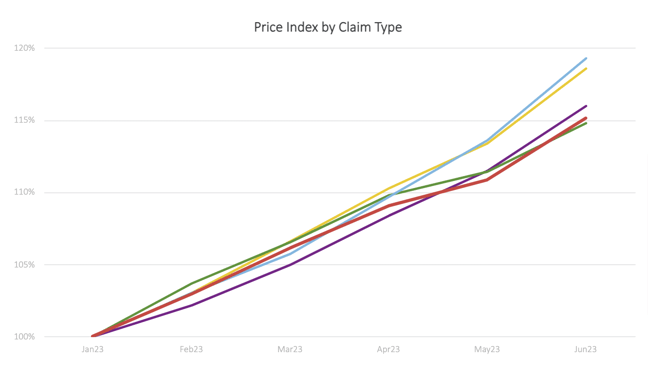 SOURCE: CI MARKET VIEW (PCW PRICE BENCHMARKING). SAMPLE SIZE: 2100 RISKS RUN EACH MONTH PER PCW.
| | |
| --- | --- |
| Claim Type​ | YTD inflation​ |
| Escape of Water​ | +19.3%​ |
| Damage​ | +18.6%​ |
| Building​ | +16.0%​ |
| No Claims​ | +15.1%​ |
| Theft​ | +14.8%​ |
This isn't the only move we've seen within the market. Some brands appear to be steering away from claimants by quoting less. In June 2023, 14 brands quoted for a smaller proportion of claimants than non-claimants​, by at least 10% - including two brands not quoting for claimants at all.
When we look at the brands most competitive for claimants, 5 out of 6 inflated premiums more for claimants compared to non-claimants – clearly demonstrating the home markets move to protect itself against claims inflation.
---
Understand and optimise your competitive position
Gain a uniquely comprehensive understanding of market dynamics, competitor behaviour and brand positioning within the home insurance market with our invaluable price benchmarking tool, Market View.
Comment . . .