The rise of electric vehicles in the UK is gaining momentum, with a new electric vehicle (EV) now being registered every 60 seconds, according to the SMMT. In the twelve months to July 2023, new battery electric vehicle sales rose by 88%, and by 2024, it is expected that ZEVs (zero-emission vehicles) will account for approximately 22% of new car sales and 10% of van sales, indicating a significant transformation in the automotive industry. This is in accordance with the government's newly confirmed ZEV mandate.
With significant volume flooding into the market, it could seem the EV insurance market is the place to be – and that's certainly where Aviva Zero has firmly established itself. Consumer Intelligence data shows that in the three months to July 2023, Aviva Zero increased its quotability across all four PCWs, returning a quote in position 1-5 c.30% of the time, making it the most competitive product in the market.
Aviva isn't the only brand looking to get a piece of the EV pie - Admiral and AXA have recently emerged as new competitors in the EV market, and in July 2023 Go Skippy launched its new EV product across two of the PCWs. With everything on the up for EVs, it could be easy to assume we'll soon see more insurance brands scrambling to join the party.
However, despite the growing popularity of electric vehicles, some significant barriers remain for both insurers and consumers. Firstly, electric car claims cost 25.5% more than their internal combustion engine (ICE) equivalents and take 14% longer to repair according to Thatcham Research.
Secondly, insurance is inflating faster for EVs – most likely driven by claims costs. Consumer Intelligence data shows premiums for EVs have inflated by 39% between January and July 2023, compared to 34% for ICE vehicles.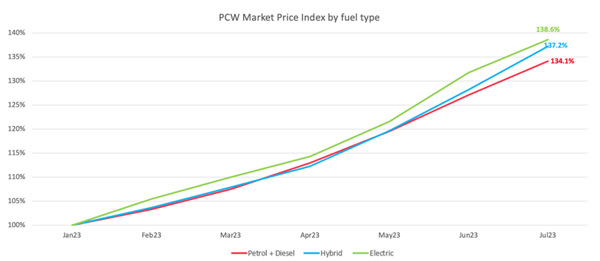 SOURCE: MARKETVIEW, PETROL + DIESEL = 24,220 RISKS, HYBRID = 693 RISKS, ELECTRIC = 280 RISKS.
Another obstacle is the faster depreciation of EV values compared to traditional cars, which may discourage some consumers from purchasing them. Additionally, the installation of public charging points remains painfully slow, making long distance travel near-impossible and public charging more expensive for drivers if this trajectory is to continue.
As a result of the challenges that exist in this market, a number of brands have decided to exit. In October 2023, it was reported by Life Insurance International that John Lewis have temporarily stopped offering insurance to EV drivers due to concerns over repairs costs. Additionally, Consumer Intelligence data shows that specialist EV insurance provider Boom has either left the market or taken a hiatus. This hesitancy to offer EV cover from the market could make sourcing insurance more difficult for consumers and potentially inflate prices even further.
However, these obstacles won't exist forever. The technology and manufacturing of EVs will evolve and the repairs market and charging infrastructure will catch up – it's only a matter of time. That means the insurance industry will want to be ready to pivot when the time is right. The question is when.
---
Understand and optimise your competitive position
Gain a uniquely comprehensive understanding of market dynamics, competitor behaviour and brand positioning within the home insurance market with our invaluable price benchmarking tool, Market View.
Comment . . .