The motor insurance sector has been grappling with a surge in vehicle theft – a problem most prevalent in the high-value vehicle market.
In 2022, vehicle thefts saw an alarming 25% year-on-year increase, according to ONS data – a trend attributed, in part, to the cost-of-living crisis and the escalating value of used vehicles.
The scarcity of available used cars is placing them in higher demand, making them attractive targets for thieves and driving up the potential resale value for stolen vehicles. As a result, insurers are pricing against this, bumping up premiums more for drivers with higher value vehicles compared to the rest of the market.
But the acceleration in thefts isn't the only thing pushing up premiums for high-value vehicles. The effect of claims inflation is amplified for these cars, due to higher cost of replacement parts (such as semiconductor chips and sensors), as well as supply chain issues with newer models.
The repercussions of these trends are evident. Vehicles valued over £40,000 have experienced a staggering 50% increase in insurance premiums since the beginning of the year, and this notable surge has pushed companies to adopt proactive measures. In May this year, Aviva took the step to issue warnings to their clients about the sharp rise in thefts of SUVs and luxury vehicles. This highlights the focus on limiting exposure to claims for high-value assets.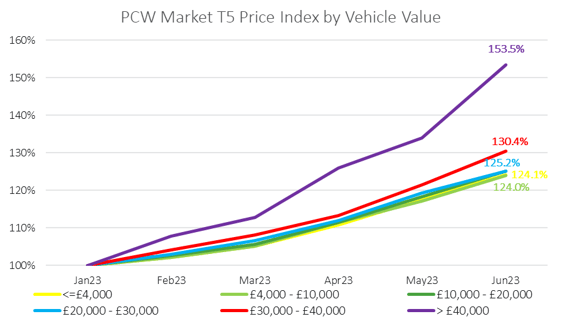 DVLA data shows that certain car brands are at a higher risk of theft. Land Rover has emerged as the most frequently stolen car brand by a significant margin. Notably, six of their models have secured positions in the Top 10 most stolen car models in the UK, as recorded in the year ending March 2023. The Range Rover Velar R-Dyn was found to be the most targeted. This trend is compounded by reports suggesting vulnerabilities in Land Rover's security, including issues with keyless technology.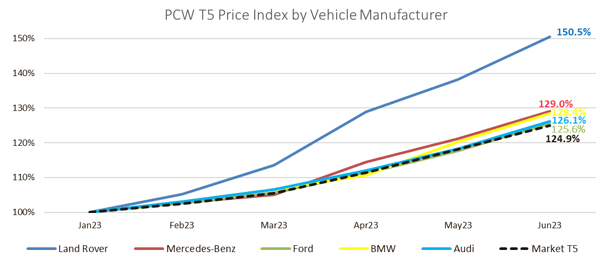 Jaguar Land Rover CEO Adrian Marshall admitted last month that the volume of Range Rover and Range Rover Sport thefts, particularly in large cities, has become a problem. The problem is so acute in London that Range Rover owners are now being denied insurance or offered unaffordable premiums, as reported in Autocar earlier this year.
Unfortunately, the car theft trend isn't set to slow down anytime soon. Record low car supply sits against a backdrop of high demand, driving up the value of second-hand cars and parts, making car theft a lucrative and appealing business, especially to those hit hardest by the deepening cost-of-living crisis.
Despite this inevitability, there's a slither of hope in this escalating nightmare. This month, the Government announced plans to ban keyless car hacking equipment, under plans currently being considered by ministers and police chiefs. However, their efforts will be futile without support across the motor industry. It's time for all sides to come together – Government, manufacturers and insurers – to figure out a united way forward to securing better consumer outcomes.
---
Understand and optimise your competitive position.
Market View is an insurance market benchmarking solution that provides a uniquely comprehensive understanding of market dynamics, competitor behaviour and brand positioning within the general insurance industry.
---