Cautious customers are of course an insurer's favourite kind of customer, and this year Brits are taking the government's rather mixed Omicron messages and setting their own quite circumspect rules for the festive period.
While nearly half plan to plough on with a normal Christmas, 31% are being cautious about their Christmas celebrations, and another 14% aren't planning too much – just in case there's a rule change.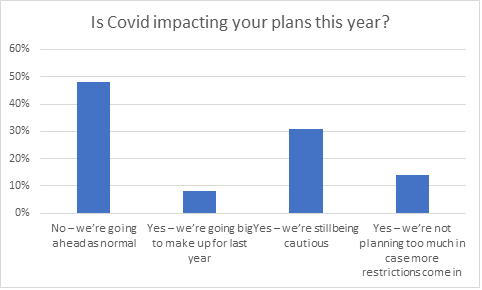 Source: Viewsbank survey of 1,027 consumers. Online interviews conducted 3-5 December 2021
Only 8% said they were going BIG this year, following last year's restrictions.
Young people 18-34 were more likely to be throwing their caution to the wind – 23% planning to be Covid-cautious, versus 35% of older people.
Nearly 4 in 10 (37%) also admitted to buying presents and provisions early this year. While most are those who 'just like to be organised', nearly a quarter of Brits are concerned about potential shortages, and another 14% are worried about shipping delays.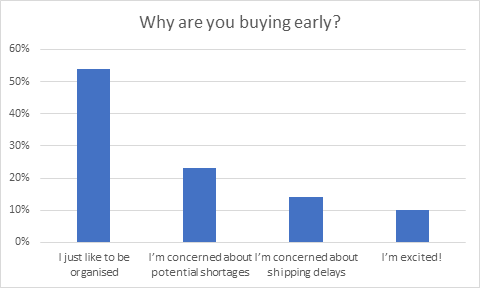 Responses from the 37% of consumers shopping early
Seasonal celebrators may not quite be at the panic-buying loo-roll stage, but the experiences of the last year have clearly stayed with shoppers longer term - and they're increasingly prepared to be prepared.
Seasonal travel
Travel is up this year on last year, with more people planning to do Xmas day trips, stay with family and friends, or even go away on holiday.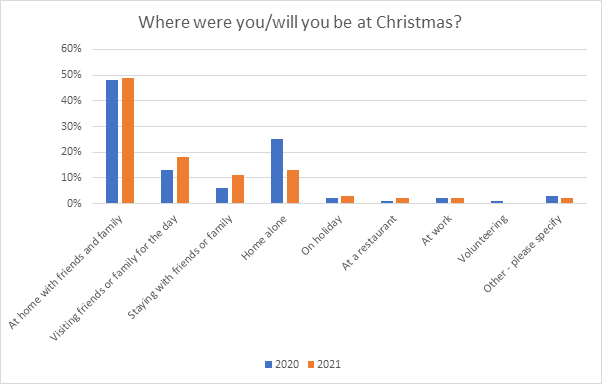 Young people were the most likely to be travelling over the festive period, with 26% planning overnight trips or holidays, compared to 17% of 35-54s, and just 15% of over 55s.
While fluctuating rules on travel plans might have an impact on holidays abroad, insurers should take note that it's younger customers who might need reminding about home safety in December newsletters…
While both robbery and theft offences decreased by 21% in the year ending June 2021 compared to June 2019, Christmas is traditionally a time not just for good will but for good pickings, with thefts going up. Now we're not officially locked down, thieves might be looking to take advantage of seasonal travellers leaving more properties empty. That makes it a great time to remind people to actually set alarms, check window locks, and upgrade security systems.
On the fifth day of Christmas, Five Gold Ring doorbells (other brands are available) could be something for the wish list - and may increasingly become something insurers factor into future risk calculations.
Less solo celebrators
In some good Christmas news, less people this year will be spending Christmas totally alone. A quarter of Brits spent 25 December 2020 by themselves, while only 13% plan to do so this year, so it's not going to be quite as lonely this Christmas.
What's more, nearly a quarter of us (22%) are spending more on presents this year than last year – so for some lucky people it might even be a slightly Merrier Christmas!
Let's see what 2022 does to people's finances, travel plans, shopping and buying habits – from Christmas presents to car insurance.
---

Viewsbank is our in-house consumer research panel. It's a large, responsive and community driven panel that conducts both quantitative and qualitative research.
Our Viewsbank panel helps our customers with a wide variety of projects ranging from detailed mystery shopping to demographically targeted research surveys. The research helps our clients make informed decisions based on true understanding of the consumer's voice.