There has been a proliferation of product choice coming from insurance providers over the past two years, and with it a new trend of 'brand stacking' that's seeing the pricing between those products grow ever closer.
Some of this is from different brands in the same companies, such as Sheilas' Wheels and esure appearing next to each other on PCW results. But a more recent factor driving the numbers up has been the rise of product tiers with the same brands.
John Lewis' revamped home cover comes in Bronze, Silver and Gold. Admiral added its Gold and Platinum cover to Confused in May, and DLG added Churchill Plus across all four PCWs this year. Then there's Hastings Essentials, Direct and Premier, 1st Central Value, Standard and Premier and Swinton Essential, Classic and Premier.
As of June 2021, there has been an 18.4% pts increase in brand stacking on average across PCWs since April 2016. It all means half of all motorists looking for a policy on the Price Comparison Websites in April would find the at least three quotes from the same provider in the top five pricing positions.
Motor brand stacking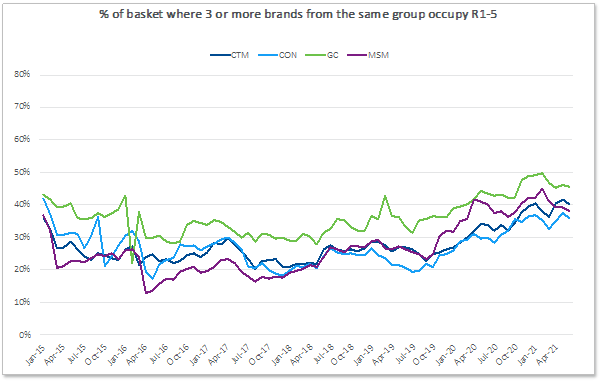 The phenomenon is less developed in home insurance where a lower average premium and greater price density makes it difficult to stack products with tiered cover in particular, though we count six groups which have managed to achieve three top five positions in a single home quote so far this year, with others focused on a double-stack.
Brand stacking makes a lot of sense. Tiered products and brand-differentiation could be a way of increasing choice for customers depending on their budget and how important certain protections are. The commercial benefits are clear too – it increases the chance of the ultimate parent company winning the customer it wants.
But are we at risk of expanding into choice overload territory, with overwhelmed consumers feeling less able to choose the right product and lacking confidence in their decision?
Different tiers of products from the same brand are not unique to insurance, of course. Everyone is familiar with the choice at a supermarket between basic chocolate biscuits, standard own brand and the posh ones you only buy or get out on special occasions.
Only this isn't a biscuit.
Biscuits are cheap. You can compare products on the shelf and base the purchase on your fancy not your needs, or just go with an old favourite or a branded product.
That's a harder call to make in insurance – even more so when faced with different quality levels from the same brands.
Take tracing and accessing of leaks in the house. It's excluded with Admiral, has a limit of £5k on Admiral Gold and £10k on Admiral Platinum. All Hastings and AXA tiers have a £5k limit. John Lewis Bronze and Silver do too. John Lewis Gold has an unlimited level.
But unless you're a water leak expert, how do you know if £5k is going to be enough, and if higher than that is a waste of your premium?
It gets more confusing. While the tiers undoubtedly show which products are richer compared to others from the same brand, the top tiers themselves can have little in common.
Motor locks and key cover varies limits claims of £300 and £1500 across the products presented by various brands as their top of the range option, for example.
Then the lowest-tier covers from some brands offer higher coverage than the top-tiers from other providers. In home cover, Admiral's highest level, Platinum, covers bicycles up to £350 as standard. Churchill's lowest tier go up to £500 if personal possessions cover is included while Hastings Essentials has a £350 single pedal bike limit with up to £1,500 cover in total.
In terms of biscuits, it's like being required to stand in the supermarket with packets that just have brand names and not pictures, and compare all the ingredients in minutia before you've got the first clue to what kind of biscuit you're actually buying.
For insurance brands, the key question to ask themselves is WHY they have introduced these tiers? If it's a pure marketing play to dominate the top spots on the PCWs for the customers you really want, are you providing value or confusion? And is it within the spirit of fair value?
There's also a question of price. Our MarketView tool shows a huge gulf between different cover levels when presented to different customers. In our basket of risks, for example, customers were quoted between £13 and £363 more for a higher tier of one brand from the same home provider.
How can a brand explain the relationship between value and price in that instance?
Biscuit packets, by law, have to be VERY clear on their ingredients, with possible allergens pulled out and properly displayed. Insurers need to be aware that the FCA is likely also going to be taking an interest in exactly what is going into THEIR products, why they're putting it in there, and whether the packaging is clear enough for consumers.
The answers to this aren't simple, but brokers and PCWs could have an opportunity here to provide extra information to help consumers make an informed decision based on coherent and concise results that provide real choice.
---
Optimise your competitive position in a fast-moving market
Understanding and optimising your product mix, particularly in your competitive context, can make all the difference when it comes to winning new business. To learn more about our pricing insights, please click below.