Market consolidation, tiered products and changing group positions all came into play in the battle for home insurance customers.
Our latest figures track which brands have gained and lost customers in the period from April 2022 to November 2022. This is the first look at a full period following the dual pricing ban.
Here are some of the key findings:
Small change at the top
AXA has entered the top 5 for market share, nudging down Saga to sixth place.

AXA gained 0.4% of the total market in the latest six month period. It appears the rebranding of their product tiers from AXA HomeSmart, Sure and Safe to AXA, AXA Plus and AXA Premier in June, together with some base rate cuts, gained traction. Overall it is quite a rise from 8th position in March 2022.

Most of biggest providers consolidated their market share at this time. Aviva gained 0.9% of the market, and LV= and Admiral 0.6% a piece. The five biggest brands between them accounted for 33% market share in the six months to November 2022, up from 30% in the six months to March 2022.
| | |
| --- | --- |
| Market Share | Apr-22 Nov-22 |
| Aviva | 8.7% |
| LV= | 7.3% |
| Direct Line | 6.2% |
| Admiral | 6.1% |
| AXA | 4.5% |
Policy Expert's rise continues
| | |
| --- | --- |
| Market share gains | Apr-22 to Nov-22 |
| Aviva | 0.9% |
| Policy Expert | 0.9% |
| Admiral | 0.6% |
| LV= | 0.6% |
| Hastings | 0.5% |
Policy Expert was a joint top grower. It grew its book by 30.5% to gain an additional 0.9% of the total market. Policy Expert decreased its new business prices throughout 2022 and also stands out for having the highest retention rate in this period, with 86.7% of customers opting to renew. This is not due to an inbuilt loyalty to the brand or inherent trust that theirs was the best price on offer - a below average of 20% renewed without first shopping around – but rather an effective retention strategy for those who did shop around. Over 80% of those who shopped around ultimately renewed with Policy Expert. This compared with a market average of 53% of shoppers who decided to stick with their existing provider.

The biggest reasons for renewing with Policy Expert after shopping around were being offered a lower premium (44% of shoppers) and the savings from other brands not being big enough to bother switching (26%). The introduction of Bronze, Silver and Gold product tiers in April could have also helped guide renewing price conscious customers towards cheaper cover.
| | |
| --- | --- |
| Growth of own book | Apr-22 to Nov-22 |
| Sheilas' Wheels | 40.4% |
| Policy Expert | 30.5% |
| HSBC | 23.5% |
| Hastings | 20.0% |
| One Call | 18.3% |
Sheilas' Wheels and Hastings might not be the first home insurance brands to spring to mind, but they have been taking advantage of changing market dynamics to grow out from their solid car insurance base.

Esure Group changed brand pricing in December 2021 to make Sheilas' Wheels cheaper than Esure. Both went against the market to make big price cuts in the final month before GIPP, gaining a lot of competitive share heading in 2022. Throughout the course of 2022 Sheilas' Wheels home product was priced more competitively that Esure's.

While prices rose over 2023, Sheilas' Wheels kept premiums down for smaller properties which allowed them to make gains in the sector. This was particularly notable in two bedroom properties where their Rank 1-5 share increased by 25%.

In the case of Hastings, it was less about pricing and more about brand recognition and tiers. It increased prices at the same rate as the market and were able to cater to customers with different budgets through Hastings Direct and Premier.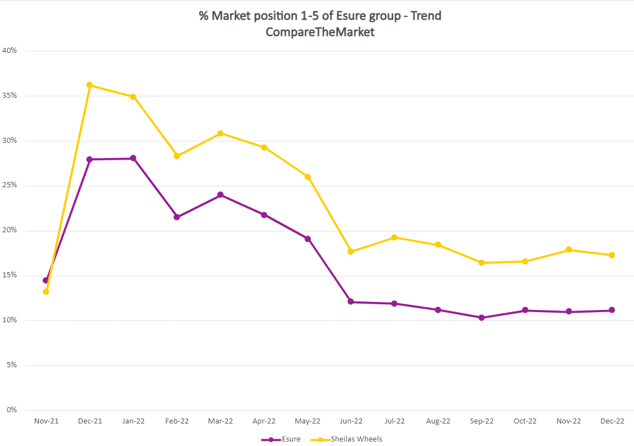 Direct Line Group has also been flexing its multi-brand strategy, with its smallest brand Privilege growing at a faster rate than Churchill or Direct Line, and changing footprint for its brands.

With 72% of customers shopping around at renewal, and many brands to court them with changing product strategies, there is no let-up in the competition. Time will tell which price cuts and market share gains were sustainable and which will be corrected over 2023 as inflation continues to bite and new challenges enter the fray.