The number of new electric and hybrid vehicles joining the UK's roads continues to rise, and accounted for 51.6% of new vehicle registrations in the first two months of the year, the latest SMMT figures showed.
Deliveries of new battery electric vehicles rose by 18% in February, with all plug-in cars accounting for almost a quarter of new vehicle registrations in February. The SMMT predicts nearly half a million plug in hybrids and battery electric vehicles will join the roads in 2023, as manufacturers bring more than 40 new plug-in models to the market.
Niche this is not.

So, which are competing the most heavily for market share?

Our Market View data shows that Aviva and Admiral have strongly increased their competitive presence, with Aviva now topping the pack on all but one Price Comparison Website. Its gains have been driven by its Aviva Zero brand with its T5 share rising above 25% in January 2023, substantially higher than was seen just months previously.

Aviva also released the UK's first standalone product for EV charging points in September, covering the installation and operation risks of EV chargers, as well as accidental and malicious damage.
Admiral doubled its share of T5 quotes between September and January, and now appears in a Rank 1-5 position for between 15% and 22% of quotes, depending on the PCW.

While it doesn't have a different product name for climate conscious insurance, Admiral makes the most of informational banners to specify that it offers comprehensive cover for Electric Vehicles as well as free recovery if customers' batteries run out of charge when quoting for an EV.

Also growing T5 quotes is Direct Line Group's Churchill Essentials product, following its exclusively launch on CompareTheMarket in November.
Hastings has dropped from most competitive to third most competitive during this period.

While our data shows Ardonagh Group and Markerstudy have both declined in competitiveness overall, they have maintained their position in the EV and hybrid space and are more competitive for electric and hybrid vehicles than for petrol and diesel.

On the other side, Direct Line Group, Esure and AXA over-index competitive quotes for internal combustion engine vehicles.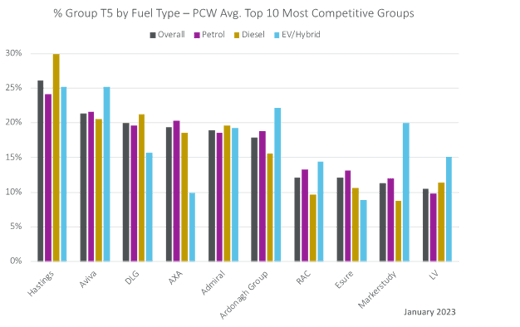 While inflation is very present across car insurance, electric and hybrid vehicle premiums have risen by more than their fossil fuel counterparts, with a big uptick in November driven largely by rate increases from Aviva Zero.

Providers continue to develop specialist brands, including Boom EV which launched in January, and iGO4 Electric which returned to MoneySuperMarket in January.
However, a constant stream of customers buying in the same way that they have for years is not to be taken for granted. Tesla is
reportedly
preparing to set up its own insurer, while SMMT data shows a growing proportion of new vehicle registrations are for fleet rather than private ownership.
In a changing market, the winners will continue to go to where the customer is and strike the balance between competitive quotes and profitable underwriting.
---
View your competitive position against other brands

Market View is an insurance market benchmarking solution that provides a uniquely comprehensive understanding of market dynamics, competitor behaviour and brand positioning within the general insurance industry.
---
Comment on blog post . . .