Demand for new cars may have been suppressed over the last year by supply chain issues, and inevitably haunted by the cost-of-living spectre as people put off large purchases. But when people do buy new cars, shift towards electric vehicles is picking up pace.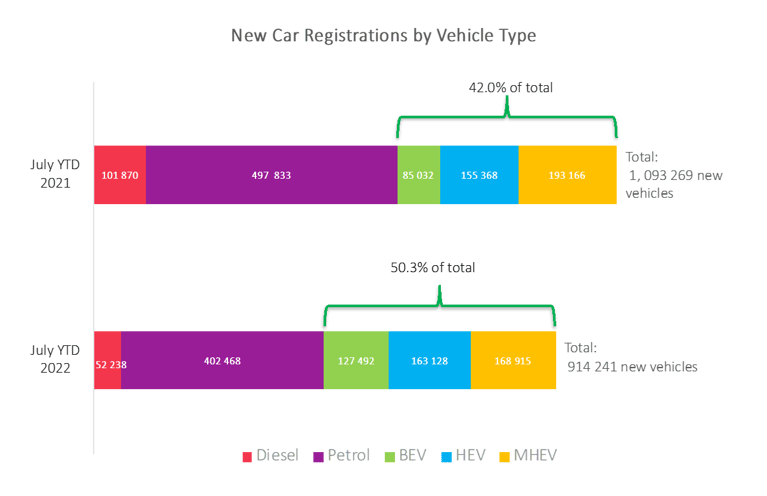 According to data from the Society of Motor Manufacturers and Traders (SMMT), the total number of new vehicle registrations fell by 11.5% in the 12 months to July 2022.

But amongst those new vehicles on the road, electric and hybrid vehicles passed 50%. The number of battery and hybrid EVs grew in real terms while petrol dropped by 20% and new diesel registrations almost halved.

With the growth of the EV market expected to accelerate as we approach the 2030 ban on new fossil-fuelled vehicles, the motor insurance market is clearly reading the writing on the wall and manoeuvring itself accordingly.
Competition on the PCWs
Between July 2021 and July 2022, the number of brands quoting for EVs on the PCWs rose from 106 to 120. Some of those were dipping their toes in the water and had a low quote footprint. But the number of active brands – quoting for more than 10% of our EV basket – also rose, growing from 99 to 112 over the year.


Competition by fuel type, July 2022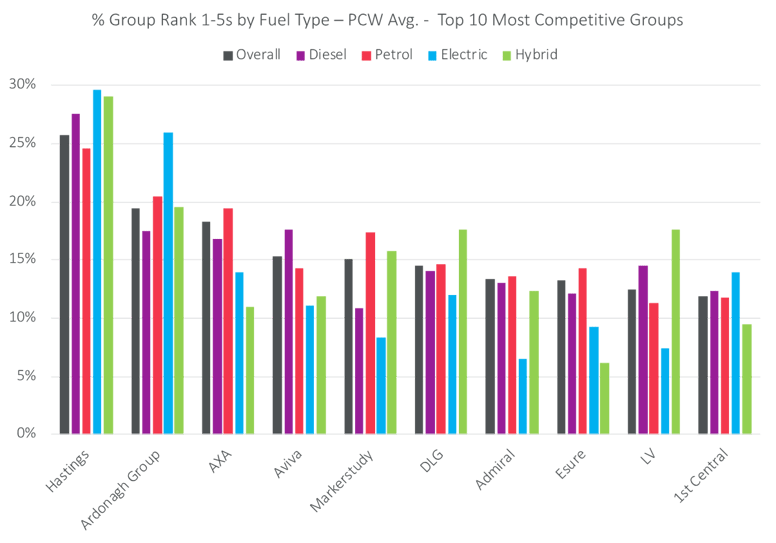 Amongst insurance groups, Hastings is currently the most competitive for electric and hybrid vehicles. It returned 30% of the top 5 quotes on Price Comparison Websites (PCWs) for EVs in July 2022, and 29% of R1-5 hybrid vehicle insurance quotes. It was also more competitive for EVs than for petrol and diesel cars.
Hastings was hotly followed by the Ardonagh Group, which has made competitive gains mainly through its Carole Nash brand in recent months. Markerstudy has also ramped up its prominence in this space since April, with a bigger appetite for hybrids than pure EVs. Several brands went the other way, with LV=, Aviva and Admiral showing a reduction in R1-5 quotes between April and July.

The results also differed across the PCWs. Ardonagh brands were top of the charts for CompareTheMarket, for instance, but eighth on MoneySuperMarket (MSM). Markerstudy and LV= were more competitive on MSM than on other PCWs.

In terms of fuel types, DLG and LV= are more competitive for hybrid vehicles than petrol, diesel or electric, and Aviva stands out as the only brand leading on diesel. That means it's now less competitive for EV and hybrid vehicles than diesel and petrol – the opposite to its position back in April.
Bumps in the road
Strategies and underwriting appetite are fast changing and fine-tuning. Brands also face a shift in consumer attitudes to EVs.

According to our Viewsbank survey, most drivers would like to be persuaded to buy an EV, but there are barriers to overcome.


827 drivers, September 2022
The initial price of an EV is still the biggest sticking point for customers, with 70% citing it as something that puts them off making the move from petrol/diesel to electric. The good news, however, is that attitudes to things like charging times and infrastructures are improving.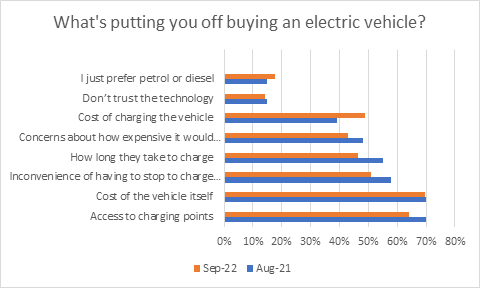 In August 2021, 70% cited access to charging points as a key barrier, and 58% thought the range was an issue - making stopping to charge on long journeys inconvenient. Fast forward to September 2022, only 64% were worried about access to charging points, and only 51% were worried about stopping on long journeys. Fewer people were concerned about how long charging would take, 55% down to 46%, or the expense of servicing and maintenance, 48% in August 2021 down to 43% in September 2022.

But there's been a sharp rise in concern over charging costs at home, reflecting wider concern over energy consumption and costs. 39% cited it as a barrier in 2021, and 49% by September 2022.
Despite the promise of a new energy cap, it's a trend that is likely to continue.

EVs might be growing in popularity, and improving their reputation. But high hurdles remain. It may also be that ownership models change, with car clubs and company cars making EV ownership more affordable. That, in turn, will have wider ramifications for insurance purchasing.


---
Track insurance pricing movements faster
Our insurance price benchmarking service will help you understand daily movements and enable you to quickly identify pricing changes you need to make.