When the Consumer Duty goes live in six months' time, firms will face a new frontier of showing that customers understood the communications they received.
Understanding your position, and how it compares to industry peers, is a key part of adhering to the new rules.
In developing our new consumer proposition, we have been regularly asking consumers if their insurer's communications fit the five criteria set out by the FCA in Outcome 3 (understanding) of the new Consumer Duty.
One interesting finding is that younger customers are far less likely to find their insurers' communications timely, relevant, and ultimately understandable.
More than half (57%) of customers aged over 65 reported the communications they received from their insurer clearly detailed any action they needed to take and the consequences of not acting. This is already a low number, but worse is that only 34% of customers aged 18-24 understood what they needed to do next.
It's a similar picture for understanding cover itself. Two thirds of older customers reported the communications detailed key features and benefits, compared with just 40% of the youngest group of customers.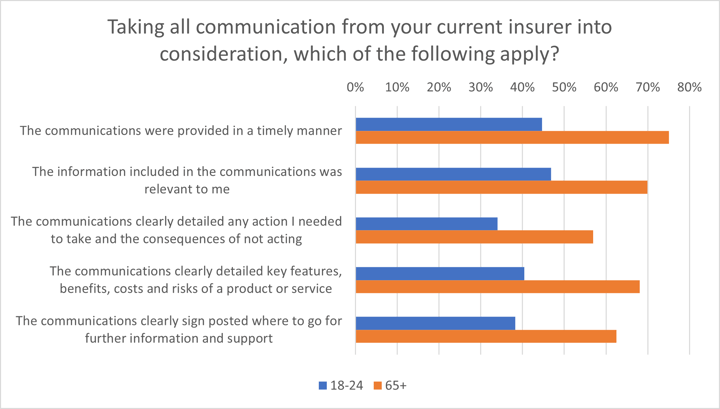 As an industry we've perhaps been focused on older customers as the vulnerable ones. Those who are more likely to face digital exclusion and to have been hit by the 'loyalty penalty' that comes with not knowing to shop around.

The dual pricing ban has curbed the worst of that. Doing so has shifted the focus and reveals a new generation of customers who are bamboozled by insurance.

That has a range of implications.

Customers who haven't understood what they have bought are more likely to ring up with questions. One quarter of customers aged 18-34 said they had contacted their insurer in the last two years to ask a question, compared with only 15% of those aged 55 and over. Answering those questions in a timely manner that fosters trust and loyalty is an investment in resourcing, but one which can ultimately increase cost base more than brands with clearer initial and online communications.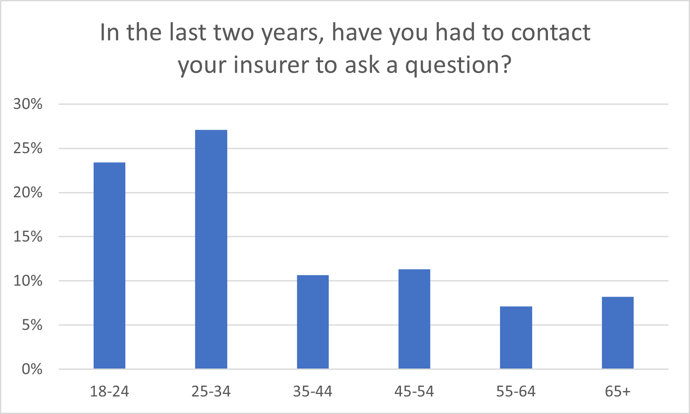 Customers with lower understanding are also more likely to try to claim for something they aren't covered for, causing distress and again impacting on trust. Asking if something would be covered and then not making a claim was partially attributed to the FCA's new value measures which showed only 77% of buildings and contents claims were accepted.

Brands may now want to consider which format of communications is preferred by their customers, and whether the style and delivery matches their customer footprint. Little changes such as tick lists rather than chunky text with some words highlighted in bold can make a big difference.

Policy wordings will never feature in anyone's book club, but you can still try to make them engaging.

Take this, from Lemonade, for instance as a refreshing example of a policy exclusion:
Theft is not covered by this policy. Theft meaning when someone steals your stuff without illegally entering the premises or threatening violence. So if someone nicks your watch at your housewarming party, or swipes your laptop at the cafe, it's not covered. If you want to add cover for theft, contact us. We also don't cover items that get lost, or which mysteriously disappear.
Clear communications from the beginning of a customer relationship sets a good tone for both your firm and the broader industry trust. Which is why the FCA cares about it so much.

For younger customers, the first interaction with insurance that comes with the excitement of their first house share or first car is a unique opportunity to make a good first impression.

Those that use it well will be the brands that continually test, improve, and challenge their own assumptions.
---
Join our Consumer Duty programme
Consumer Intelligence's upcoming Consumer Duty solution will enable providers to benchmark their performance and evidence compliance. Thank you to the first wave of providers who have joined our Consumer Programme to participate in developing this product.
Please email catherine.carey@consumerintelligence.com to register interest in joining a future cohort, with the chance to test and see insights from new services before the market launch.
---
Comment on blog post . . .