The number of brands quoting across PCWs hit an all-time high last year, with new market entrants and tiered offerings meaning more choice than ever for insurance customers.
The number of active brands – defined as quoting for more than 10% of our risk basket – rose from 116 in November 2021 to 130 in November 2022. Yet more have joined the market since.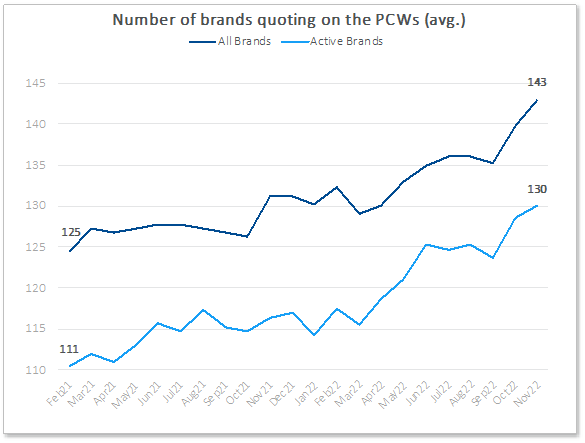 Newcomers
Direct Line Group, Marmalade and Marshmallow swelled the number with the launch of their first essentials offerings.
For Direct Group, it was Churchill Essentials. The product offers a lower premium than its standard Churchill product by raising the compulsory excess, excluding legal protection, key cover and personal possessions.
Atlanta Group expanded Marmalade in a couple of directions. A young drivers specialist, its product suite has widened to include Marmalade Essentials and Classic, both aimed at more experienced drivers aged over 30, with an exclusive launch on CompareTheMarket It has two tiers from the get go, differentiated by a lower compulsory excess, European travel cover and an uninsured drive promise for Marmalade Classic.
The launch means Ardonagh-owned Atlanta now has six tiered motor products across Swinton, Marmalade and Autonet.
Marshmallow re-badged its launch product as Marshmallow Essential and launched mid-tier Marshmallow Original on PCWs. The additional benefits are personal belongings cover, windscreen protection, and no policy change fees. Marshmallow Plus, which is only available directly, adds breakdown cover, legal protection, driving other people's cars and courtesy car upgrade.
November also heralded the UK launch of Stella, pitched at female drivers, following a successful launch in Australia. As CEO Sam White told our recent webinar, Stella is cutting against the trend of hollowing products to reduce the price, but rather thinking "how we can make it more relevant and better for the consumer. "
Other notable new brands included BGL and Covea's collaboration on Nutshell, and Italian insurtech Prima which is eyeing the older driver market and continued its PCW roll out.
In October the number of brands were boosted by pay-as-you-drive brand Love Your Miles and Ticker's Pay Per Mile, while iGO4 launched a value tier and Sainsbury's a premium level of cover. The month before marked the launch of AXA's Moja and Moja Essentials.
Of all the recent launches, Prima jumped in most boldly for the mass market. In November 2022 it was already within the ten most competitive insurers for over 60s. Stella also challenged incumbents to win R1-5 positions for its target audience.

Prima, November 2022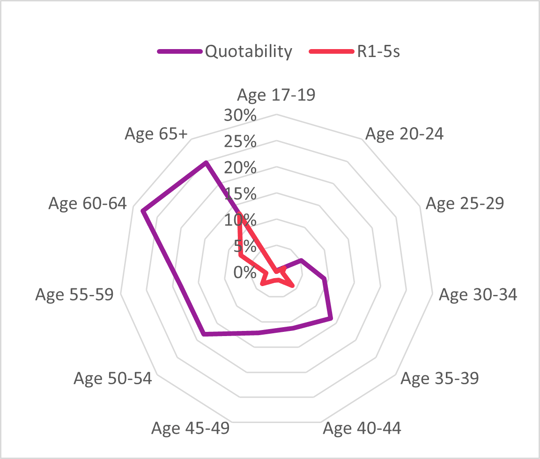 Businesses and brands launch with much fanfare. Departures are quieter. While there were no noticeable exits in 2022, there were several brands which dropped in and out of quoting at volume. Indeed the number of competitive brands – which we define as appearing in rank 1-10 for over 10% of our risk basket – dropped over the same period. Some of those departures could become permanent in 2023 as competition for a smaller number of post-GIPP shoppers and switchers continues.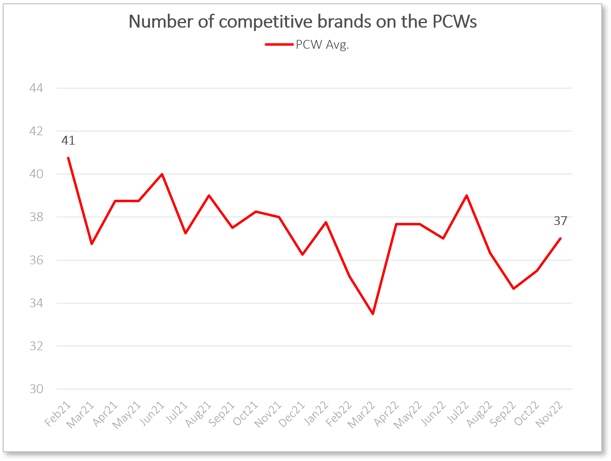 ---
Understand and optimise your competitive position.

Our Market Benchmarking gives you a comprehensive understanding of market dynamics, competitor behaviour, and more. Helping you view your competitive position against other brands.