LV= and L&G are on quite the journey. Allianz completed both the full acquisition of the LV= general insurance business and the general insurance division of Legal & General in December 2019, creating what Allianz described at the time as the UK's second largest general insurer.
Both businesses and their various brands now operate within LV= General Insurance Group which saw out 2020 with 7.5 million policies. Within that makeup, LV's policy count held steady at 5.7 million while L&G's had declined by 19% to 1.8 million.
In its latest accounts LVGIG laid out its extensive integration programme including IT infrastructure, telephony and staff training will run until 2023. It has already incurred £8m in restructuring costs.
As an end state business is hoping that machine learning and operational efficiencies from moving the old L&G business – renamed as Fairmead - onto LV's platforms will reduce its expense ratio to 22.4% and deliver a loss ratio of 61.4% by 2025.
Could this be the beginning of a fight back on pricing?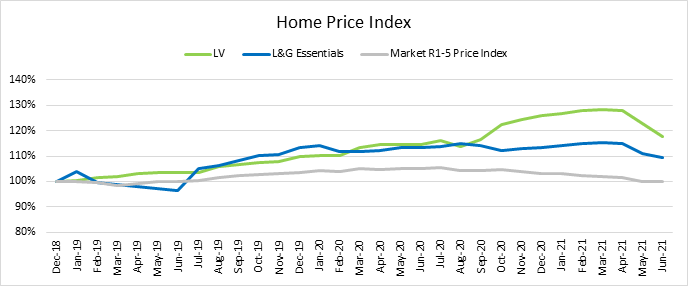 Our own data shows that both LV= and L&G's share of competitive quotes for home insurance has been in decline in recent years as a result of price increases that outstripped market price movements.
L&G saw a precipitous decline in R1-5 share across 2017/18 going from >30% in Q1 2017 to <10% by Q2 2018.
Conversely LV= became incredibly competitive during the course of 2017/18, typically registering >30% R1-5 share but since early 2019 has seen a sustained decline in competitive share.
However, May and June appear to show a change of tack with both brands decreasing prices quite sharply, although they have not quite yet returned to their prices or competitive share of 12 months ago.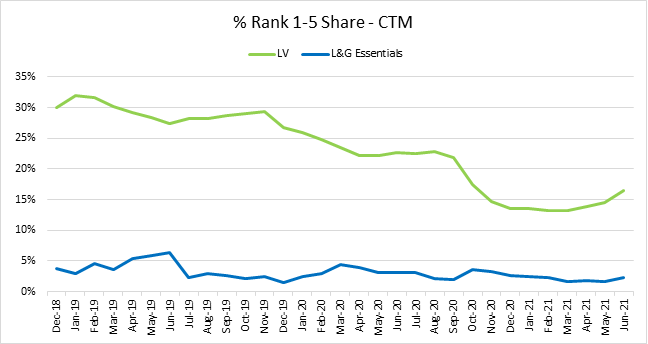 In terms of quotability, LV= has expanded its footprint to provide more quotes for 1-2 bedroom properties.
The premium increases between June 20 and March 21 resulted in a drop of top 5 quotes for all homes, including its staple diet of 4-5 bedroom properties. Its share has rebounded somewhat in the second quarter, and it has built its share of smaller properties in line following its increased quotability.

The insurer has also indicated that various books of business will be transferred from the L&G/Fairhurst into LVGIG, so that all product lines (apart from a specific MGA contract) will be in run off by the end of 2021. Indeed, our MarketView tool shows that L&G branded home insurance products have not been sold direct or on Price Comparison Websites as of the beginning of July.
In motor, our data shows LV's competitive share also peaked in 2017/18. While there was a slight resurgence in late 2018/early 2019, competitive share declined from July 2019, possibly following the Ogden reforms, and remained cautiously subdued throughout much of 2020.
However, in the first half of the year LV= has made some of the largest price decreases in the motor market. Its share of rank 1-5 quotes has improved on CompareTheMarket from 7.4% in June 2020 to 9.2% in June 2021.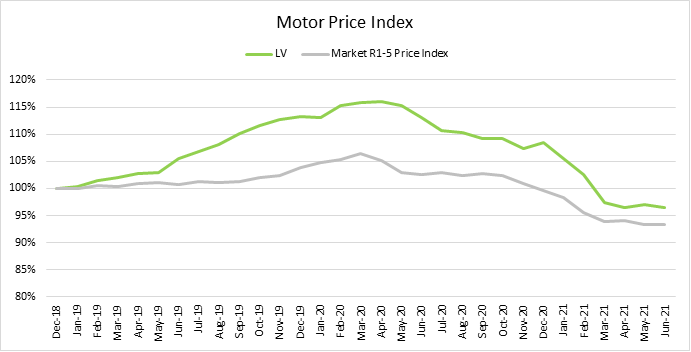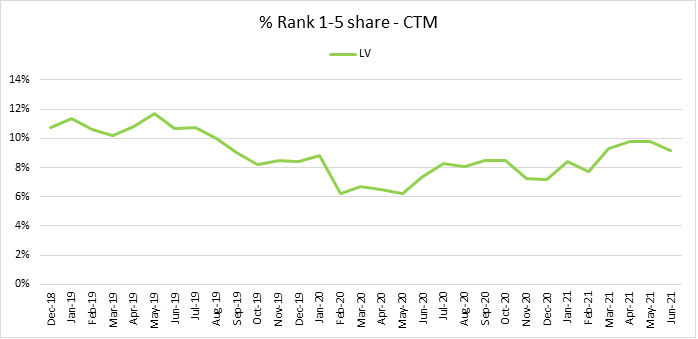 In its Q1 market update Allianz said of the LVGIG business "we have been careful not to pursue revenue at all costs as our focus remains on delivering sustainable profitable growth over the longer term."
With a year of heavy integration under its belt, LVGIG could be finding its stride.
---
Optimise your competitive position in a fast-moving market
Understanding and optimising your product mix, particularly in your competitive context, can make all the difference when it comes to winning new business. To learn more about our pricing insights, please click below.