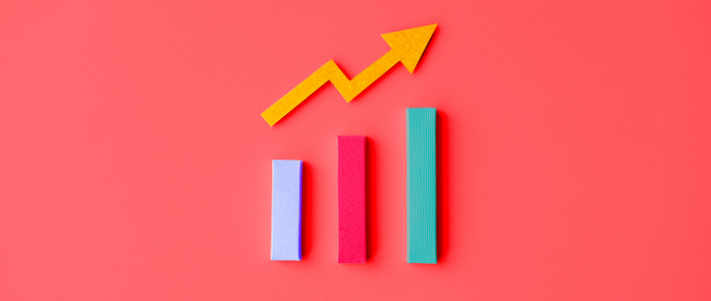 Consumer Intelligence's biannual travel money report reveals that although many big banking brands, including Barclays, Lloyds and HSBC, are high in people's minds as travel money providers, none of them make it to the top ten most used providers.

---
In our previous blog, we demonstrated that while change in the travel money industry might seem slow, customers are gaining confidence in new methods and brands.

And while converting people into paying customers is proving difficult for major banks, we have found that technological advances may be finally loosening the Post Office's grip on the travel money market.

Last year, a quarter of respondents had used the Post Office for their currency needs, and today that number is just 19%. Its nearest rivals are all retail names such as Sainsbury's, Tesco Bank and M&S.

Our survey found that traditional high street banks are still failing to take share from high street retailers when it comes to travel money. Only 2% of respondents had used the most-used bank to exchange their currency (Barclays).

The survey also found that the highest ranked Fintech companies in this year's study were Revolut and FairFx, used by 1% of respondents each.

Top 10 most popular providers used by respondents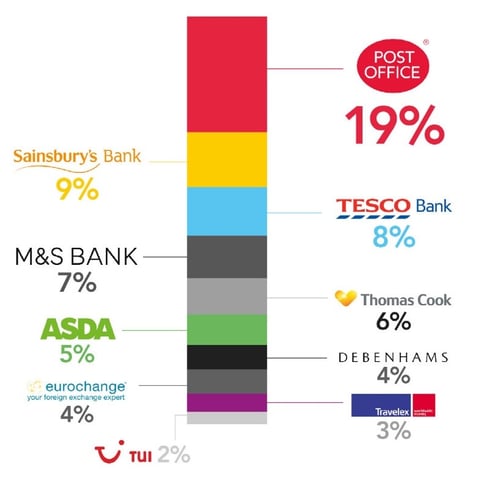 As above, alternative travel money brands that customers considered using (but didn't) include Thomas Cook, Travelex and Asda.

However, the Post Office's high brand visibility is still bringing it to front of mind when customers think about travel money. When asked which other providers they considered using, the Post Office got by far the greatest number of responses.
Travel money brands respondents had used previously

In the past, travel money respondents had used brands like Tesco Bank (8%), Sainsbury's (6%), TUI (5%) and Co-op Travel (4%).

The Post Office also came top of the table when customers were asked about the brands they had used in the past to buy travel money.
Top ten prepaid card providers for existing customers

However, when it comes to prepaid cards, one Fintech provider has risen up the ranks and made it into the top ten.

Revolut now comes second only to The Post Office as a prepaid card provider — with 10% of the market — illustrating just how quickly Fintech businesses can take market share. WeSwap also appears in the top ten this year.

Perhaps surprisingly, though, the Monzo card did not make it into the list — it currently appears at number 11, with a 3% share.
| | |
| --- | --- |
| Post Office | 13% |
| Revolut | 10% |
| Barclays | 8% |
| HSBC | 7% |
| FairFX | 7% |
| Thomas Cook | 5% |
| WeSwap | 5% |
| Tesco Bank | 5% |
| Caxton FX | 4% |
| Sainsbury's | 4% |
So why does the Post Office outrank the banks?

Simply because The Post Office is the most well-known brand when it comes to providing travel money.

When asked which brands they recognised as providing travel money, a staggering 84% mentioned it, which is 10 percentage points ahead of the nearest rival. Although many big banking brands, including Barclays, Lloyds and HSBC, appear in the top ten most recognised travel money providers, none of them make it into the top ten most used providers. This may indicate a lack of accessibility for many customers, given the smaller number of bank branches available.
Top ten most recognised travel money brands
| | |
| --- | --- |
| Post Office | 84% |
| Thomas Cook | 74% |
| Barclays | 60% |
| Tesco Bank | 59% |
| Lloyds Bank | 58% |
| M&S | 57% |
| HSBC | 56% |
| Natwest | 55% |
| Travelex | 55% |
| Sainsbury's | 54% |
We all know banks do travel money

—

so why don't we use them?

While part of the clue may lie in the recent number of branch closures, making banks less accessible — it may be that many of us view travel money as a retail 'purchase' rather than a banking 'transaction', so we go to a shop rather than a bank.

Banks also have a limited consumer customer base compared to retail outlets. And are therefore only used by their own account holders and are not likely to attract non-customers into their branches.

In the final article we'll be looking at the ways in which customers choose a provider.


---
[REPORT] How Britain buys travel money: The coming technological revolution
Consumer Intelligence's latest travel money survey shows that the travel money market is changing in response to Fintech innovations and the growing prevalence of a cashless society.

This report shows only part of the picture revealed by our travel money survey. Here at Consumer Intelligence, we can create further bespoke reports and in-depth examination of individual brand performance and trends over time.

---

Post a comment . . .