Travel Money Survey
Our biannual Travel Money Survey gives us a snapshot of an industry where change is happening, but many customers are still wedded to more traditional ways of taking money abroad.
In an era of apps, mobile banking and cross border cryptocurrencies, the travel money market remains a bastion of tradition. Customers who might otherwise shop and bank online still go into a branch to buy their travel money, and consequently brands with a high street presence dominate the travel currency market.
However, the market is changing, with more people choosing to use their debit and credit cards when spending money abroad, and increased use of payment methods such as prepaid cards. Younger people are particularly likely to use these new methods, suggesting that the market as a whole may be due a major shake up.
---
Snapshot of the Travel Money industry
Cash is still king but the prepaid card is on the rise
Despite the obvious security issues when travelling with cash, 94 per cent of respondents took cash abroad for their last trip, while six per cent still relied on traveller's cheques. The prepaid card market is growing however with 14 per cent of people used prepaid cards this year, against eight per cent in last year's survey.
Big brands still dominate the market
The Post Office still tops the tables for customers buying travel money. It has the highest brand awareness for travel money, and was the most popular choice for buying currency and prepaid cards amongst respondents.
Sainsbury's Bank, Tesco Bank and M&S Bank are the next most popular providers, while none of the new 'challenger' brands such as Monzo and Revolut make it into the top ten for brand awareness or use.
Banks are not front of mind for purchasing currency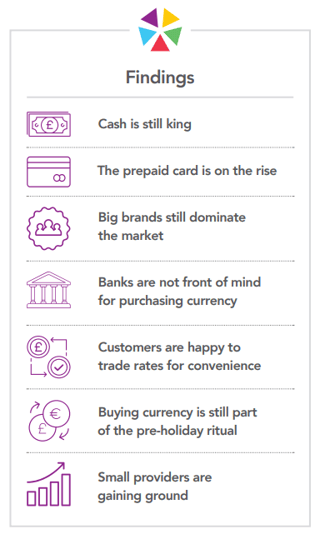 Six banks appear in the top ten brands that customers know provide travel money, but only two (Tesco Bank and M&S Bank) managed over 10% spontaneous awareness as a cash provider. Only three banks appear in the list of the top ten providers used, with the 'traditional' banks notably absent. Closure of high street branches, perception of expense or mistrust of banks post the credit crisis could all be reasons why banks are not widely used for buying travel money, or it could be that consumers just see travel money as a retail purchase rather than a banking transaction.
Customers are happy to trade rates for convenience



While respondents to our survey believe that the rate they get when exchanging money is important, their choices reveal that convenience is the prime motivation. The convenient location of branches from which to pick up travel money was rated the most important reason to choose a provider, though many said the rate was important too. Only 18 per cent of people use a price comparison site to check they are getting a good deal.
Buying currency is still part of the pre-holiday ritual
Most holiday currency is bought face-to-face or ordered online and then collected, rather than delivered, suggesting that many people still see buying currency as part of the holiday preparations, rather like buying sun tan lotion.
Small providers are gaining ground
While newer entrants to the travel money market are still far below older players in terms of both awareness and use, they are showing signs of moving up the charts. Both WeSwap and Revolut, for example, achieved one per cent spontaneous awareness for providing prepaid currency cards, ahead of Moneycorp and on a par with Asda.