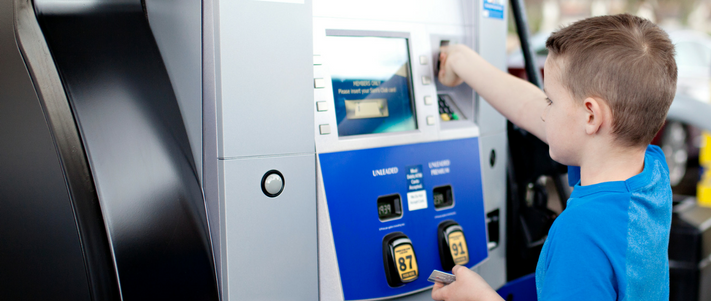 Loading foreign money onto prepaid cards in order to take it travelling is only a small part of the foreign exchange market.
---
Our most recent survey showed that 57 per cent of people hadn't even tried out the cards, with many deciding that they aren't worth the effort, since a debit or credit card could be just as good.
Despite little evidence of a boom in these products, though, a more niche area of the pre-paid market is booming, and its success could have some lessons for foreign exchange providers, or even some cross-selling potential.
Pre-paid cards for children are becoming a popular weapon in the parents' war against financial illiteracy. On the face of it, they shouldn't be popular. They come with monthly fees, restrictions and are not allied to any of the major banks or building societies that have worked hard to build awareness around children's savings.
And yet the likes of Osper, GoHenry, and Nimbl are booming. These prepaid pocket money products allow children as young as eight to pay with a card, and to manage their own money, What can the success of these companies tell us about how to make more of a success of the prepaid travel money market?

Impressive technology can pay dividends
Prepaid pocket money cards come with an enviable array of features, some of which many of us would like on our prepaid money cards as well. These include the ability to tag spending on an app, but also to block and unblock a card online if we lose it, without having to ring anyone up and block it for good. That's useful if you are a parent worrying about your daughters' spending, but also if you're on holiday and you've left cash in a bar on a Saturday night.
With the ability to tag spending and then view it as a pie chart, the apps behind these cards aim to teach good money management. But similar features attached to prepaid cards would be useful for travellers, looking at exchange rates over time and sending alerts when it's a good time to top up.
Some prepaid cards, such as Monzo and Revolut, already have this technology, and the current generation using the prepaid cards for children will have come to expect it when they look at the best way to use cash when travelling abroad.

Finding your niche can bear fruit
Prepaid cards for children are a niche product. At 11 years old, children can open a bank account with a debit card. These companies have noticed that children below that age are already buying online and when out and about, but their parents don't carry cash — and end up paying for them.
Add to this the guilt parents have about the financial literacy of their children, and you've got a powerful proposition. What's it worth? Parents are prepared to pay a fee (£2,99 a month in the case of GoHenry) for these cards, a situation that is virtually unheard of in the travel money market, where providers tend to make their money on the rate.
These cards don't try to be all things to all people — for example all of them have terrible rates for spending abroad — but they provide a product that is supposed to last a child for four years, and actually in many cases lasts longer — Nimbl is also aimed at university students.


There's money in the family market
Whizzy apps, colourful cards (GoHenry allows you to pick from a variety of designs) and the ability for parents to monitor their children's spending, make these cards attractive to families. Travel providers with prepaid cards already offer supplementary family cards, but could consider a more holistic family offering, with travel money cards for children as well as adults. The current crop of child-focused cards won't work well for holiday spending money, since you'll pay heavily for any travel abroad.
In short, the new generation of travellers is enjoying the best of prepaid Fintech from the age of eight, and will expect no less once they need foreign currency. Technology will be key to winning these consumers, and we're already seeing that they (and their families) are willing to pay for it, hence the boom in child-focused prepaid cards.


---
Prepaid travel cards infographic

- the importance of strategy and service

To get a deeper understanding of the challenges faced by prepaid travel card providers, Consumer Intelligence surveyed 1,087 consumers. The results highlight the importance of convenience and a strong upsell strategy over competitive exchange rates.