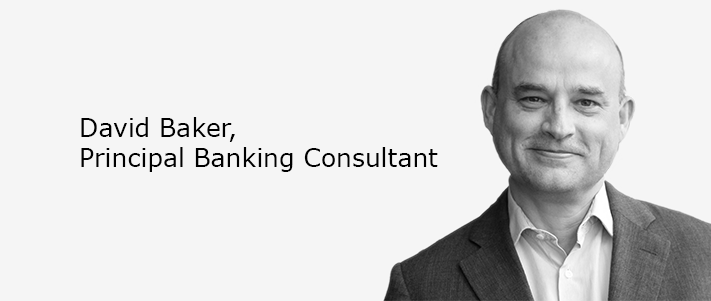 David Baker joins as Principal Banking Consultant
---
Financial services insight specialist Consumer Intelligence is strengthening its advisory practice with the appointment of David Baker as Principal Banking Consultant.
He brings extensive experience and expertise in transformation and programme management with product expertise in foreign exchange, equities, derivatives and bonds to Consumer Intelligence's advisory arm which supports new and existing clients with strategic decision making.
The advisory practice, based in Consumer Intelligence's Canary Wharf offices, was launched in response to growing demand from clients for strategic advice based on the company's consumer insights and benchmarking data.
David Baker has worked with Consumer Intelligence across the globe over the past five years on projects for HSBC's Retail Banking and Wealth Management and Global Banking and Markets and will continue to support HSBC's international education proposition as its grows its client base.
Ian Hughes, Chief Executive of Consumer Intelligence said: "David's appointment significantly strengthens our advisory practice and brings deep experience of strategic advice in the banking sector.
"The advisory practice is a key part of our focus on expanding rapidly by growing our existing business and developing new services into new markets."
David Baker added: "There is a huge opportunity to align the valuable and extensive data capabilities of Consumer Intelligence into product and service client strategies and it is an exciting time to join the team."
His experience across a 35-year career includes working with organisations including RBS, UBS and Morgan Stanley International.
Bristol-based Consumer Intelligence, which has achieved record growth in the last 12 months, operates in the UK, Europe, Asia and North America and clients include all major UK insurance companies and price comparison websites plus a growing number of banks and foreign exchange specialists.
Consumer Intelligence recently celebrated its 13th birthday and has successfully transformed its services from being benchmarking based to providing its clients with compelling insights into their markets and consumer behaviour.
It owns polling and mystery shopping panel Viewsbank, with access to more than 130,000 shoppers and recently appointed former Deloitte Partner and Vice Chairman Louis Jordan as its first Chairman.
---

Ends
Notes to Editors
For further information, please contact:
Consumer Intelligence
Tom Flack
07731 191543

Kevan Reilly / Phil Anderson
Citigate Dewe Rogerson
020 7638 9571


About Consumer Intelligence

Consumer Intelligence (CI) is a market research agency specialising in the General Insurance and Banking Sectors. We have spent the last 12 years perfecting the art of collecting data so that organisations can benchmark themselves. Since 2003, we have been collecting and analysing millions of prices across the telephone, direct insurer websites and aggregator channels.
---