Benchmarking premiums against peers is a core part of remaining competitive and understanding your place in the market.
But it's not the only thing that matters. The Insurance Distribution Directive has elevated the importance of understanding how your add on strategy impacts your competitive position and appearance to consumers.
Its introduction in 2018 required home and motor insurers to do more to assess customers' individual requirements, and PCWs now ask earlier on if a customer is interested in certain core add on products before returning a price.
As a result, we see a growing number of brands flex the price of additional products such as breakdown and legal expenses, while others continue to sell on a fixed 'unit' cost.
This dovetails with understanding which offers and incentives are being offered on various channels, for example, which brands are giving away legal expenses and on which channels.
It all leaves the consumer with a fuller picture of how much their menu of insurance will cost, and providers with the need to develop a more sophisticated view of how they compete beyond the main course.
The landscape is a fast moving one. The type and frequency of offers and incentives on PCWs varies significantly from month-to-month and between sites.
For instance, the number of offers on Confused doubled between June and July from 117 to 238. Price savings offers accounted for 40% of its total offers in July, and it ran twice as many as those on MoneySuperMarket.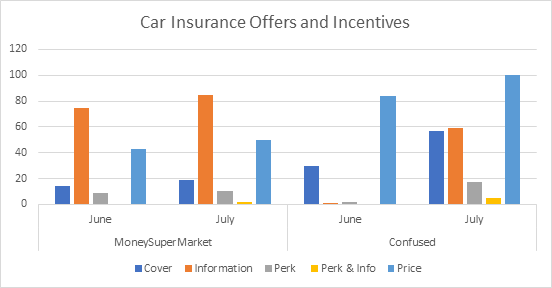 Add on pricing and offers and incentives all combine with the core premium to impact conversion rates. Price savings will appeal particularly to the third of consumers who state they are worried about their financial stability. CompareTheMarket's adaptation of Meerkat Meals to offer 50% off delivered pizzas may be the clincher for others.
For insurance brands, understanding the trio of premium, add on pricing and offers and incentives will unlock a broader view of the market and their position in it.
---
Additional Product View
Consumer Intelligence launches its Additional Product View product next month, with the first release focused on car insurance. Coupled with Offers and Incentives data it will widen the lens in which you view the market with a complete view of premiums, additional product premiums and marketing offers. Contact us to find out more.
---
Comment on blog post . . .