Admiral Group continues to dominate the van market with a clean sweep of the top 3 places for the most competitive quotes for new customers, our MarketView data shows.


Admiral, Gladiator and Admiral LittleBox delivered the highest number of Rank 1-5 quote across the PCWs in October. Admiral's brands are, however, less dominant than a year ago. Admiral appeared in a Top 5 position for 30% of our risk basket, compared with 45% in October 2021.

Beneath that, Van Line Direct Telematics has come from nowhere to deliver 16% of R1-5 quotes, making it the fourth most competitive brand last month, and Hastings' appetite for van sales has grown markedly.

Just outside the top 10 and making gains Snnug Insurance, brand of broking giant Howden's KGM Underwriting, has upped its T5 presence to 9.2% from 5.9% in October 2021. Meanwhile, RightSure more than doubled its competitive share to deliver 7.7% of R1-5 van quotes.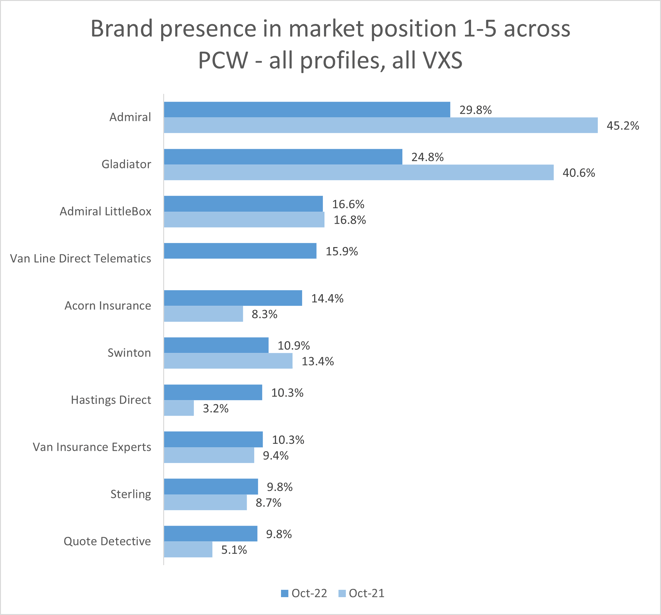 In terms of pure Rank 1 wins, the position is a little different. Van Line Direct Telematics overtook Admiral to dominate the leader board, and Snnug moved into fifth place with 6% of Rank 1 quotes. This indicates that both brands quote selectively, and quote to win when they do quote. And that's especially important when price is a bigger part of the decision making equation for lesser-known brands.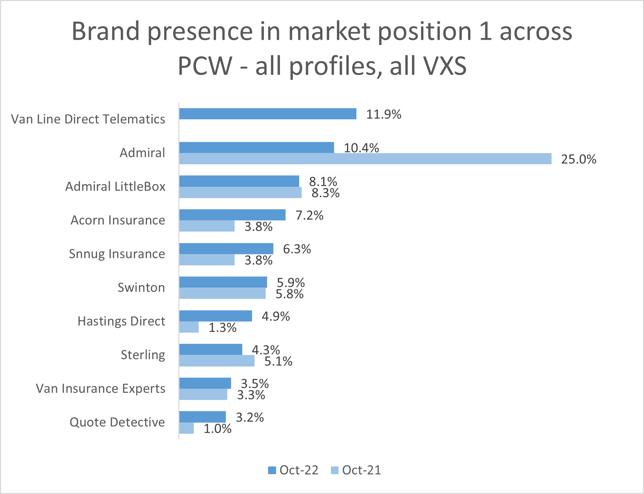 The number of van brands has contracted over the last 12 months. Last October we recorded 68 brands delivering a R1-5 quote. This October it was 60, with exits including MCE Insurance, which entered administration in November.
On the flip side, new entrants include insurtech Marshmallow, which diversified to launch van insurance in May, Collingwood and Ageas.

The new market entrants will be welcome competition for van drivers. As our latest Van Index shows, the average cost of a new policy has increased in the last year by an inflation-busting 19% to £1,127.
---
Understand and optimise your competitive position.
Our Market Benchmarking gives you a comprehensive understanding of market dynamics, competitor behaviour, and more. Helping you view your competitive position against other brands.