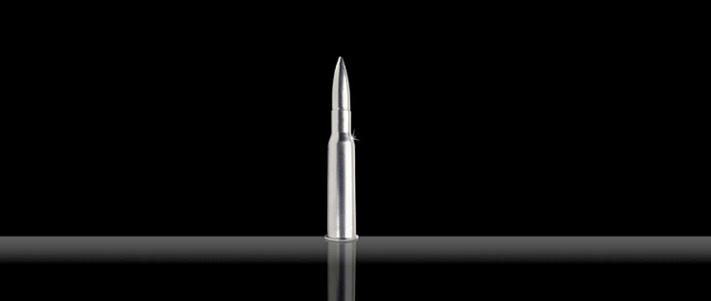 Telematics has often been cited as the silver bullet the motor insurance industry needs to throw off years of struggling to achieve a profit and return the industry onto a path towards profitable growth.

---
Despite making headway in the young driver market, however, telematics policies have so far suffered when trying to break out of its heartland and into the wider mainstream market.
New research from Consumer Intelligence, however, suggests that things may be about to change.
Between December 2014 and March 2016, the number of telematics brands on the panels of the four leading price comparison websites has grown by more than 27%.
Over that same period, CompareTheMarket has added eight telematics brands to its panel of insurers, meaning it now leads the way with 19 telematics brands available to offer to its customers, compared to just 11 at the end of 2014.
This compares to 16 for Confused (2014: 15), 15 for MoneySuperMarket (2014: 13) and 14 for GoCompare (2014: 9).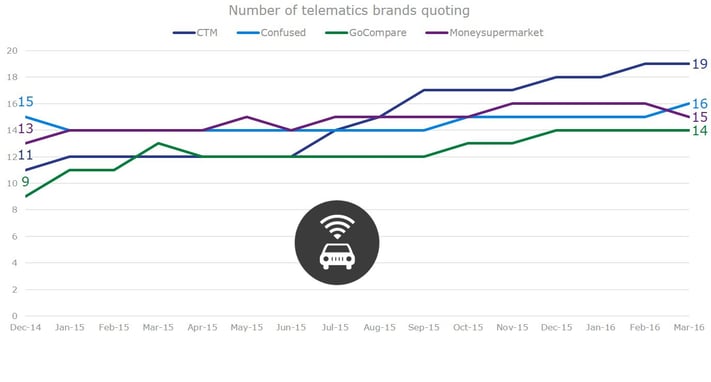 The market will continue to expand as more consumers become aware of the technology
CompareTheMarket head of motor insurance Dan Bass says the market will only continue to expand as more consumers become aware of the technology.
"We currently offer policies from nearly 20 different telematics providers through comparethemarket.com, and we see this as a growth area as more people become familiar with this technology and its benefits," he says. "
We have seen the proportion of telematics sales increase by 130% from 2014 to 2015 through the site, although this type of policy only accounted for 8.4% of our total motor insurance sales in 2015.
"Insurance companies are adding more of these policies to their offerings – with overall growth up 40% across all providers – so although telematics policies still represent a small proportion of the market, they are becoming more mainstream."
A change in the way aggregators sell telematics policies to consumers
The last few months have also seen a change in the way aggregators sell telematics policies to consumers, according to Selim Cavanagh, vice president of telematics at Wunelli, who says aggregators are now starting to offer quotes for telematics policies alongside the more traditional motor policies.
"[Over the last six months we've started to see] telematics policies being offered in the same pricing chart as mainstream policies," he says. "Whereas when they first introduced telematics to aggregation, it was as an adjunct – a separate walled off area to the main motor market.
"There are a number of factors behind this change in approach: the privacy issues have receded and brokers and insurers are telling us that telematics is converting just as well as mainstream policies, or even better."
But in order to truly challenge traditional policies in the mainstream market, insurers need to move away from their fixation on price and start looking at the value they can offer consumers through their telematics offerings.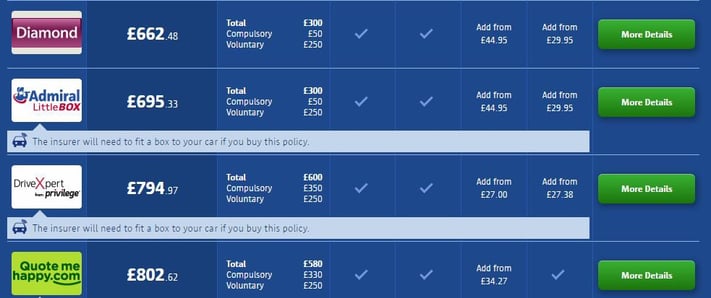 Insurers have been too slow to realise the additional benefits telematics policies can offer
Consumer Intelligence key account director Matthew Green says insurers have so far been too slow to realise the additional benefits telematics policies can offer, and urges insurers to start developing telematics products that focus on the customer need, not just the insurer's need for an ever-increasing amount of pricing data.
"Telematics should be about making consumer's lives easier, but that is not what is happening in the market at the moment," he says. "The design of telematics policies is currently being driven by insurers, and it needs to become a lot more driven by consumer needs.
"The technology has become a lot cheaper but insurers have taken a bit of time to catch up with the way they design their products. There is still the perception that they need data and what insurers are thinking about at the moment is rating the risk correctly, which is important, but they are only really thinking about it from that aspect."
"The price message to consumers alone is not going to be enough," he adds.
One area where Green says insurers can already capitalise on the benefits of telematics is in the breakdown insurance market. Technology already exists that allows on-board diagnostics devices to determine the location of a broken down vehicle and run system tests before a recovery vehicle has even been deployed, saving time and money on the cost of the repair.
Consumers will be willing to pay a bit more for a policy because they want additional services or benefits
Cavanagh says that such add-on products and additional benefits will eventually lead to consumers choosing their motor insurance providers not just on the price offered on an aggregator, but on the supplementary benefits that can make their lives easier.
"Over time, it will be possible to offer benefits outside of insurance to customers relatively cost-effectively," he says.
"There is no reason why in the medium-term customers won't be starting to seek our certain brands or products because of the benefits that are there to be gained, rather than purely because it is low cost."
"I don't think we are there yet, but once you start putting it together there will be a segment of consumers willing to pay a bit more for a policy because they want those additional services or benefits."
Expand outside of the traditional telematics young driver market
And once this takes hold, Green says insurers will be able to expand outside of the traditional telematics young driver market and start offering policies that add real value to an insurer's proposition to the wider mainstream motor insurance customer base.
"At the moment, telematics is attracting people who can't get a cheaper policy elsewhere, or who are coming back from a conviction or a claim, so aren't the best type of risk for an insurer," he says, "or they are self-selecting because they don't mind being tracked if it saves them a bit of money because they are a safe driver.
"But most of the market doesn't want that kind of product. We are still stuck in that rut where insurers are yet to catch up and offer something different to consumers; it is still about data, cost and price, but our research shows that consumers rate experience extremely highly and telematics can offer that.
"Insurers need to remember that price is not the only factor, and it is not necessarily the most important factor when it comes to buying motor insurance."


---
Maximise your telematics opportunity
Consumer Intelligence is the only company that can tell you what your performance is across PCW's and what your performance would be if you took your pricing from one PCW and applied it to another. This unique insight will help you maximise your opportunity in the fastest possible time.