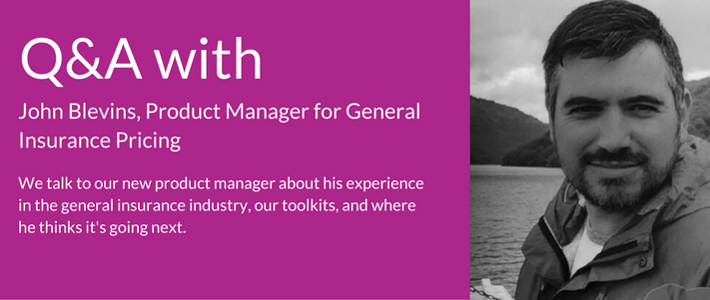 John Blevins is a General Insurance specialist with 19 years' experience in the insurance industry. Having worked in an intermediary, aggregator and direct insurer, John has accumulated a wealth of knowledge around how these markets operate.

John is based in Scotland and is now bringing his experience to Consumer Intelligence. He joined us this month as product manager for general insurance pricing.
Q. What's your role at Consumer Intelligence?
I will be responsible for the maintenance and development of our general insurance pricing toolkits. I will be working with both internal and external users of the toolkits to ensure the greatest benefit is derived from them.
Q. Do you have a favourite toolkit yet?
I haven't seen all the toolkits yet but from the ones I have, the insurance benchmarking toolkits are my favourites. They contain so much actionable data for our clients and can really make an impact in all the businesses who use it to its full capabilities.
Q. What did you do before joining CI?
I've worked in general insurance for 19 years. I started with Kwik-Fit where I held a variety of roles in operations, sales, customer services and as a motor claims manager. I then joined Tesco Bank and over four years held the roles of Relationship Manager at Tesco Compare, Tesco Personal Finance's online aggregator site, and Motor Product Manager for Tesco Bank branded insurance. This introduced me to new channels within the GI market place. For the last 18 months I returned to Kwik-Fit Insurance, now Ageas Retail, and continued working on developing the Kwik-Fit branded products and managing local changes affecting the products.
Q. How did you use Consumer Intelligence's data when you were a customer?
I found the Multi Aggregator Pricing Toolkit extremely helpful when working at Tesco Compare in benchmarking our performance against other price comparison websites and highlighting how our partners were performing on our site against other panels they sat on. We were led to both quotability and pricing benefits as a direct result of using CI's data.
Q. What's changed in the motor industry since you started working in it 19 years ago?
In short …loads! Working in an intermediary there were no PCWs, you had to rely on your own marketing and brand strength!
The rise of online shopping - gone are the days when most of your sales were via the call centre coming from leads from Yellow Pages.
The changes in technology are vast, from the old Brokerpak user system to complex Telematics integrations. Now insurance brands are focused on capturing as much data as possible to make informed pricing decisions while at the same time reducing the length of time taken to provide quotes and create a better customer sales experience. The changes in regulations have also been fast and furiously changing, for the better, improving how customers are treated and making insurance more transparent and easier to understand.
Q. What do you think it'll look like in 19 years' time?
I think we will see a huge transition to more data led personalised insurance. We may see a time where an individual is insured by one policy for all required products. Using connected home products, your pets, telematics, biometrics, shopping, travel habits and risky pastimes will all be combined into one bespoke product.
---
Want to know more about our toolkits?
If John has piqued your interest in our insurance pricing toolkits then contact him for an initial conversation today.


---