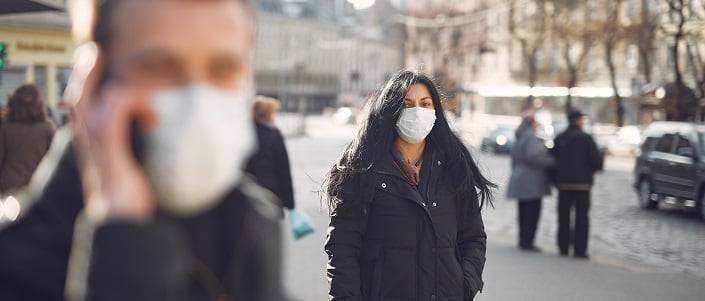 We look at the affect coronavirus is having across the motor insurance focusing on renewals, motor trade, telematics, new business and financial stress.
One of the lighter news items to emerge from the extraordinary last two weeks has been the decision by some families to bring forward Christmas cheer and deck out their homes in festive lights as seen in a recent BBC article. We're all stuck at home so we might as well try to enjoy the cocoon and pretend we chose to be here, the argument goes.

When it comes to car insurance, consumers are disengaged in a similar fashion. Google data shows the number of searches for car insurance is even lower than they were during Christmas week.
This raises a number of questions for insurance brands to consider.
Renewals
Our Insurance Behaviour Tracker shows that only 16% of consumers did not shop around at renewal and stayed with their existing provider last year. The drop in people searching for car insurance in the last few weeks suggests this number is now likely to rise.
The FCA has delayed its decision on dual pricing until June. Could this be a chance to help customers who passively renew by not ramping up renewal premiums whilst they're occupied with a myriad of other concerns?
And for the minority of customers that had opted out of auto renewal, are there any extra considerations to help customers who may now find themselves vulnerable and inadvertently breaking the law by driving without insurance?
People are also driving less. Of course they are. So will they be asking for reduced premiums as their risk of accidents reduces? This also presents an opportunity for flexible policies such as By Miles and its pay-as-you-go model.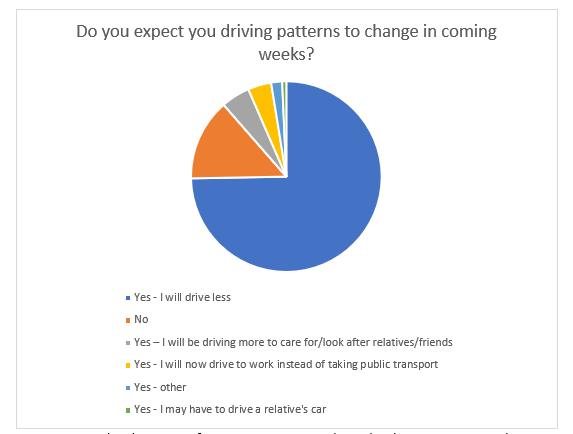 Source: Viewsbank survey of 858 motorists conducted online 27 – 30 March 2020.
Motor trade
The other reason why people are searching less is that they are not buying new cars or passing driving tests.
Our Viewsbank survey of 1,025 people revealed that 12% had delayed buying a new car as a result of economic uncertainty following the coronavirus outbreak.
And the Driver and Vehicle Standards Agency (DVSA) has suspended driving tests for up to three months, aside from emergency tests for critical workers.
Telematics
We've also seen a varied response from telematics companies about physically installing black boxes. Pure telematics specialists are continuing to offer their products, either installing as usual with extra social distancing measures, or pausing the requirement for black box installation.
By contrast, larger players whose telematics products are effectively spin-offs of standard products have stopped writing new telematics businesses and fallen back onto their core products.
New business
Prices had already been rising since Q4 as insurers face claims inflation, summer's unexpected Ogden rate changes and the ambiguous impact of delayed whiplash reforms.
Brands may also be changing their prices to reduce volumes to ensure they can continue to service their existing clients whilst unable operate at full capacity. We have seen one major company withdraw new business quotes in the last week across all brands in the last week. More could follow.
Financial stress
The extent to which people are worried about their jobs and financial situations cannot be understated. More than half (54%) are worried about the job of a family member and 33% are worried about their own job.
Of the consumers due to renew car or home insurance in the next month, 36% said they were worried about being able to afford their premiums. Of those, 64% said they had discussed their concerns with their insurers.
The responses have been largely positive including one customer who had reduced but not delayed the payment of their premium, and another saying their provider was "understanding". On the other side, criticisms have included "not acting fast" and "a bit insensitive" whilst another customer was unable to even get through by phone to discuss their problem.
Reputations are won and lost during crises. The smarter brands and pro-actively telling customers how they can help and highlighting sensible agreements by the ABI such as that that driving to be an NHS volunteer won't affect your policy. Their communications are empathetic and human. There has never been a greater chance for insurance brands to step it up informed by changing market and customer dynamics
---
Introducing the Consumer Intelligence Covid-19 Consumer Tracker
In response to the challenges faced by our clients across the general insurance industry, we have been working hard behind the scenes gathering data and insight that will help personal lines insurers and brokers navigate this difficult and challenging time.
We are pleased to announce the launch of our new Covid-19 Consumer Tracker, focusing on wider consumer behaviour trends during the COVID-19 pandemic but with a specific focus on the general insurance industry.
We are interviewing a nationally representative sample of 1,000 consumers every week to bring you timely insight on what your customers, your competitors' customers and the general market think and are doing during these uncertain times.