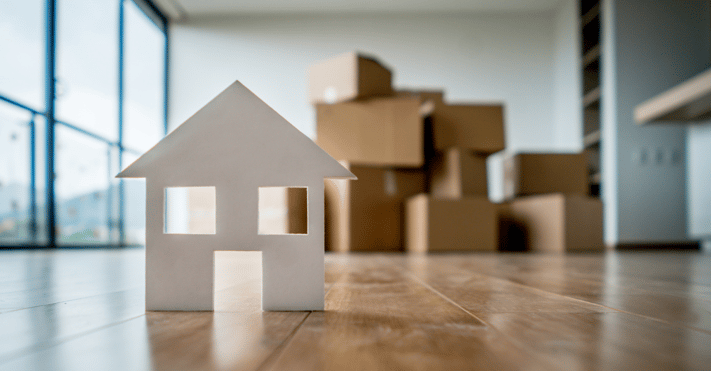 The race for space and stamp duty has turbo charged the property market – and seems that homeowners are swapping insurers as well as postcodes.
Home renewal rates were 66% for policies renewing between April and June 2020 but have been in decline since the introduction of a stamp duty holiday last July.
People are typically moving to larger properties where they have more space to work from home while successive lockdowns have increased demand for garden space. A change of property means a change in risk make-up and so consumers who are moving home may find their existing home insurance provider is no longer the best-priced provider for their new type home.
Property transaction data shows 183,170 transaction completed in March 2021 alone, the highest on record, while home insurance renewal rates fell to 62%.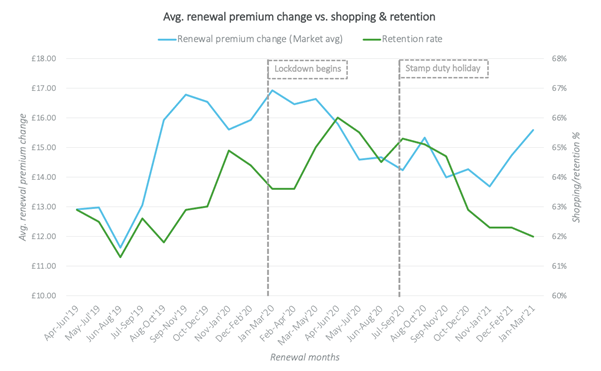 Renewal months: Apr-19 to Mar-21, Sample size: 25,558 respondents (home)
Moving house isn't the only factor at play, however. There is also the widening gap between new business and renewal pricing. Our Insurance Behaviour Tracker shows that the average quote at renewal has been rising since Q3 2020. This means customers renewing in Jan-March 2021 were quoted £15 more than the previous year's premium at a time when new business premiums have been falling steadily with fierce market competition.
The full stamp duty holiday expired at the end of June 2021, but reduced rates will remain in place until the end of September. This will continue to drive quote volumes for buildings and contents policies as well as switching from those who will likely find a better deal if they go looking for one.
Car insurance retention rates have fallen sharply in recent months too. Although the increase quoted to drivers at renewal has fallen, there has been an increase nonetheless at a time of deflationary new business rates.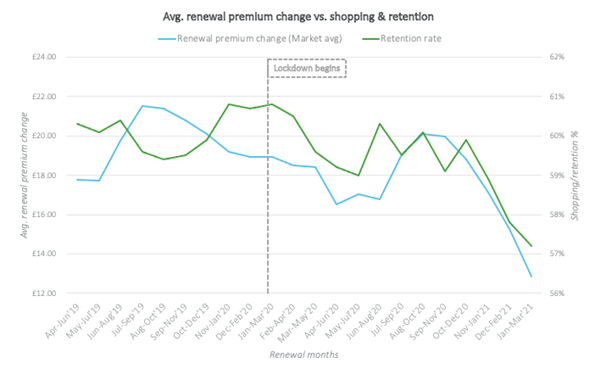 Renewal months: Apr-19 to Mar-21, Sample size (Market): 25,532 respondents
Shopping around at renewal is now a habit among the majority of British consumers and most will test the market, even when there isn't much of an increase. And with reduced claims volumes and reduced consumer demand during much of 2020 fuelling low business rates, there were plenty deals for those who decided to shop around.
These will be a bumpy few months as brands pursue a variety of strategies ahead of the dual pricing ban. Some are tactically building up volumes with keen new business pricing for the final months that they can do so, while others seek to soften the blow to the relationship with longstanding customers who in 2022 may be quoted an embarrassingly low renewal price.
---
Understand consumer behaviour throughout the renewal process
Enhance decision making, performance monitoring and planning by understanding consumer behaviours, attitudes and intentions at insurance renewal.
Insurance Behaviour Tracker (IBT) is the most comprehensive insurance focused consumer survey in the market. It provides insight and understanding of consumer behaviour throughout the renewal process, giving you a view of market trends, and brand performance. This will enable you to make informed decisions to allow you to build robust marketing and business plans and track results.
---
Comment on blog post . . .