Prices are decreasing among all age groups and UK regions

The average motor premium is now £816.
Drivers across the UK have benefited from a drop in the cost of motor insurance over the last six months, thanks to reduced claims volumes. Premiums are down 2.5% over the period, with the average now sitting at £816.
Fewer drivers have been hitting the road in 2020 with traffic down by almost a fifth, according to the latest government estimates[1]. The RAC has even said that '2020 is having a profound impact on our travel habits'[2]. With roads emptying, it is no surprise that the number of claims made on motor insurance policies has also fallen sharply.
However, when looked at over 12 months, average premiums have fallen just 1.1%. This is because prices had been rising before coronavirus struck. But as we enter winter, the resurgence of coronavirus is expected to keep premiums subdued for a while longer yet.
"We are currently seeing premiums decreasing in all our age groups and across every UK region," says Harriet Devonald, product manager at Consumer Intelligence.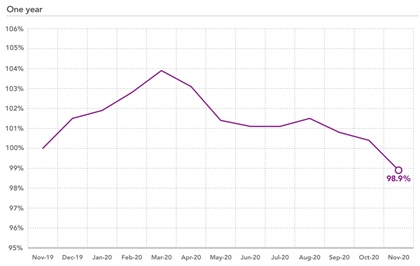 Average overall premiums have increased 21.8% since October 2013 when Consumer Intelligence first started collecting data. Prices have now fallen more than 10% from the September 2017 pricing peak.
All age groups have witnessed broadly similar falls to their car insurance premiums over the last 12 months. The under-25s (-1.9%) led the way with the biggest yearly decrease, with motorists aged 25-49 (-1.0%) and the over-50s (-0.8%) following closely behind.
Yet, it is the youngest driver cohort (£1,954) that continues to fork out the most for car insurance. In comparison, the over-50s typically pay £370 while those aged 25-49 hand over £628 for an annual policy.
"Even with telematics-based policies working hard to keep pricing affordable for the youngest drivers, there is still a huge difference when compared to the over-50 and 25-49 year-old sectors," says Devonald.
However, when viewed over the last three months things have flipped slightly. The under-25s (-1.4%) are now seeing the smallest price falls, with the biggest premium reductions found in our older demographics – the 25-49 year-olds (-3.0%) and over-50s (-2.8%).
Take-up of telematics-based policies remains low for our older driver groups. For motorists aged over 50, just 4% of the five cheapest quotes come from telematics providers. That rises slightly to 14% for drivers aged between 25 and 49. For those aged under 25, telematics policies continue to play a big part in keeping insurance costs down. These policies now make up 59% of the top five cheapest quotes for drivers aged under 25.
London drivers continue to be hit with the biggest increases to their car insurance policies. Over the last 12 months, prices in the capital have risen 3.8%. Just two other areas across the UK – Yorkshire and the Humber (1.4%) and the Eastern region (1.2%) – have seen prices rise over the same period. However, it is noticeable that in the last three months all UK regions have seen premiums decline. The largest fallers have been the North East (-4.4%), East Midlands (-3.9%) and the West Midlands (-3.8%). London (£1,499) remains the costliest place for car insurance, with Scotland (£513) the cheapest UK region.
Region

Price change seen over the last 12 months
(Nov 19 – Nov 20)

Price Index
Last 3 months
(Aug 20 – Nov 20)

Nov 2019
Average Premium
(5 cheapest)

London

3.8%

-1.1%

£1,449

Yorks&Humb

1.4%

-2.8%

£895

Eastern

1.2%

-1.9%

£746

Wales

-0.6%

-2.9%

£591

E Midlands

-0.7%

-3.9%

£719

Scotland

-1.1%

-3.2%

£513

SE

-2.6%

-1.8%

£726

NW

-2.8%

-1.9%

£1,160

W Midlands

-3.4%

-3.8%

£776

SW

-3.9%

-3.4%

£473

NE

-5.4%

-4.4%

£702
[1] https://www.gov.uk/government/statistics/provisional-road-traffic-estimates-great-britain-october-2019-to-september-2020 2.
[2] https://media.rac.co.uk/news/largest-fall-in-motor-traffic-since-records-began-in-1994-rac-comment-413909
---
Car Insurance Price Index [free to download]
Download our Car Insurance Price Index to gain insight into market movements, benchmark the major van insurance brands and help you understand the data behind the results.