When the government scheme launched in mid-March, nearly 90,000 people in the UK had offered homes to Ukrainian refugees within the first few hours.
But how many of those has considered the legalities of opening up their homes and spaces? How many have been in contact with their insurer? And how many insurance firms are proactively clearing the way for them?
According to our latest Viewsbank, nearly 1 in 5 Brits has already signed up or is thinking about housing a Ukrainian refugee. While only 2% have committed, a further 17% are thinking about it – possibly working through some of the logistics.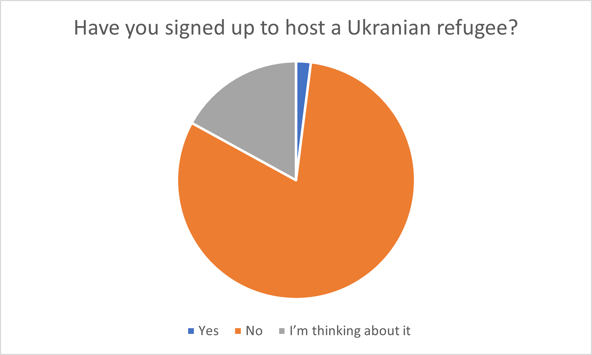 Viewsbank: 1,006 online interviews conducted 18 – 20 March 2022
Of those logistics, checking on the insurance implications seems to have come quite low down the priority list… More than 8 out of 10 (84%) hadn't made contact with their insurance provider – although once prompted 72% said they planned to do so.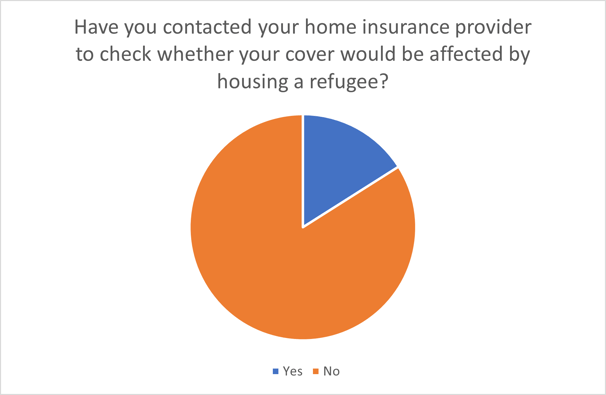 Viewsbank: 194 people who have signed up to host, or are considering hosting, a Ukrainian refugee
Contents insurance topped the list of things people felt they needed to check, followed by public liability for guests, building insurance, and car insurance (in order to car share).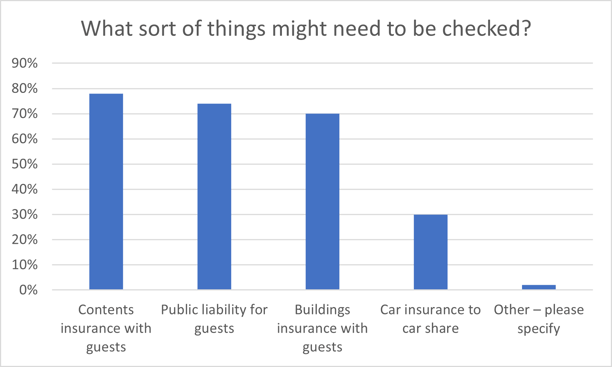 Viewsbank: 163 people who have signed up to host, or are considering hosting, a Ukrainian refugee
Of those who had been in touch with their insurer, 94% felt the information they'd received has been good or very good.
But overall confidence in the insurance response was not high. 35% thought insurance firms would put their prices up, 33% thought firms just wouldn't have thought about it, and 32% thought insurers would use refugees as an excuse to reject insurance claims.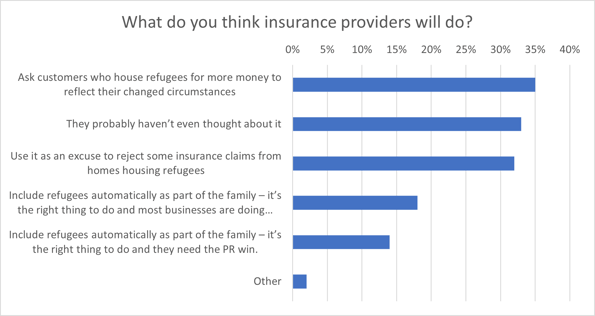 In terms of what they'd LIKE to see, nearly half (49%) wanted the government to pay for any insurance-related costs to housing a refugee, 45% thought refugees should be treated as members of the family and included automatically in cover. Only 21% thought customers should be paying more for housing guests.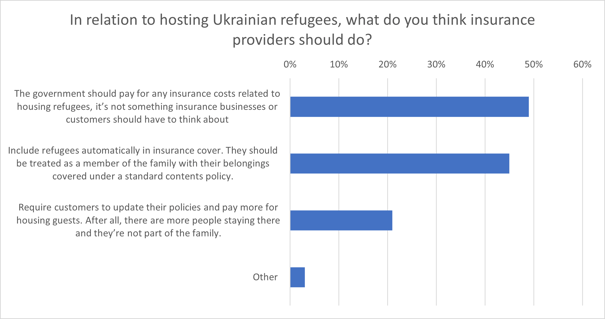 Consumer Intelligence CEO, Ian Hughes, said: "There are clearly practicalities that people haven't fully considered in taking on refugees – and insurance is one of them. It's always a good move to keep your insurer informed of any changes, but in this instance making sure your cover is in place is key in protecting yourself, and your guests. That's especially true if your plans involve things like a change of use or occupancy in an outbuilding, annex or second home.
"As for insurers, it's very clear consumers want them to step up to the plate. Brands would do well to clearly set out what their policy is on refugees - and make it as easy as possible for people for people to navigate it. This isn't about virtue-signalling or good PR – it's about doing the right thing, providing fair value, and ultimately helping customers."
---

Viewsbank is our in-house consumer research panel. It's a large, responsive and community driven panel that conducts both quantitative and qualitative research.
Our Viewsbank panel helps our customers with a wide variety of projects ranging from detailed mystery shopping to demographically targeted research surveys. The research helps our clients make informed decisions based on true understanding of the consumer's voice.